Israel's Olive theft policy is continued from the early days of occupation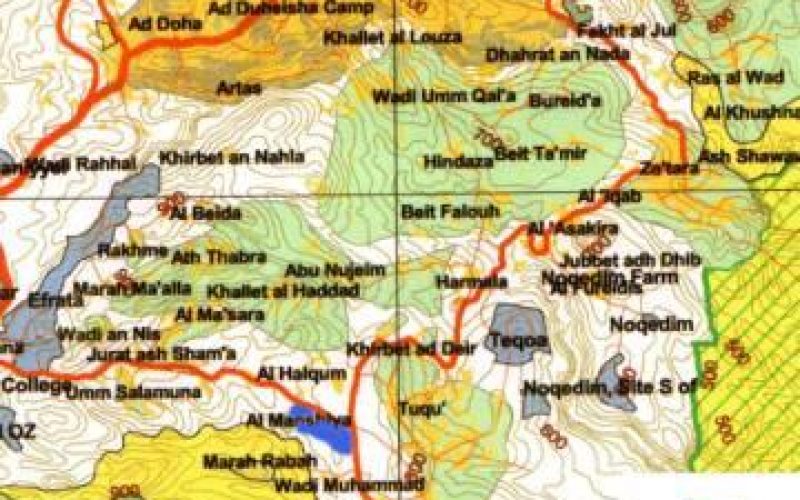 Israel continues its old-new policy to steal olive trees and replant them either inside its settlements in the Palestinian Territories or inside Israel. Such a policy started as early as 1967, following the Israeli occupation of the West Bank and Gaza Strip. The second half of the 1980s witnessed a marked increase in the implementation of this policy as Israel carried out a campaign against olive trees located in confiscated lands for the declared purpose of expanding its settlement area. Examples included what took place in the villages of Qattana and Kharrab Al Lahem to the northwest of Jerusalem city, where 3,000 olive trees were uprooted and in Al Madya village to the west of Ramallah city where 2,000 olive trees were uprooted. The uprooted trees from the 'Roman type' which lasts for hundreds of years.
The most revolting action taken by Israel in this regard was the uprooting of a large number of olive trees and then replanting them in a park near the Central railway Station in Tel Peut district of Jerusalem. The park was named after the legendary Dr. Martin Luther King. They wanted to pay tribute for this human rights advocate by planting stolen trees in his honor!!!!.
Olive tree stealing continues in villages of Beit Awwa, Sikka and Deir Samit in Hebron governorate
The Land Research Center's field worker visited the place of incident, where the Israeli Segregation Wall in the above-mentioned three villages is being constructed ( in the western side of the Governorate of Hebron). More than 3,000 olive trees were uprooted from these locations as the Israeli bulldozers are still working on the sites.
Description of the Stealing Process:
The first stage started by sawing branches of Olive trees by electrical saws in a way that allows new ones to grow. See Photo 1 & Photo 2
An Israeli contractor sawing branches before uprooting
Photo courtesy of LRC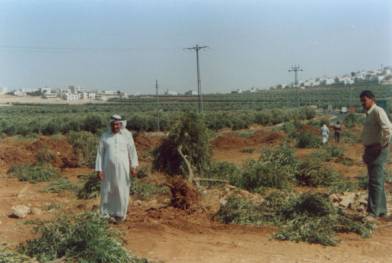 Photo 3: Beit Awwa- Hebron: a field full of sawed off olive trees
Photo courtesy of LRC
During the second stage, the Israeli Bulldozers uprooted the whole tree as the bulldozers planted their teeth beneath it and then uprooted it including the roots. See Photo 4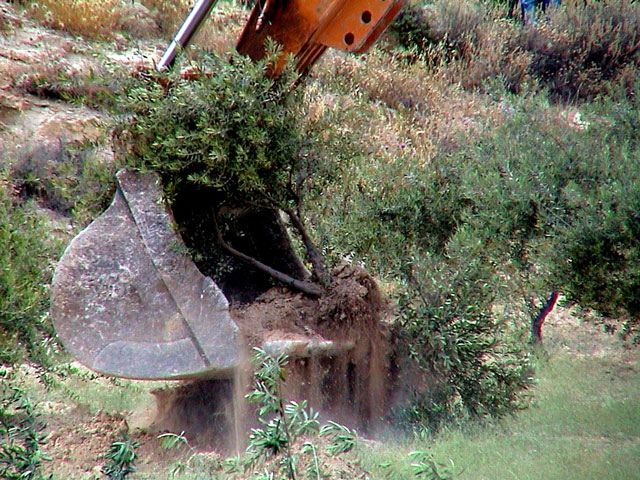 Beit Awwa- Hebron: an Israeli bulldozer uprooting an olive tree
Photo courtesy of LRC
The third stage included the re-planting of the trees in some other places according to the Israeli need. Sometimes, Trees are planted immediately in the opposite side of the Green Line or to the west of the Wall after being uprooted from the land. Alternatively, the trees are transported to be replanted inside Israeli settlements established in the Occupied Territories or inside cities in the Israeli proper as to serve two goals:
The first; is for aesthetic purposes as to give an attractive feature to the place,
The second; is for economical reasons as such trees are used as source of income for the targeted settlements and/or cities. It has been reported, though, that stolen Olive trees were replanted temporarily in a nearby field located to the west of the Wall and then were uprooted again to be transported to somewhere else. Such operations took place in front of the eyes of Palestinians landowners from Hebron Governorate who planted the trees and took care of them for the longest time just to witness the uprooting of their trees on the hands of the Israeli bulldozers. See Photo 5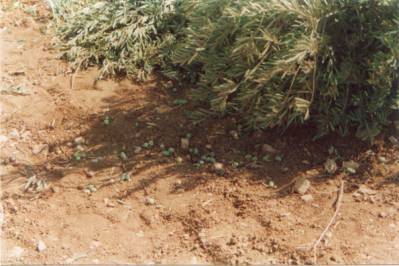 Beit Awwa- Hebron: Uprooted olive trees
Photo courtesy of LRC
At the time of preparing this study, 'olive tree stealing' is being carried out in the above-mentioned three villages at the high point of olive harvest season causing major losses to tree owners, especially that this season is relatively better than past seasons. The crop was lost for this year after the Israeli bulldozers ran over the mowed branches that were filled with ripe olives. See Photo 6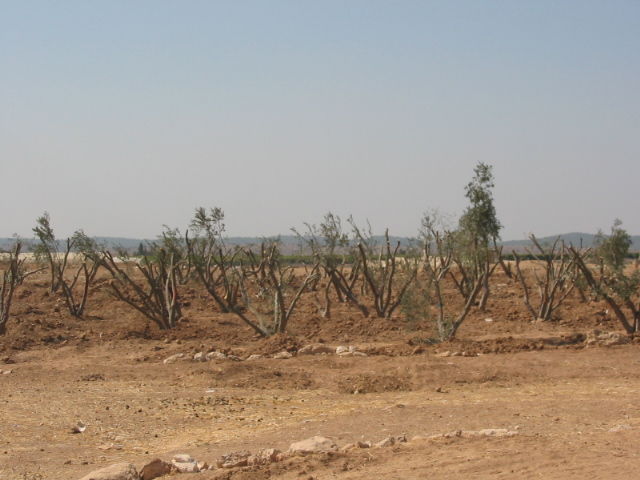 Stolen trees were temporarily replanted in a nearby field before
transportation to some where else… Photo courtesy of LRC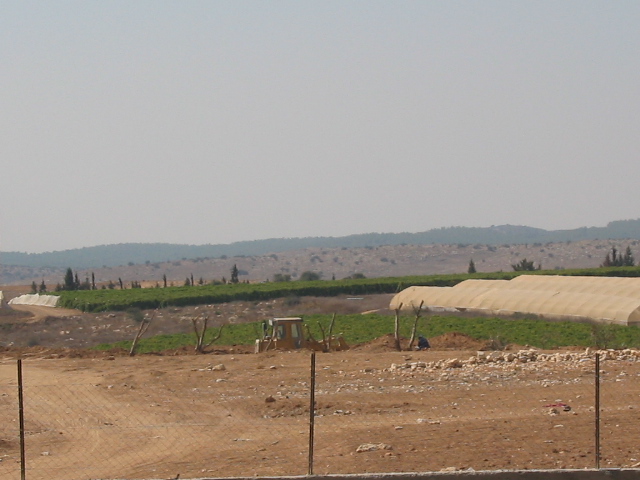 Photo 7: an Israeli bulldozer is immediately re-planting stolen trees in a Kibbutz … Photo courtesy of LRC
Olive oil losses for this season in the three villages is estimated to be at thousands of Jordanian Dinars, not to mention the cost of years of care for each tree and the loss of the land atop, in which trees were planted. Such loss is immeasurable. See Photo 8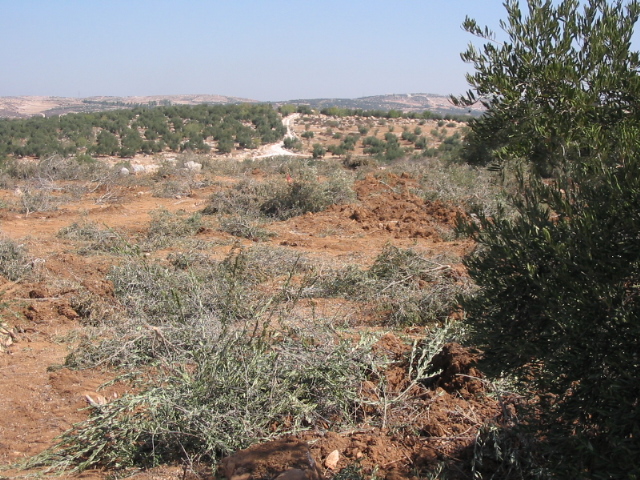 Mission accomplished ! this is what has left on the land
Photo courtesy of LRC
Prepared by
The Land Research Center
LRC