Land theft continues at the hands of Israeli colonists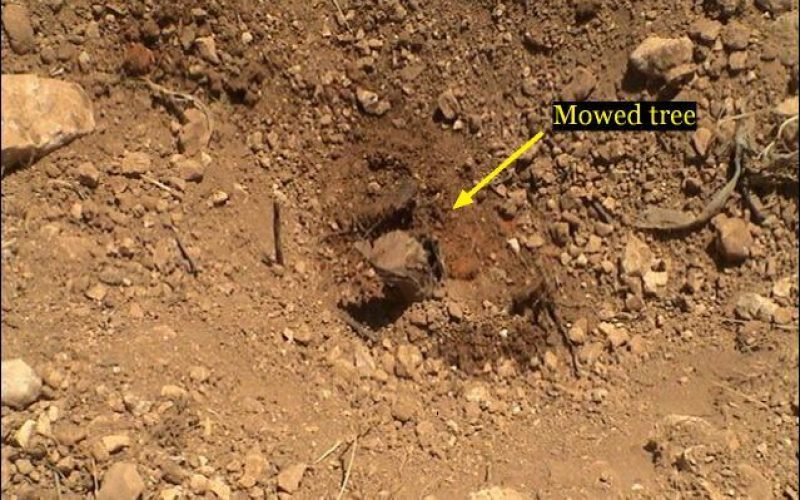 Location:-
El Khadr is a small village located 3km to the west of Bethlehem city and houses a population of 8728 inhabitants according to PCBS 2003 statistics. Its built-up area is 2000 dunums out of 20000 dunums which constitute the village's boundary. It is surrounded by Olives, Figs trees and Vineyards and can be reached via the town of Beit Jala or the Bethlehem-Hebron road.
Background:-
After 1982, many of El Khadr villagers were directly subjected to the Israeli colonization activities due to the construction of the Israeli settlement Neve Daniyyel at its southwestern periphery. The settlement is one of Etzion block colonies and housed a total 1122 Israeli settlers in the year 2001. The aforementioned settlement witnessed an expansion of about 455.3 dunums on the expense of the Palestinian agricultural lands between the year 1990 and June 2003. (Source: ARIJ database 2004).
The violation:-
In June 2002, an Israeli colonist called Hananiya worked on the establishment of a new outpost which he named 'Hananiya outpost' in a place called 'Ein El Qassis located to the north of Neve Daniyyel and is close to El Khadr village. Hananiya has been pushing El Khadr landowners of the nearby agricultural lands to sell him their lands by offering them considerable prices. Landowners refused his offers and were exposed to many harassments since that time presented in destroying field crops and uprooting of fruitful trees. See Photo 1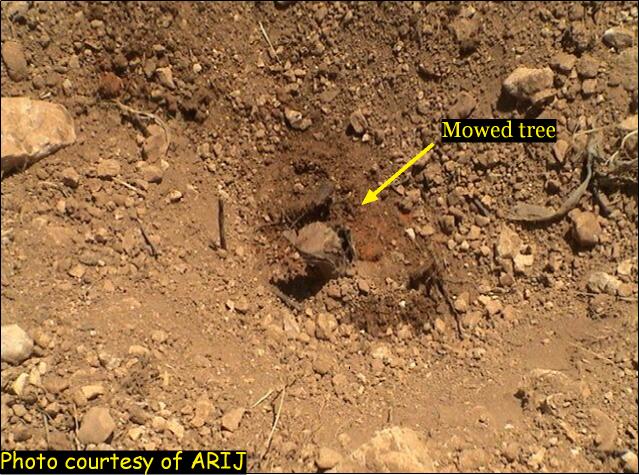 'Emad 'Ali Salah along with his three brothers own a 17 dunums area of land cultivated with apricots, Grapes and Vegetables. They have been facing constant aggression at the hands of Israeli settlers living in Hananiya outpost ever since the outpost was erected. See Photo 2, Photo 3 & Map of violation, &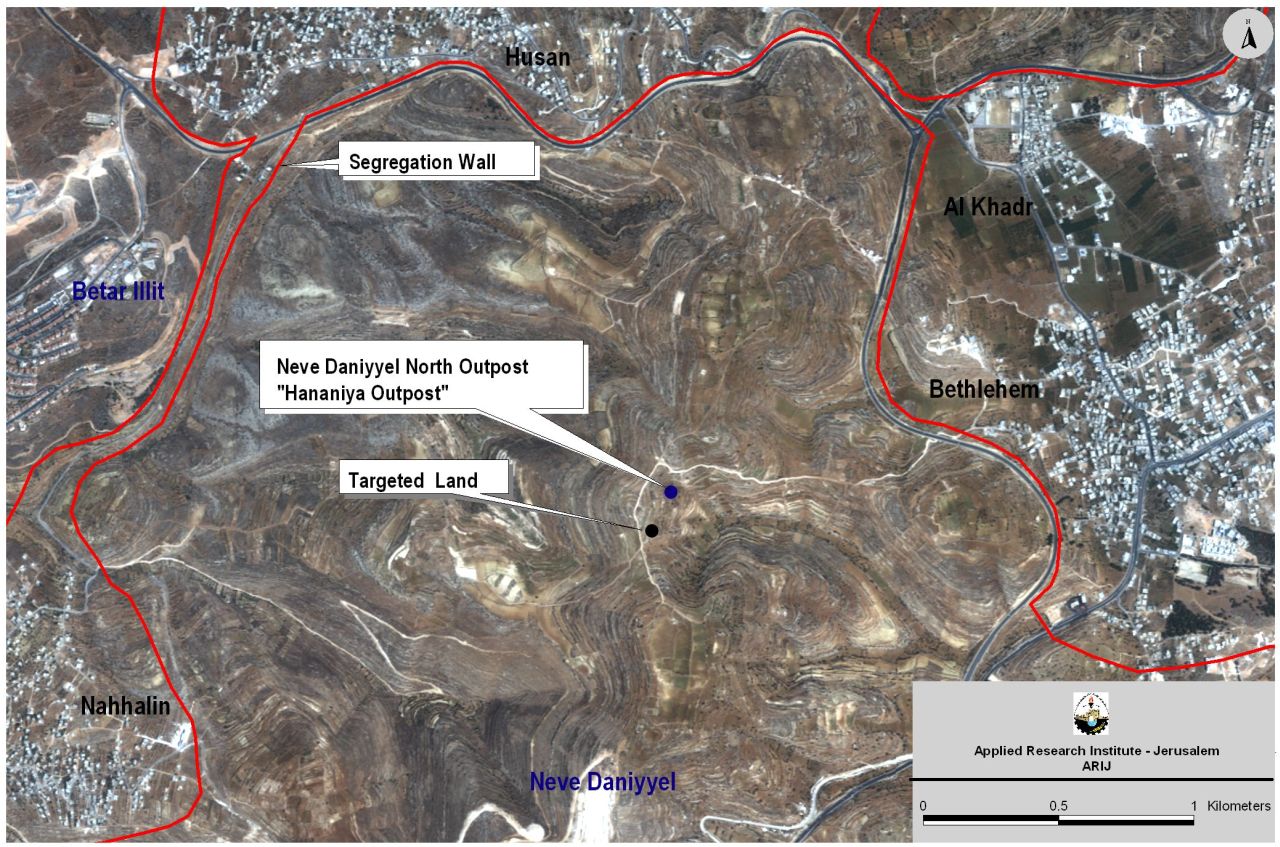 On the 27th of May, 2004, Hananiya attacked Emad 'Ali's nephew and other two women who were accompanying him with his dogs while they were on their way to their field and hindered them from reaching it. Hananiya asked Emad's nephew to pay him NIS 5000 otherwise they will not be able to reach their land. The next day, 'Ali's nephew came back to the land to find that more than 20 fruitful trees were uprooted and thrown away.
The settlers's strategy:-
According to one member of Salah's family, three to four families are currently settling in Hananiya outpost. The colonist took over several pieces of lands in the last few years and is now planning to take over more lands to expand the area of his outpost. As a result, a water spring, situated in the land, will most probably become inaccessible by El Khadr villagers if Hananiya managed to take over the land. See Photo 4 & Photo 5. & .
Furthermore, Hananiya is most of the times backed by the Israeli soldiers and other settlers, who, in many occasions, frighten people and force them to evacuate their lands under the threat of weapons. It is worth mentioning here that ARIJ fieldworkers were also chased by eight Israeli soldiers while on duty to visit the land of Emad 'Ali and other family members. See Photo 6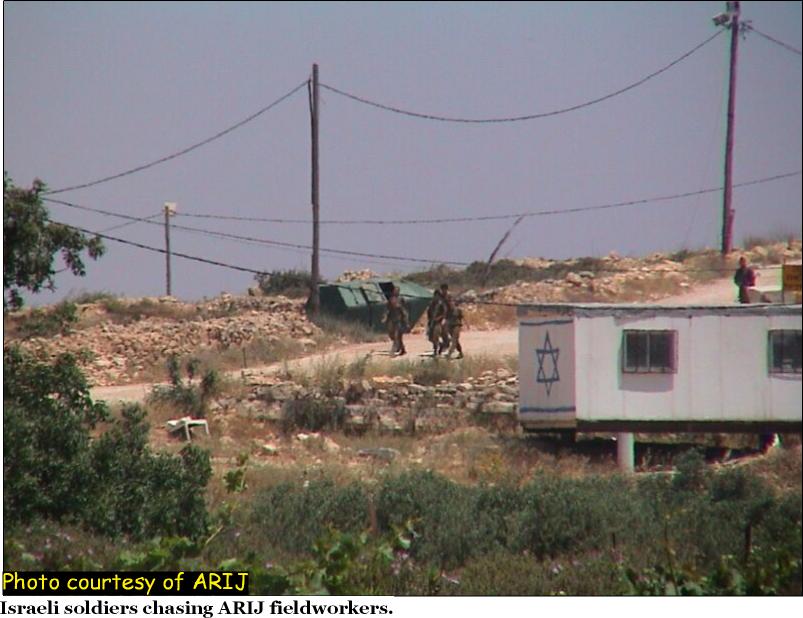 Fighting to get the Israeli military's attention:-
Emad 'Ali Salah (Land owner) has visited the Israeli military office, the administration office and the police station in Bethlehem district about 20 times to hand a complaint against Hananiya, the Israeli colonist, who is threatening to take over his land, but was surprised to know that neither of the aforementioned offices had the responsibility to handle such matters.
Some officials at the police administration office promised Emad 'Ali that they would bring Hananiya colonist to their office to sign a paper that would prevent him from taking over the land in the future, while Emad 'Ali believes that such promises are fake and they would never prevent settlers from attacking Palestinian lands.
Emad 'Ali fears that his land would be taken from him, if not through settlers' attacks, then by the Israeli Segregation Wall that is planned to be constructed close to his land and threatens to cut it off from Al Khadr village.
Prepared by:
The Applied Research Institute – Jerusalem