Land Grab continues in Bethlehem District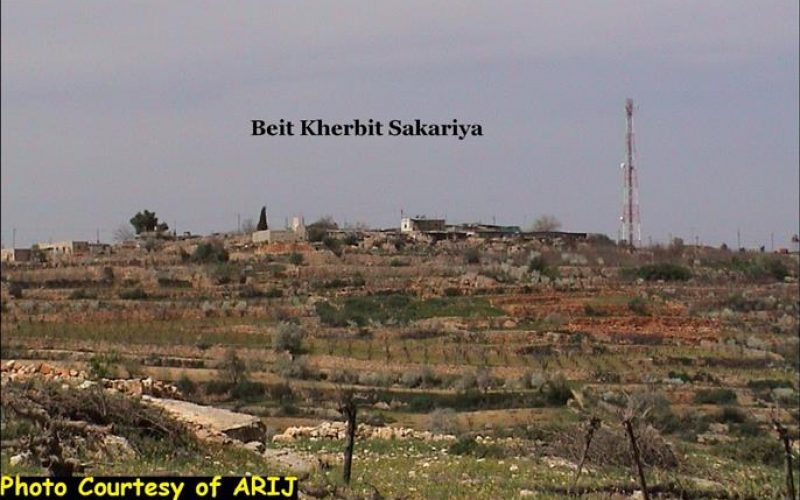 Khallet Beit Sakariya, is a Palestinian village located southwest of Bethlehem city. It is inhabited by Palestinians for hundreds of years but today it only houses a population of 72 people. The village is surrounded by the Etzion Block, a block of six Israeli settlements which were established following the 1967 War, See table 1.
Table 1: The settlements of the Etzion Block
| | | | | | | |
| --- | --- | --- | --- | --- | --- | --- |
| Name | Type | Founded | Government | Location relative to Bethlehem | Area (dunums) | Population |
| Kfar Etzion | Agricultural | 1967 | Labor | Southwest | 719 | 463 |
| Alon Shevut | Urban | 1971 | Labor | Southwest | 1500 | 2138 |
| Rosh Tzurim | Agricultural | 1971 | Labor | Southwest | 625 | 321 |
| Neve Daniel | Urban | 1982 | Likud | Southwest | 549.59 | 1122 |
| Bat Ayin | Urban | 1989 | Likud | Southwest | 314 | 646 |
| Elazar | Agricultural | 1975 | Labor | Southwest | 344 | 1518 |
Source: ARIJ Database 2004

The strategic location of Khallet Beit Skariya in the middle of Etzion Block; has made it of great importance in the eyes of Jewish settlers living in its surroundings; thus, prohibited its natural growth and development throughout the years which forced most of its inhabitants to move and live in others areas.See Photo of Kerbit Sakariya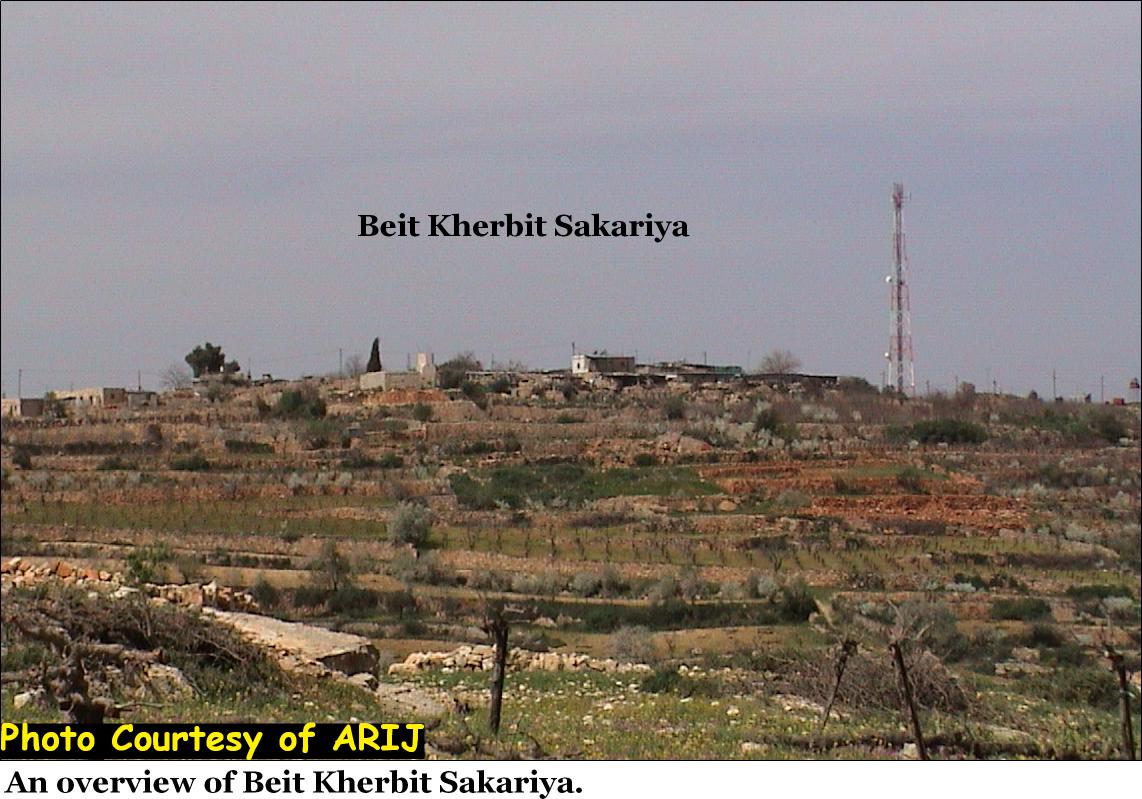 Opposite to Khallet Beit Sakariya, and part of its lands, an area called Al Smeka. Al Smeka is an agricultural area where residents of Khallet Beit Sakariya, Artas, Nahalin and other nearby villages cultivate the land with different types of Fruitful trees including grapes, Almonds and Citrus. See photo 1 & Photo 2
Villager ploughing his land in Al Smeka area.
Chronology of events
During the eighties, a group of Israeli colonist from Alon Shevot settlement attacked the land and seized about 25 Dunums area of land with barber wires in an attempt to annex the land to increase the settlement borders. Alon Shevut, Sakaria were established in 1971 and is a home for more than 2,000 Israeli settlers. See photo 3..
Despite settlers' attempts to destroy the land and drive out native Palestinians residing there, settlers of Alon Shevut lost the case appealed by villagers of the area to the Israeli court in that time and villagers got their land back.
The illegal ''Gosh Etzion'' block continued to grow via the creation of new 'outposts in the area. On January 29, 1998 settlers from Alon Shevut set up a new outpost on Palestinian land in Beit Sakariya. They called it Givat Hahesh. ''Seven mobile homes were set up on a hill one kilometer east of the Alon Shvut settlement.''
Following the irruption of the second Intifada in September 2000, Israel escalated its land Grab policy in the Palestinian Territories, the thing that encouraged the Israelis settlers in different parts of the West Bank and Gaza Strip to carry out innumerable provocative actions against Palestinian lands to seize more lands located close to the vicinity of settlements. In 2001, settlers of Alon Shevot again attacked Al Smeka area and seized the 25 Dunums of land that were previously seized during the eighties. They also seized the land with barbed wires to make sure that the land is no longer used by its original owners. Lands belongs to villagers from Artas village who own documents of ownerships of the land. Below is a list of people affected by Land seizure.
| | |
| --- | --- |
| No. | Name |
| 1. | Isma'il Ibrahim Shahin |
| 2. | 'Aref Muhammad Hasan Shahin. |
| 3. | Mahmoud Ibrahim Shahin |
| 4. | Sa'id Ibrahim Shahin |
| 5. | Salah Muhammad Sa'id Shahin |
Two months ago, settlers of Alon Shevut escalated their harassments action against land and people starting by grabbing the land by force, mowing fruitful trees and fighting with farmers cultivating their land; The settlers also set up two caravans on the land and cultivated it with Olive trees in an attempt to finally control the land. See Photo 4, Photo 5 & Photo 6, &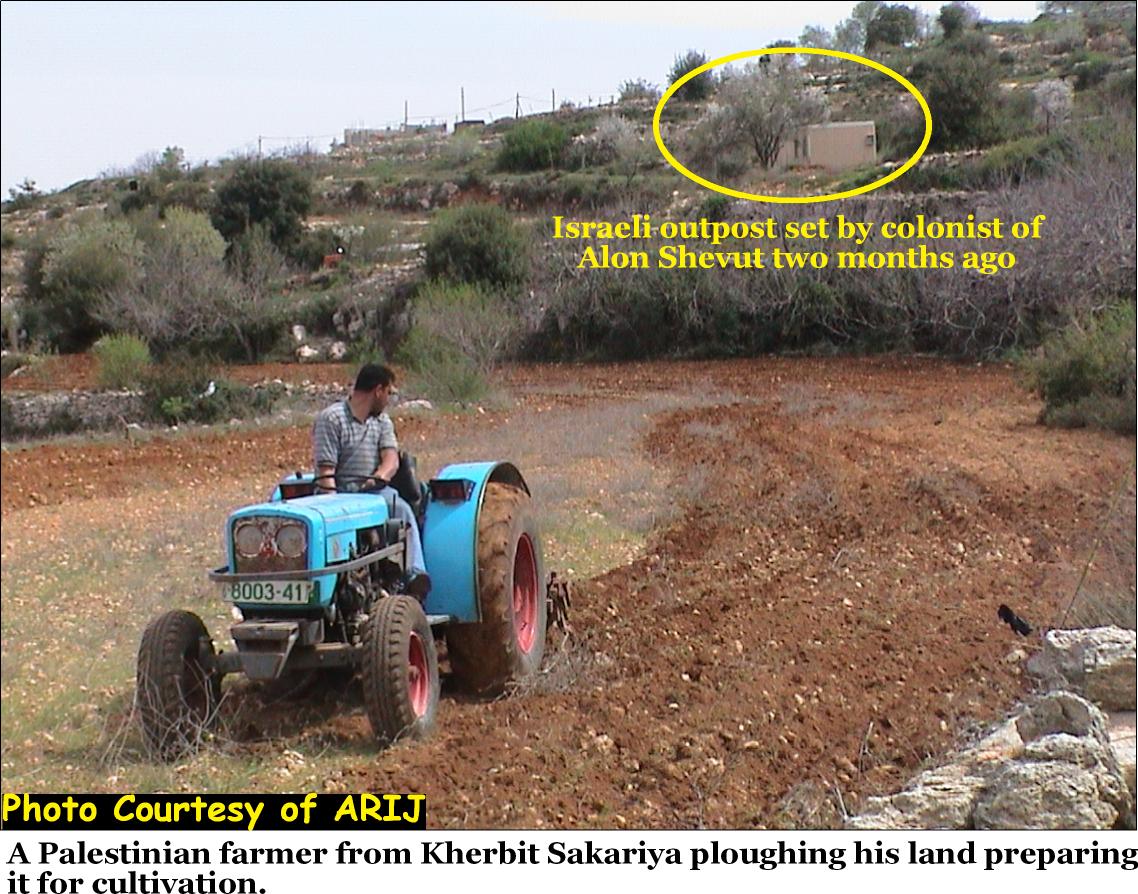 On March 2, 2004, Al Smeka area again witnessed another violation carried out by a group of settlers who attacked the land and mowed many trees and continued seizing the 25 Dunums of land with barbed wires and surrounded the land with bench marks; thus preventing farmers from accessing their land, See map of location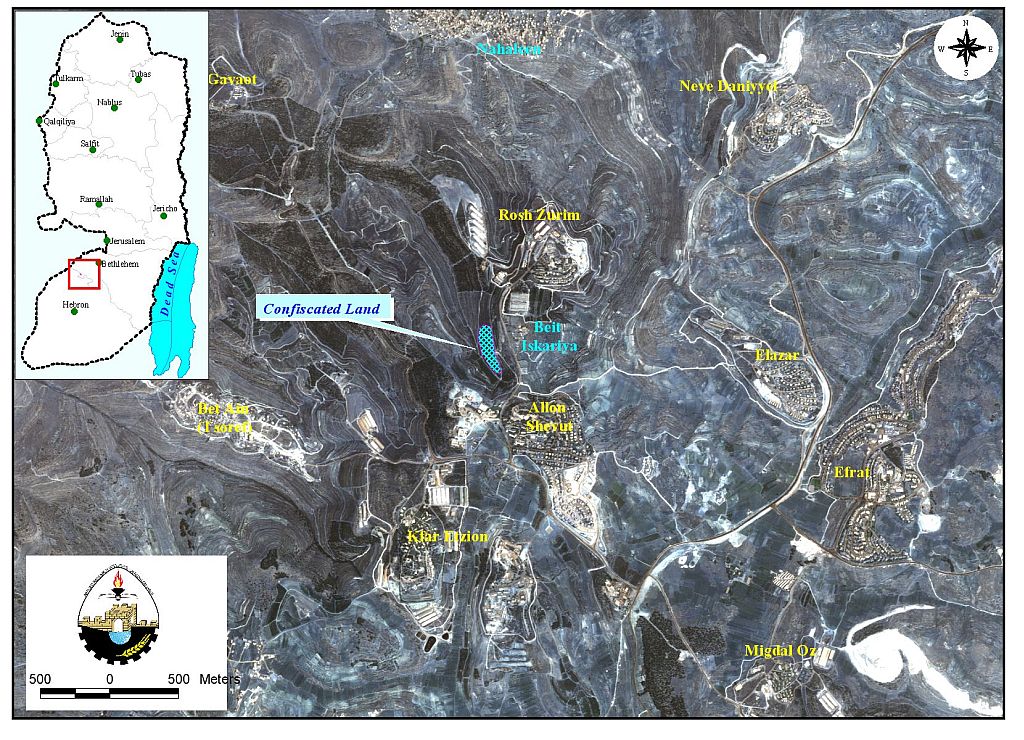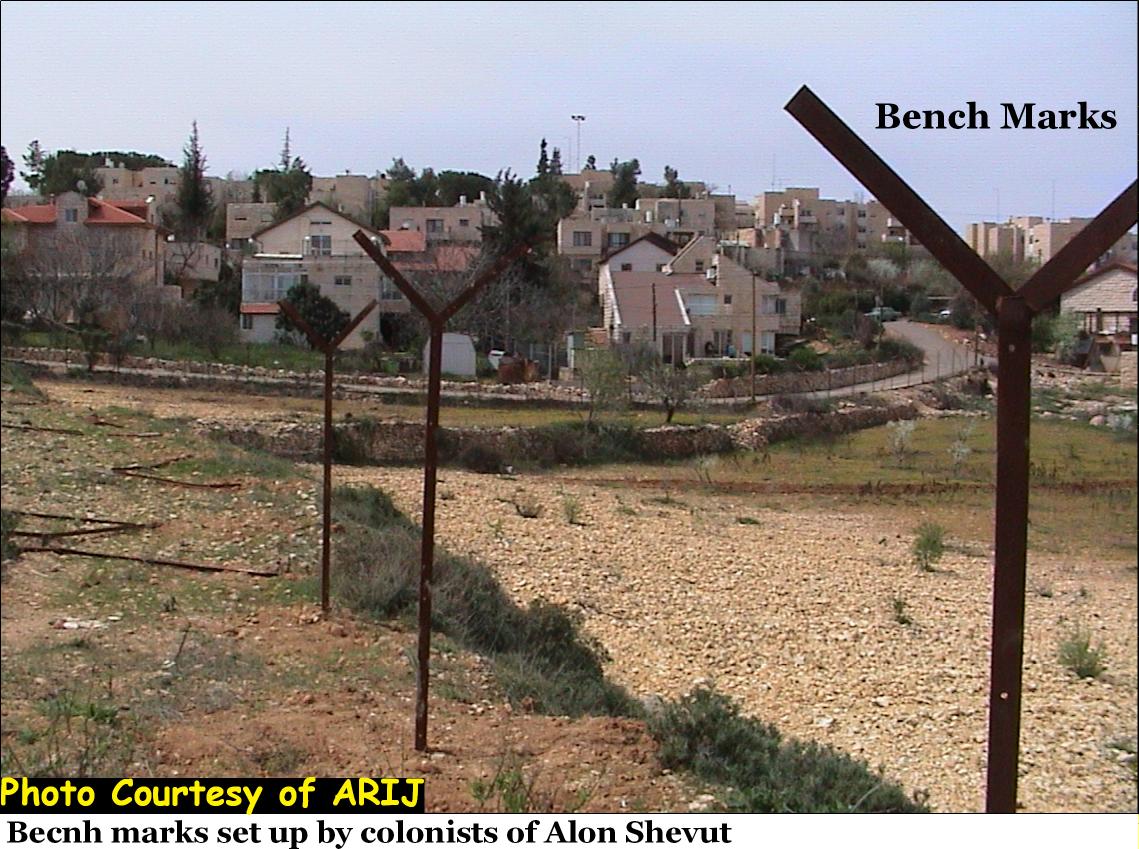 Settlers also destroyed an old Olive presser in the area which is now used as Water reservoir for sheep grazing in the fields. Settlers filled the hole with poisonous water and rocks to prevent sheep from drinking, See photo 12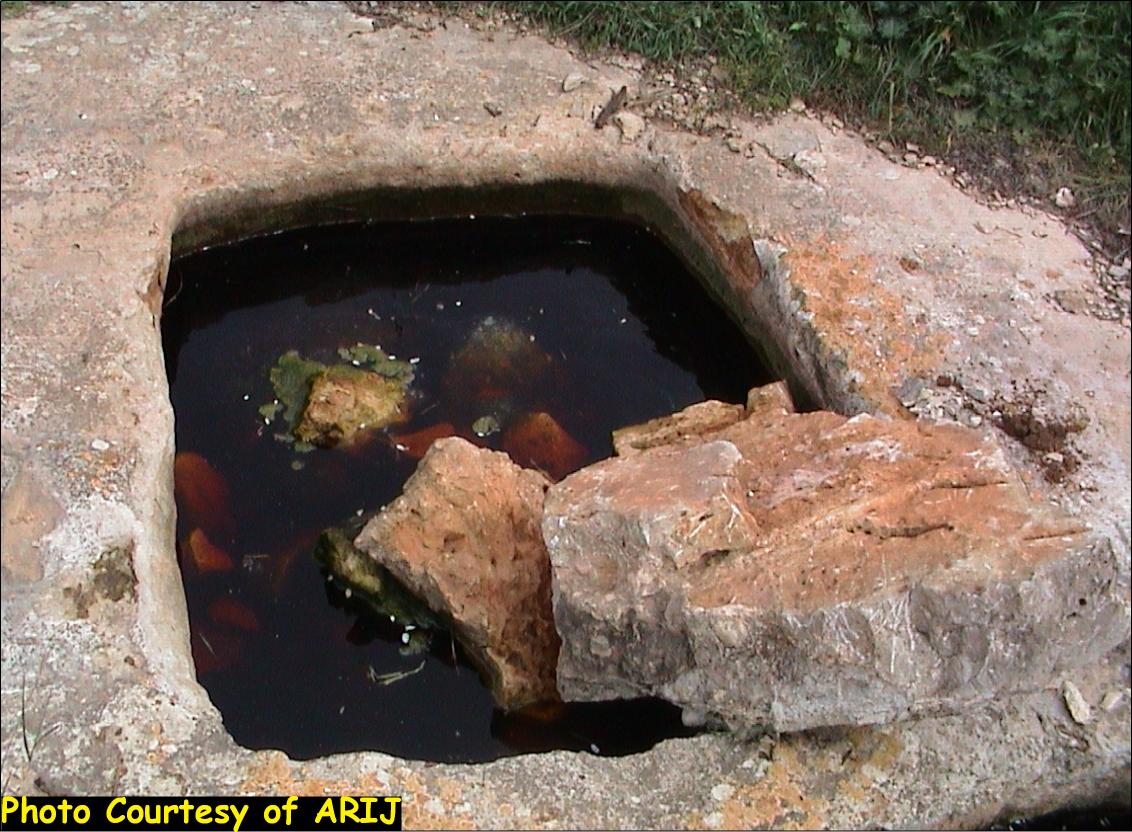 Villagers estimated the total number of fruitful trees cultivated in the seized land at 200-300 which seriously affects their income. Villagers again appealed to the court to stop settlers' attacks and are still waiting for a response. See more photos of settlers attacks on the area.
Prepared by:
The Applied Research Institute – Jerusalem