Another act of Israel's brutal policy in Burqin Village, Jenin Governorate.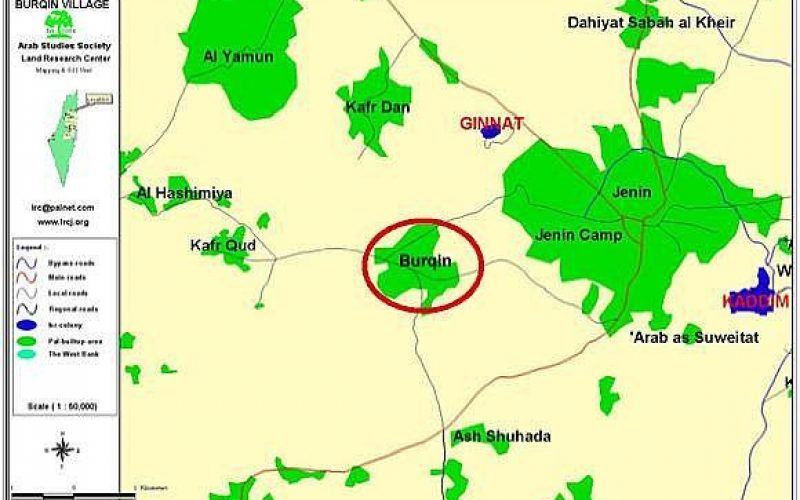 Location and population
Burqin village is located 4 km to the west of the city of Jenin. The village has a population of 5574 citizens. The village total area is 40000 dunums, of which 861 dunums serve as built up area. See map of location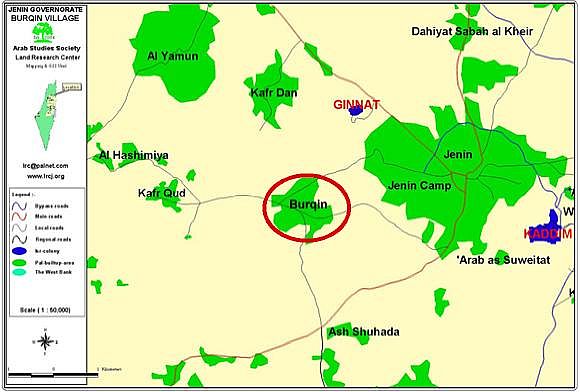 The village of Burqin in red circle to the south west of Jenin city
Violations and reasons behind
Israeli army bulldozers demolished the house of Mr. Lutfi khalof on February 5th, 2004 upon suspicions of housing wanted Palestinians inside. Despite the owner's confirmations to such claim, the army went on with their plans and destroyed his house after evacuating all occupants.
The Israeli bulldozers went on with their work to demolish a commercial store of Mr. Omer As Shayeb on December 1st, 2003 after arresting one of his sons for security pretexts. It is worth mentioning that the two families weren't notified of demolition plans. The house and the store were demolished without allowing the two families to evacuate contents and furniture. The following table sheds light on the losses caused by the Israeli demolition operations:
Victim's name

No. of floors

Area

No. of rooms

No. of Fam. members

Lutfi Abdallah Khalof

2

140 / floor

4 / floor

15

Omer Faiz Ash Shaib

One store

12 M2

One store

6

Total

292

21
The two destroyed structures are located near Al Jabriat road of the eastern quarter of the village.
Estimated losses
In addition to the destruction of his two – floor house with all contents and furniture inside, Mr. Lutfi informed LRC field worker that 6 fruitful olive trees were uprooted, a 70 cubic meter cistern and a cesspool attached to the house were also destroyed during the demolition process. Total estimated losses are 80.000 US dollars. See Photo below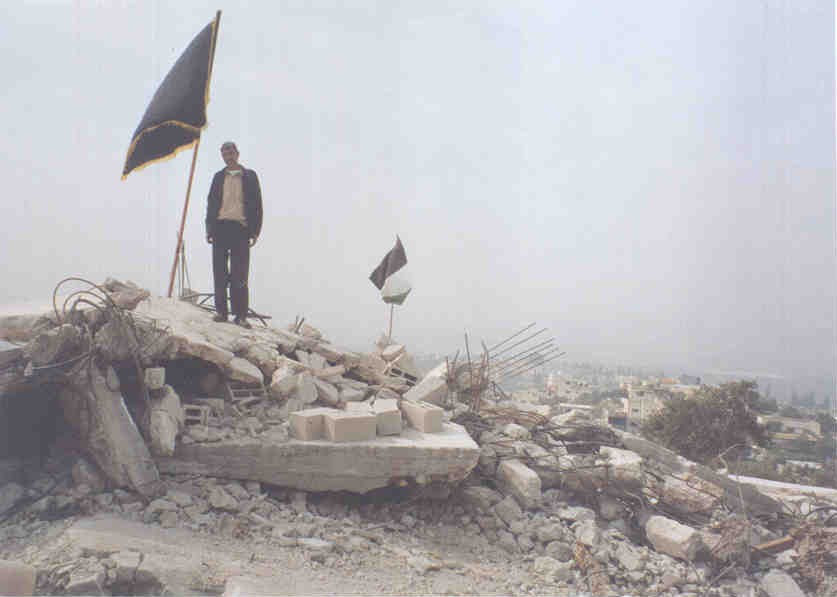 Burqin- Jenin: Mr. Lutfi khalof standing on the rubble of his destroyed house
Photo courtesy by LRC
Prepared by
The Land Research Center
LRC