Impact of the Segregation Wall on the Palestinian communities The village of Faqqua strangled by the Wall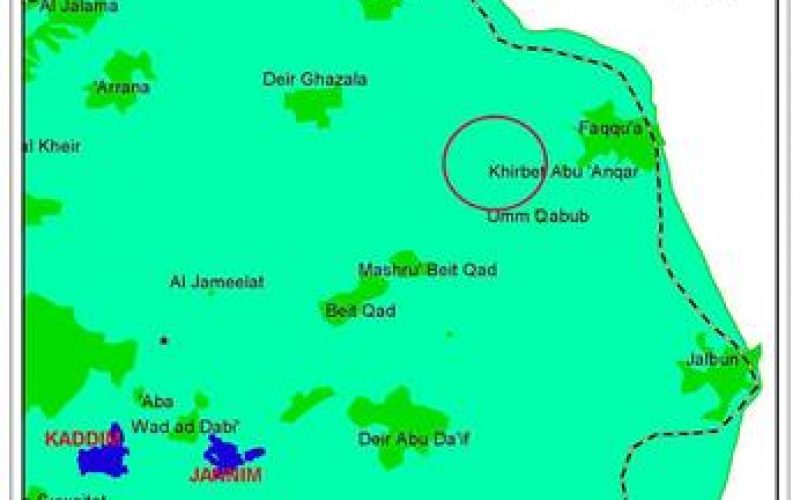 Place of violation: The village of Faqqua – Jenin district.
Location: The village of Faqqua is located 11 km north east of Jenin adjacent to the green line. See Map
Population: 3200 inhabitants
Area: the village original land area is estimated at 36000 dunums, from which 28000 dunums were confiscated in 1948. Since the start of the construction of the apartheid separation wall, 245 dunums have been seized. Once the wall has been completed it is expected that the total of 450 dunums would have been seized or separated. The village built up area is only about 2000 dunums out of the total.
The village and the wall
The wall surrounds the village from three sides: east, west and north and leaves the village with only one passage in the south. The average distance of the wall from the village houses ranges between 15-150 meters. The wall is still at the first stages of construction.
On 21.2.2003, the Israeli army informed by writing the village citizens of the military order to construct the wall. Actual works started on the ground on 4.5.2003. The order is in force from the date of signatory until 31 December, 2005.
Target locations
The target locations included the following: Al Hajij Ash Sharqi, Al Muraba'a, Khalet Kubara, Al Manayes, Al Balad, Marj Yunis and Tin Naser.
Nature of seized land
The seized land is classified as followed:
18 % cultivated with trees ( 45 dunums cultivated with 900 olive trees)

24 % cultivated with field crops ( 60 dunums )

8 % cultivated with almond and other types of fruitful trees ( 20 dunums )

48 % graze land and state land ( 120 dunums).
Impact of Separation wall on the village
First: economic impacts:
The deprivation of more than 400 workers from reaching their work places inside Israel which, in effect, has raised unemployment to un-precedent levels.
The uprooting of 350 olive trees and the separation of another 2000 olive trees behind the wall as well as the bulldozing of dozens of dunums cultivated with clover and carob trees.
Inflicting heavy losses to cow, sheep and poultry breeders in the village after destroying animal fodder, separating pastor land and preventing breeders from marketing their products.
Second: Social and psychological impacts:
1. An increase in psychological disorders and social problems resulting from chronic distress, depression and stress;
2. An increase in the level of fear and tension among residents due to constant presence of Israeli army patrols in the vicinity of houses and fields close to the separation wall.
Prepared by
The Land Research Center – Jerusalem
LRC