Villagers of Nahalin witness the destruction of their environment !!!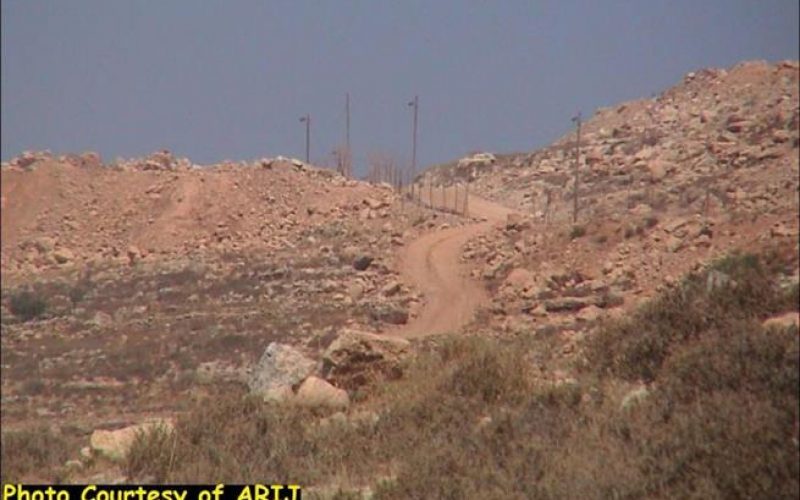 The agriculture sector in the West Bank has suffered a large number of attacks and reprisals whether by the Israeli Army or by the Jewish settlers. These attacks took the form of razing thousands of dunums of agricultural lands, destruction of private properties, greenhouses, irrigation systems, orchards, and field crops in addition to uprooting of trees and vegetables. Furthermore, a large number of dunums were sealed off and declared as Closed Military Areas while others were confiscated to be used for settlement expansions, the creation of by-pass roads, buffer zones and lately as favor of the Segregation Wall to isolate the Palestinian built-up areas.
Since the beginning of the Uprising Intifada on the 29th of September 2000, direct losses to Palestinian agriculture including the above mentioned violations were carried out through direct and indirect ways and on a regular basis. Palestinian farmers have always suffered from Israeli policies, particularly those whose lands are near Jewish settlements. Nahalin village is one of the villages mostly affected by Israeli violations due to its location among five main settlements in Bethlehem district and they are, Betar Illit in the north, Gavaot in the west, Rosh Zurian in the south, Neve Daniyyel in the east and Hadar Betar in the North West.
On the 12th of August, a group of Jewish settlers from Gavaot and Betar Illit settlements guarded by Israeli army started razing wide areas of agricultural lands which belong to residents of Nahalin village for security reasons. Almost 36 dunums of land were razed along with 500 olive trees were also uprooted as a result of this continuous violation. The lands were newly reclaimed and planted with fruitful trees so that to preserve the land from any further colonial expansion and construction of other military roads.
The real aim behind this violation was to mess up the land and displace the Palestinians from their own land which they have the right of ownership. The irregular razing of land took place in four different areas in Nahalin village, they are
Abu Al Qoroun: 20 dunums of agricultural land cultivated with olive trees which belong to Fanoun family. As a result, almost 100 olive trees were uprooted.
Qarnat Al Maghayer: 3 dunums of land were razed which belong to Ibrahim and Ali Al 'Awar
Khallit Skiek: 8 dunums of land cultivated with olive trees were razed and belong to Khaled Abdel Rahman Shakarneh; in addition to constructing a new bypass road of 1500 meters length and 6 meters width in to connect Gavaot settlement in the west with Betar Illit in the north. See Photo 1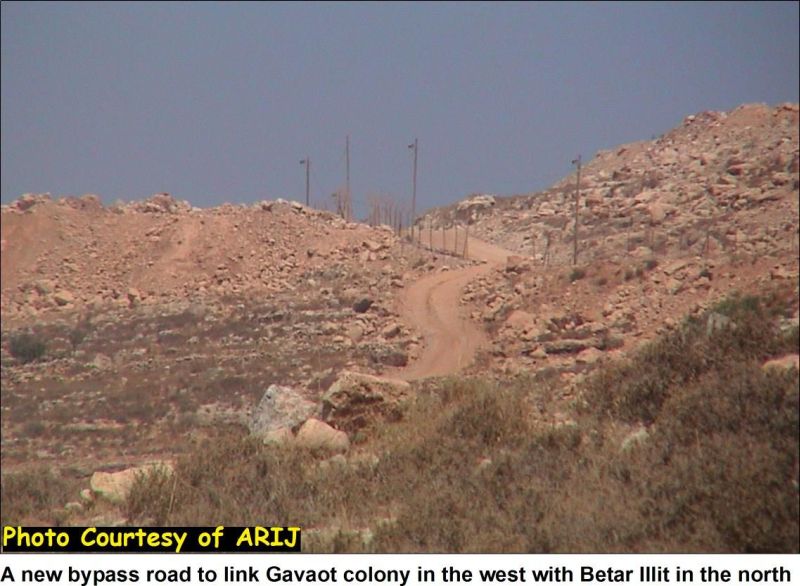 4. 'Aqbat Al 'Abed: 10 dunums of land were razed and almost 300 olive trees were uprooted which belong to resident Amin Najajreh; In addition to razing another 3 dunums of land belong to Jamil Muhammad Eylian and uprooted the 70 olive trees cultivated on the land. See Photo 2 & Photo 3
Not only have the settlers razed lands but also increased their attacks to destroy the field crops by pumping deliberately the wastewater coming out of the settlement into the cultivated land of the village and thus polluting the village's main irrigation source 'Ein Faris which supplies the village with water and is used to irrigate 16 thousand dunums of agricultural land and 5000 sheep. The pumping of Wastewater resulted in the diffusion of two dangerous diseases, the Meningitis and Scabies in the village and a considerable number of children were caught by these two diseases. See photo 4 & Photo 5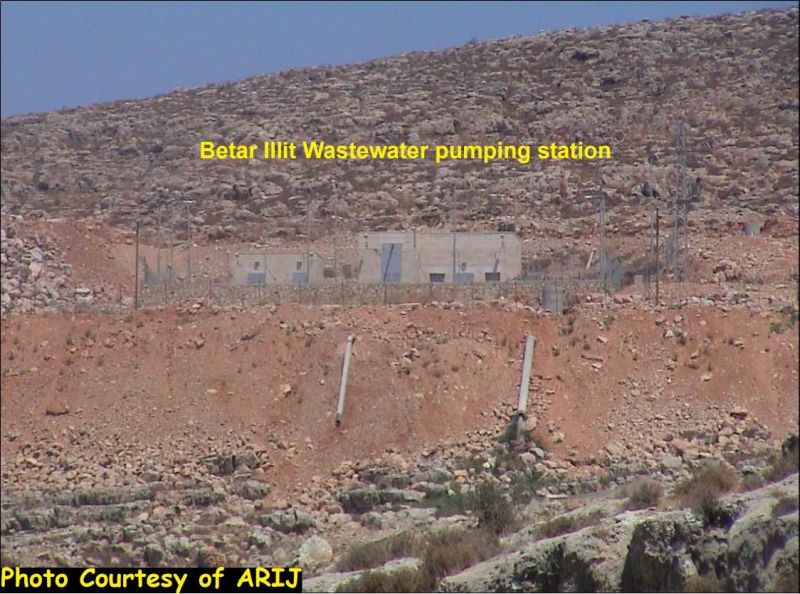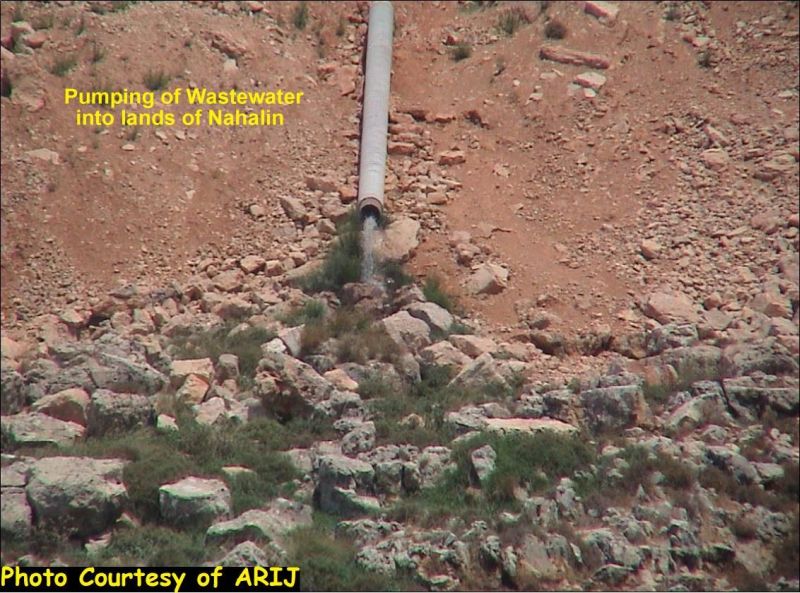 shows the result of pumping of Wastewater into the lands of Nahalin
Table 1: The table below illustrates the settlers' violations in the four different areas in the Palestinian village of Nahalin
#

Name

Area

Walls

Seedlings

Wells

Fence

Notes

olives

Grapes

Stone fruits

Figs

1

Khaled Abdel Rahman Shakarneh

7.5

300

250

120

0

20

0

200 m

Trees
(5-10 years old)

2

Ali and Sa'ed Muhammad Taha Fanoun

10

320

75

50

0

25

0

200 m

3

Jamil Muhammed Thieb 'llian

2

100

75

0

20

0

0

100m

4

Muhammad Amin Najajreh

16

400

75

100

40

10

1

200m

5

Jamil Mahmoud Daoud Fanoun

2

70

40

15

10

0

0

60 m

6

Daoud Mahmoud Daoud Fanoun

2

70

40

15

10

0

0

60 m

7

Jamal Hasan Mahmoud Fanoun

2

70

40

15

10

0

0

60 m

8

Hasan Muhammad Ali Fanoun

2

70

40

15

10

0

0

60 m

Trees
(5-10 years old)

9

Mahmoud Yousef Ali Faoun

2

70

40

15

10

12

0

60 m

Trees
(5-10 years old)

10

Ibrahim Mustafa Al A'war

1

30

10

0

0

0

0

0

11

Odeh Mustafa Al A'war

1

30

10

0

0

0

0

0

12

Ali Muhammad Ibrahim Al A'war

1

30

10

0

0

0

0

0

13

Omar Musa Ali Swad

1

30

10

0

0

0

0

0

14

Khaled Muhammad Abdel 'Aziz Najajre

1.5

110

30

0

0

0

0

0
Source: PARK, August 12,2003
The presence of Israeli settlers is a source of constant suffering for Palestinians living in Nahalin village. The agricultural sector is experiencing a downward spiral due to Israel's policy to either build or expand settlements or through polluting the villages natural resources through dumping the liquid waste generated from Israeli settlements into the adjacent land .
Palestinians are calling all international environmental, health and human rights organizations to intervene and put pressure on the Israeli government to stop these practices that contradict with humanitarian International laws of the United Nations and affect the sustainability of Palestinian resources and its preservation for future generations.
Prepared by:
The Applied Research Institute – Jerusalem