Israel Eradication Campaigns to Palestinian villages of Bethlehem District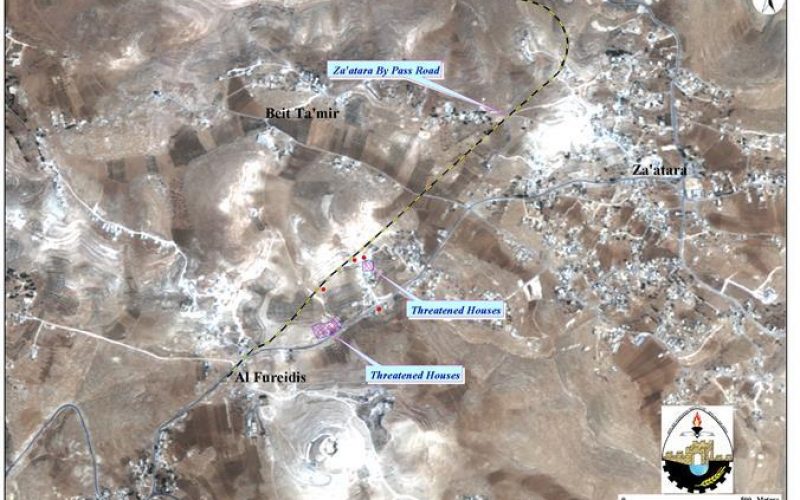 The Israeli purge against Palestinian villages in the West Bank and Gaza Strip reached its extreme violations, completely disregarding Palestinian sovereignty by invading various cities and villages in Area A. During Al-Aqsa Intifada, Israel launched its ''Operation Defensive Shield'' with incursions into the main Palestinian towns. In each incursion, Israeli troops, tanks and armored vehicles entered the cities and imposed a curfew on their civilian population.
On January 23, 2003, dozens of Israeli bulldozers, guarded by armored vehicles and Israeli jeeps, staged into the village of Za'tara to the southeast of Bethlehem district, and declared the village as '' closed military area '' causing a state of panic and fear among its residents. Later, tens of Israeli troops spread across the village and soldiers stationed above the rooftops of houses in the village before the demolition of several houses started. See Map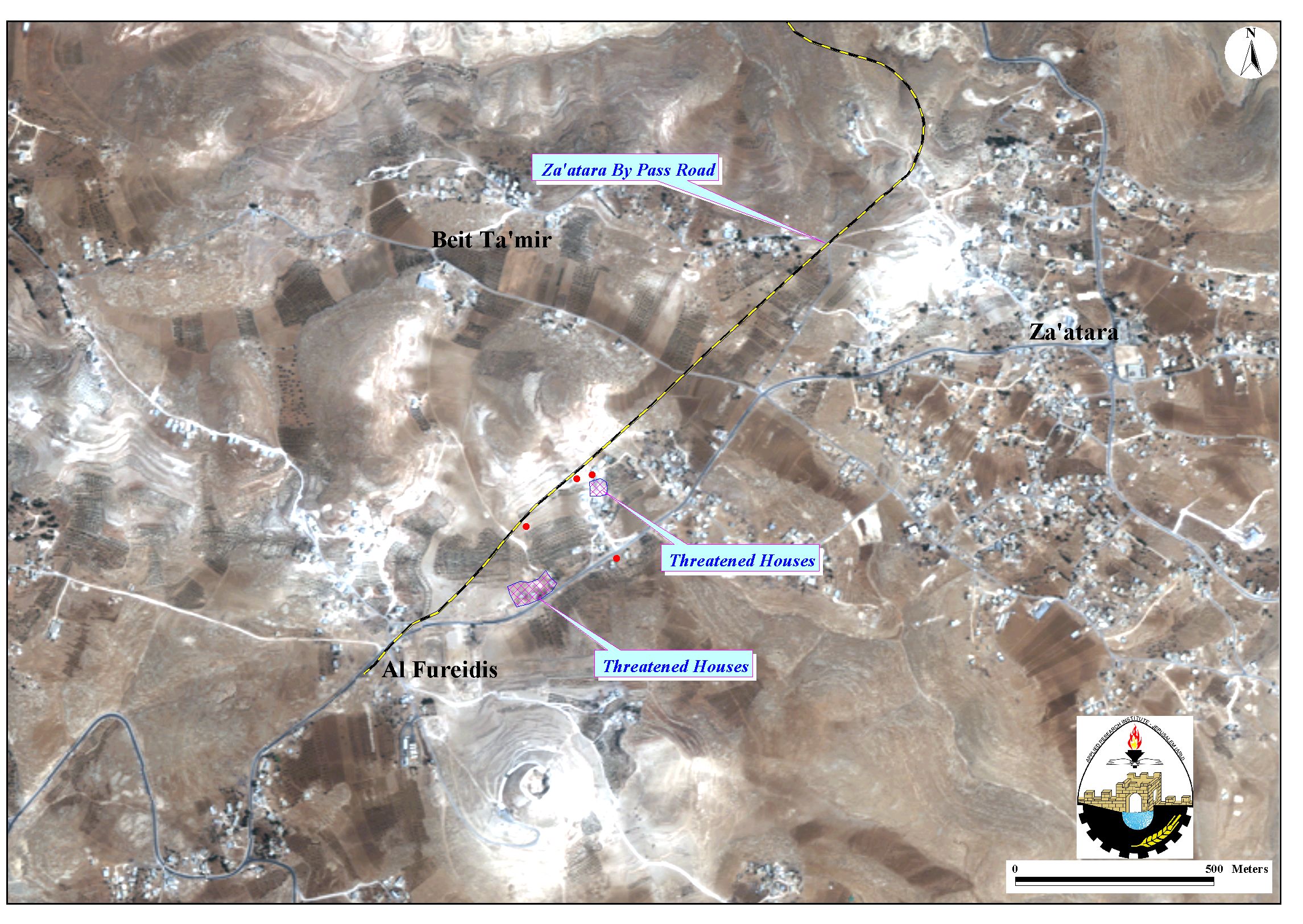 The Israeli Bulldozers demolished the houses of people listed in Table 1, going on board with their illusory justifications about '' building without licenses'' while their massive campaign is beyond those justifications but aims at wiping out all Palestinian built up structures that are located within the 75 meters buffer zone on each side of the bypass road. The so called Za'atara bypass road is 5.6 km length and will connect Afrat Bypass road that ends near the Israeli illegal colonies Nokdim and Tekoa with Bypass road 60 at Gilo crossing to the northwest side of Bethlehem and the planned bypass road 45 near Harhoma settlement. See Photo 1, 2, 3 and 4 below…
Table 1: Houses demolished on Thursday, January 23,3003
| | | |
| --- | --- | --- |
| Number | Name | Property |
| 1 | Talal Danoun | Barracks |
| 2 | Ali Ahmad Darwish Al Wahsh | House |
| 3 | Allan Ahmad Darwish Al Wahsh | A House along with poultry and Livestock farms |
| 4 | Talib Ahmad Ibrahim Salah Zawahra | House |
| 5 | Juma'a Jadal Mubarak Abu Mhemied | House |
| 6 | Haitham Talal Danoun | House |
| 7 | Beit Ta'mar council office, | 140 m² office |
The IOF opened its fire intensively on the defenseless Palestinian villagers who were at the site to prevent the vicious Israeli demolition campaign in the village and wounded 4 persons. Table 2, lists the names of Palestinian villagers who were injured by the IOF live bullets. Table 2: Palestinians injured during their Quarrel with IOF
Number

Name

1

Sharif Ibrahim Allan Al Wahsh

2

Fuad Ibrahim Allan Al Wahsh

3

Khadra Ibrahim Al Wahsh

4

Ali Suliaman Abu Mhemied

Many people got fainted due to Gaz bombs.
Almost 10 houses in Za'tara village are still under the threat of demolishing due to the Israeli plan to expand the bypass roads leading to the nearby settlements. See Table 3:
Table 3: Houses threatened to be demolished
| | |
| --- | --- |
| Number | Name |
| 1 | Hasan Marzouq Al Wahsh |
| 2 | Ibrahim Muhammad Allan Al Wahsh |
| 3 | Muthis Muhammad Ahmad Al Wahsh |
| 4 | Muhammad Talal Danoun |
| 5 | Hussein Muhammad Makhtoub |
| 6 | Ahmad Ali Abu Ra'yyia |
| 7 | Al Isteqal street |
| 8 | Ibrahim Mahmoud Awad Salahat |
| 9 | Jalal Ibrahim Darwish Al Wahsh |
| 10 | Ismail Ali Khalaf Darwish |
| 11 | Khalid Hussein Zawahra |
| 12 | Abed Ali Khamis |
The demolition of Palestinian houses by Israel has reached an unprecedented level. It is exacerbating the hardship in Palestinian living conditions and escalating the feelings of revulsion. On the ground, it is a collective punishment to Palestinians all over the West Bank. This form of collective punishment is clearly a violation to basic human rights and to the Fourth Geneva Convention article 53 which states ' any destruction by the occupying power [Israel] of real or personal property belonging individually or collectively to private persons, or to the State, or to other public authorities, or to social or co-operative organizations, is prohibited, except where such destruction is rendered absolutely necessary by military operations '…
Prepared by:
The Applied Research Institute – Jerusalem