Thanksgiving in Bethlehem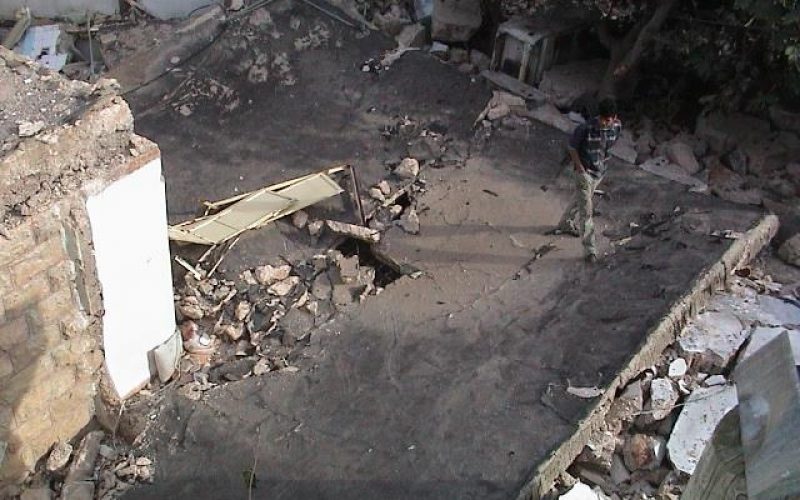 For the sixth time since the beginning of the current uprising Intifada, the Israeli occupation forces carried out a widespread military incursion into all parts of the Palestinian autonomous area of Bethlehem district, breaching the core terms of the Oslo agreement. During the incursions Israel has always exercised the cruelest forms of human and environmental rights violations by the notorious use of militarism and humiliation against the Palestinians and their natural resources. Thus, it is now evident that the current Israeli government, headed by Mr. Sharon, has dropped the peace formula formerly agreed upon and instead has acted unilaterally adopting an offensive military policy.
On Friday 22 November 2002, the Israeli forces backed with tanks and armored vehicles invaded the district from four different entrances: Beit Jala, Beit Sahour, Al Khader and the northern side of Bethlehem and started its systematic obliteration campaign of the people infrastructure and the livelihoods of the civil society as well as of the Palestinian Authority in Bethlehem in less than six months. They imposed a curfew on Bethlehem district and the Israeli forces started raiding houses, arresting a number of young men and women, devastating their houses, and destroying personal belongings as well as detaining large numbers of the population. Over 38006 Palestinian were placed under a 24-hour curfew as shown in Table 1 below.
| | |
| --- | --- |
| Location | |
| Beit Jala City | 12239 |
| Al Khader Town | 6809 |
| Ad Doha Town | 5199 |
| Artas Village | 2868 |
| Khallet Al Louse village | 328 |
| Ayda Refugee Camp | 2391 |
| Al 'Azza Refugee Camp | 1279 |
| Ad Duheisha Refugee Camp | 6893 |
| Total | 38006 |
People under curfew are not allowed to leave their homes for any reason, therefore prevented from reaching their work places and practicing their rights to have a peaceful daily life. So far, close to 40 Palestinians were arrested, some are detained and transferred to prison without any charges while others were beaten and sent back to their families. Most of the incidents took place in the following villages and locations: Nativity church area, Al Khader, Wadi Shahin, Toqua', Jabal Al Mawaleh, Hendaza, 'Ayda and Ad Duheisha Refugee camps while the other Palestinian villages remained untouched but still under curfew, which is a harsh Israeli tactic implemented on Palestinians as a form of collective punishment and humiliation.
Moreover, the Israeli military forces have demolished six Palestinian houses belong to Nael Abu Hlaiel (rented house), Walid Sbieh, and Mahmoud Abed Al-Fatah Salah all from Al Khader village, See Photo 1, Photo 2, Photo 3 and Photo 4.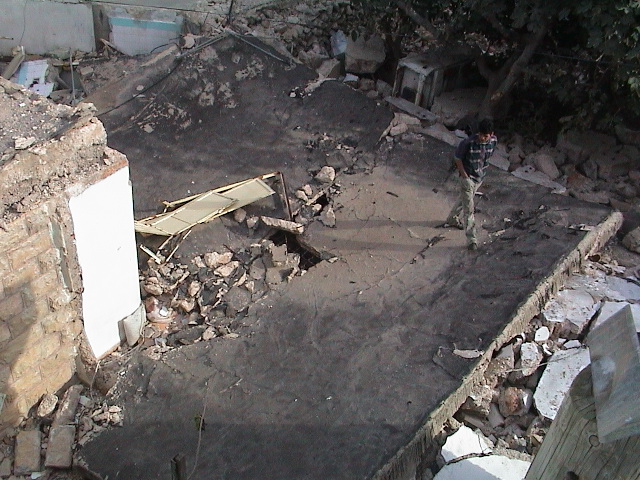 Nael Abu Hlaiel's rented demolished rented.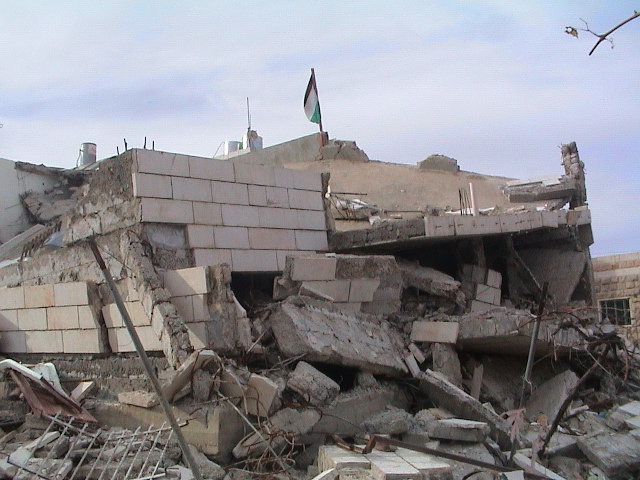 Walid Sbieh's family Demolished house.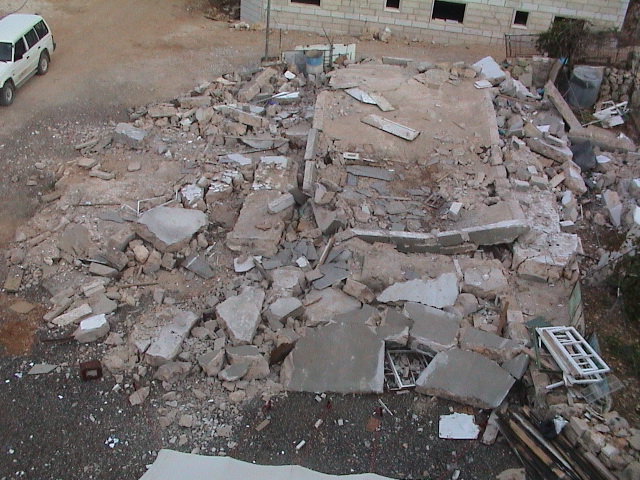 Mahmoud Abed Al-Fatah Salah's family demolished house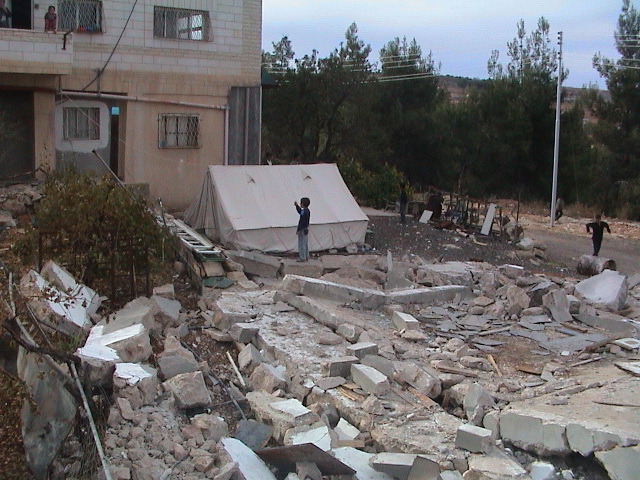 Mahmoud Abed Al-Fatah Salah's family demolished house
Riad Al 'Omour from Toqua', Ibrahim 'Ibiat and Abdallah Abu Hadid from Bethlehem downtown. See Photo 5, Photo 6, Photo 7 and Photo 8.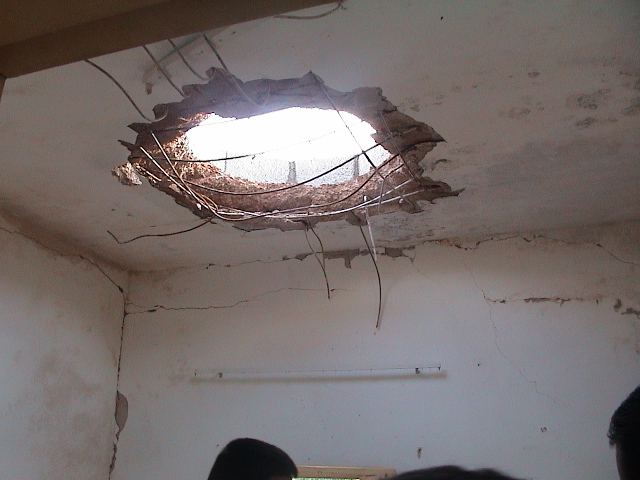 Ibrahim â??Ibiat's family partially demolished house -Inside.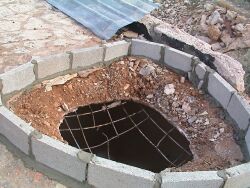 Ibrahim â??Ibiat's family partially demolished house – Outside.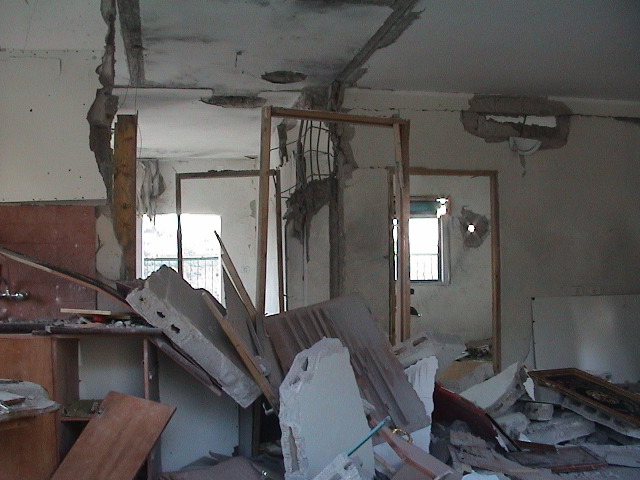 The destruction inside Abdallah Abu Hadid's house.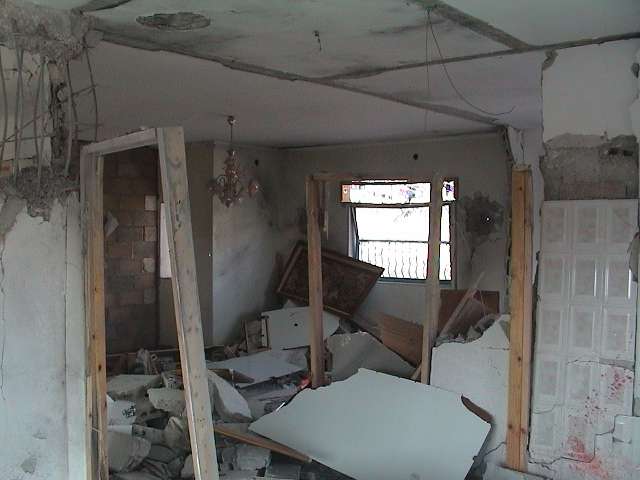 The destruction inside Abdallah Abu Hadid's house.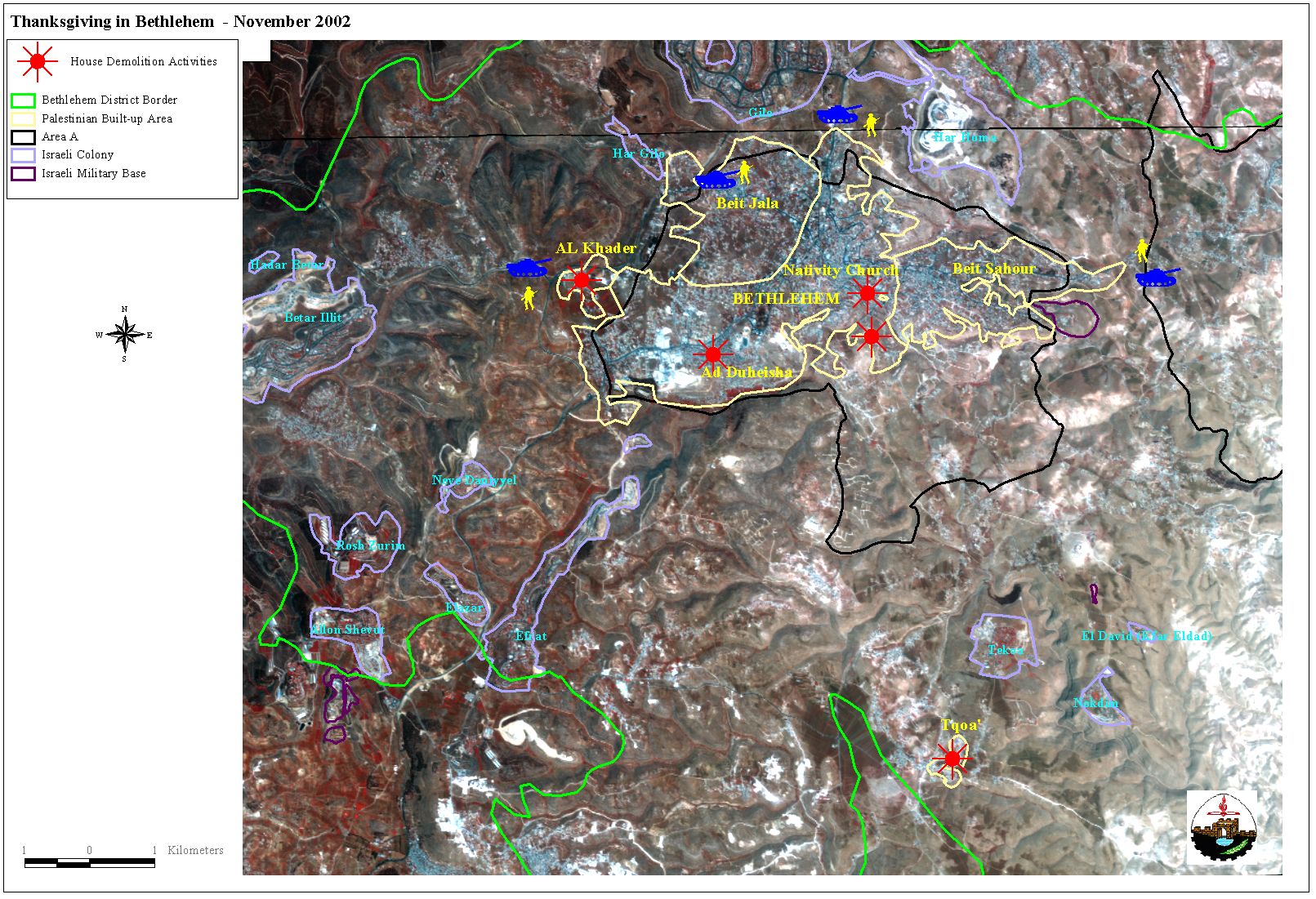 Israeli Forces also spread out and occupied several houses turning them into military outposts as part of their military operation in Bethlehem District. Not only that, but it is worth mentioning here that Bethlehem Governate building has also been raided in addition to some police stations in the governorate. The Israeli forces destroyed the place and took the computers and the communication devices.
Israeli vandalism against civilian homes in Bethlehem district shows an unprecedented level of destruction. Not only in Bethlehem, but this has been its policy in all Palestinian governorates to incur many losses upon the Palestinians in a way to eliminate what they call ''Terrorism'', in addition to the continuous and targeted Israeli policy to Isolate the Palestinian districts through confiscation of vast areas of agricultural Lands to construct more settlements, by pass and military roads as well as expanding the illegal boundaries of Jerusalem city on behalf of the other districts.
This is the Israeli gift to Palestinians while they are preparing themselves to celebrate Thanksgiving, Eid Al-Fiter Feast and Christmas.
Prepared by:
The Applied Research Institute – Jerusalem