Devastations of Bethlehem district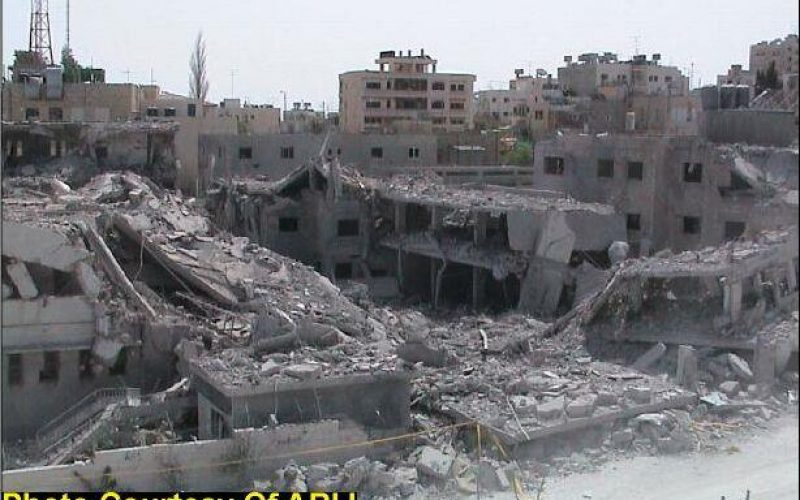 For the third time since the beginning of the current political uprising (Al-Aqsa Intifada), the Israeli occupation forces carried out a widespread military incursion into parts of the Palestinian autonomous area of Bethlehem district, breaching the core terms of the Oslo agreement. During the incursion Israel exercised the cruelest forms of human rights violations by the notorious use of militarism and humiliation against the Palestinians. Thus, it is now evident that the current Israeli government, headed by Mr. Sharon, has dropped the peace formula formerly agreed upon and instead has acted unilaterally adopting an offensive military policy.
The act of terror and vandalism in Bethlehem district started on March 4,2002 when Israeli Air Force F-16s and Apache helicopters raided air strikes against the PNA security complex turning it into piles of debris. Private properties of Palestinian civilians in the area have also been severely damaged due to their close proximity to the complex, See Photo 1. Click here for more details..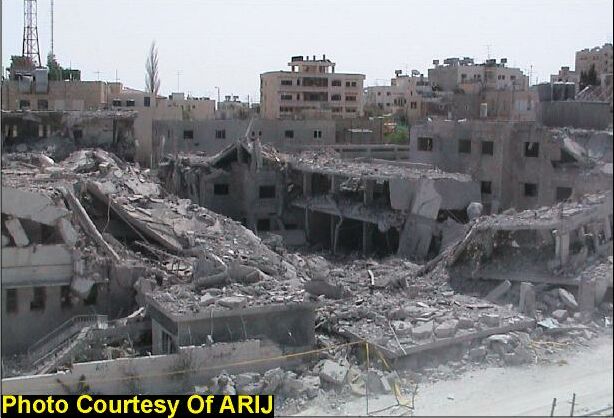 On March 8, Israeli forces backed with tanks, armored vehicles and helicopters invaded the district from three different entrances: Beit Jala, Al-Khader and the northern side of Bethlehem. Special Israeli Forces spread out and occupied several houses turning them into sniper posts. In Beit Jala and Al-Duha, families were confined inside their homes under an imposed curfew. The Red Cross- after several clashes with the Israeli occupation forces- managed to supply the families with daily needs, particularly water and bread. See Photo 2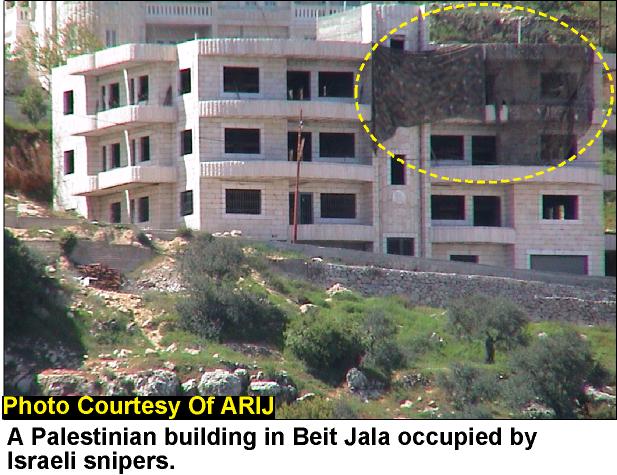 During the eleven days of invasion, over 38006 Palestinian were placed under a 24-hour curfew as shown in Table 1 below.
| | |
| --- | --- |
| Locality | Population |
| Beit Jala city | 12239 |
| Al Khader town | 6809 |
| Ad duha town | 5199 |
| Artas village | 2868 |
| Khallet al louse village | 328 |
| 'Ayda refugee camp | 2391 |
| Al 'Aza refugee camp | 1279 |
| Ad Duheisha refugee camp | 6893 |
| Total | 38006 |
Source: PCBS census 1997.
The above localities constitute 45% of total area A in Bethlehem district. The following table gives the details of the portions of Area A invaded during the last Israeli incursion. See Satellite image
Table 2: Stages and percentages of Area A reoccupied during the Israeli Invasion.
| | | |
| --- | --- | --- |
| | Area | Notes |
| Total area of 'area A' in Bethlehem district | 25,827.5 dunums | This area includes, Bethlehem, Beit Jala, Beit Sahour, and the three refugee camps; 'Aida, Ad Duheisha and Al 'aza. |
| Total area reoccupied on March 7,2002 | 9,179 dunums | A 35.5% of total area A |
| Total area reoccupied on March 14,2002 | 2,413 dunums | A 9.3% of total area A |
| Total area reoccupied | 11,589 dunums | A 45% of total area A |
Source: ARIJ GIS database,2002.
People under curfew were not allowed to leave their homes for any reason; therefore, many communities suffered from a severe shortage in food and water, especially in the town of Beit Jala, and 'Ayda and Ad Duheisha refugee camps. In fact, imposing a curfew on Ad Duheisha refugee camp wasn't an act to protect civilians but a tactic to implement the harshest form of collective punishment and humiliation ever witnessed since the Second World War. On March 11, the Israeli occupation forces arrested 800 Palestinian civilians from Ad Duheisha camp and forced all men between the ages of 16-45 to gather inside the UNRWA schoolyard. See photo 3..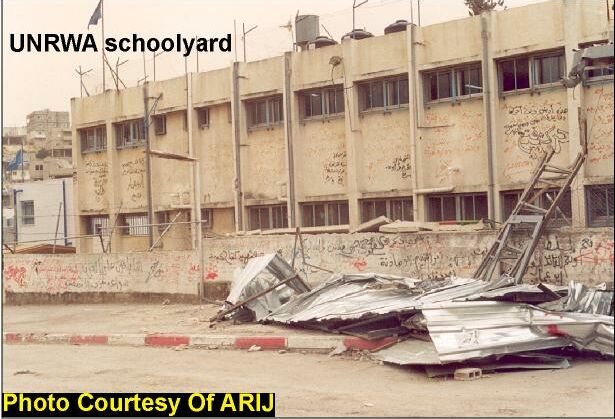 The OF ordered all men to come out with their hands up. They led them to a temporary military camp established during the invasion not far from the Ad Duheisha refugee camp. In the military camp, the Israeli soldiers handcuffed the men and blindfolded them after forcing them to take off their jackets and shirts, See photo 4..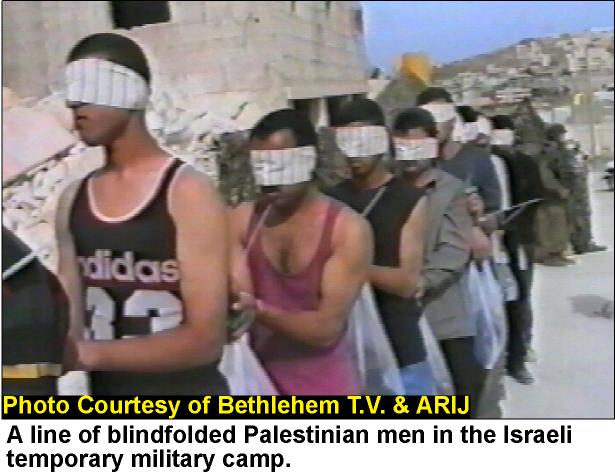 After investigating them, all prisoners stayed in the military camp till midnight without food and cloths. Fifty men were transferred to Etzion military base located in south Bethlehem. Six of them were incarcerated for unknown reasons. See photo 5 , Photo 6 & Photo 7.
Prisoners complained of the humiliating practices committed intentionally by the Israeli occupation forces against them disregarding the international and local media present in the area during the process of arrest.
Another explicit and ugly act of human rights violation was the attempt to demolish Al Ordiani home over its inhabitants. It was a Saturday night, with Israeli bullets and bombardments shattering the fog of silence in the area. While Dia' Hasan Al Ordiani, a four-year-old kid was in his bed sleeping; an Israeli army bulldozer approached his house striking the wall against which he was sleeping in an attempt to destroy his family's home. In an interview with Dia', he narrated the incident with a sense of victory stating that he was happy to have survived the colossal part of the wall that fell nearby his bed. It seems that in the mind of the occupier the agony of Palestinian people shouldn't in any way take precedence over the Israeli security pretext. See photo8 , Photo 9 & , & Photo 10
It is worth knowing that the Israeli authorities are after Dia's father, who was recently released from Israeli jails.
Israeli vandalism against civilian homes and public properties in Bethlehem district during the last incursion show an unprecedented level of destruction. Documented reports from different local and international organizations, appended with photos and field workers' surveys show that the Israeli occupation forces intended to incur many losses upon the Palestinians.
Ad Duheisha and 'Ayda refugee camps experienced the most severe bombardment and destruction in the district. In an attempt to cut all means of communication and transportation, Israeli bulldozers dug deep trenches in the main roads leading to Ad Duheisha camp causing colossal damage to the water supply system and preventing ambulances from rescuing the wounded or attending to the people in need of hospital care. See Photo 11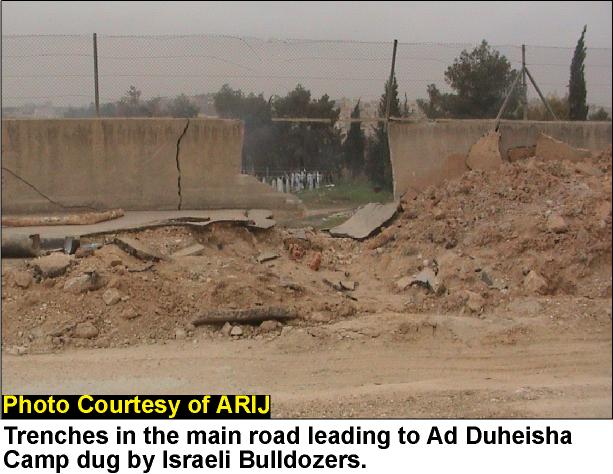 An Assessment of the Israeli Practices during time of invasion
In Ad Duhaishah refugee camp:
Besides the act of terrorizing an entire captive population, the following are the reported losses and damages resulted in the period March 8th-14th:
1. Total demolition of ten homes.
2. Partial external damage to 75 homes.
3. Partial damage and losses in furniture and home chattels to about 300 homes.
4. Cash losses due to robberies: 50,0000 US dollar.
5. Four civilians were killed.
6. 175 civilians were injured, including six wounded seriously.
7. six people were taken as prisoners .
8. Partial damage to school walls and to the Center of the Defense Committee and the cultural center of Ibda'.
9. Cutting of electricity and telephone lines for several days
10. Shortage in medical supplies.
11. A massive destruction to water pipes and sewage utilities
12. Destroying 25 cars
See gallery 1
1. Four people were killed.
2. Fifteen people were wounded
3. Two houses were completely damaged.
4. One house was completely burned.
5. Thirty-nine houses were partially damaged.
6. Partial damage and losses in furniture, water tanks, windows and home chattels of about 150 homes.
7. Destroying 15 cars.
8. Partial damage to Ayda Elementary School for girls.
9. A massive destruction of four main water supply lines and sewage utilities
10. Cutting of electricity and telephone lines for several days.
11. Destroying of 3000 meters square of concrete walls.
See Gallery 2
1. Two people were killed.
2. Two homes were completely damaged
3. Ten buildings including workshops, mini markets and houses were severely damaged.
4. Devastation of Fifty Dunums of agricultural land.
5. Uprooting almost One thousand six hundred trees.
6. Three cars were damaged.
7. One house was occupied and transformed into military base (till now).
See gallery 3
Another four people were killed in the district: one in Al 'Aza refugee camp and three in Bethlehem city. In fact, this assessment does not reflect the actual total damages present as a result of Israeli antagonism but it serves to shed light on the main losses. For instance, while three houses were taken as military and sniper posts in Beit Jala, a house belonging to Al Liddawi family was attacked by a surface-to-surface missile that burned the house out, See Photo 12 & Photo 13 . & .
Also , in Bethlehem , three missiles hit Bethlehem University new building and P the library causing a serious damage to four class rooms and a total damage to about 200 books, See Photo 14, Photo 15 & Photo 16.
Al Katimi home, which is located near the University also was hit by two missiles which forced its family to leave since it is not suitable for living any more. Below is a summary of the total losses in Bethlehem incurred during the third Israeli Incursion:
| | |
| --- | --- |
| Martyrs | 16 |
| Injuries | 41 |
| Houses that were demolished | 8 |
| Houses that have been totally damaged due to bombardment. | 4 |
| Houses that were partially damaged | 14 |
| Stores that were partially damaged. | 410 |
| 44 | |
As for the material losses in the Governorate, the initial estimation is as follows:
| | |
| --- | --- |
| Infrastructure (Roads, water, electricity, Telecommunications and sewage systems | 3.332.000 $ |
| Agricultural Sector. | 500.000 $ |
| Other Losses (cars, furniture, equipment and electrical Appliance. | 2.000.000 $ |
References
1. ARIJ Field Workers and GIS Database, March 2002.
2. Palestinian Liberation Organization, Refuge Affairs Department, the public Committee Services for Al Duhaishah Camp, Report on losses due to Israeli Incursion, March 2002.
3. Palestinian Liberation Organization, Refuge affairs Department, the Public Committee Services for 'Ayda Camp, Report on losses due to Israeli Incursion, March 2002.
4. Palestinian Prisoner Society, Report concerning Palestinian Prisoners, March 2002.
5. Palestinian National Authority, ministry of local Government, Al-Khader Municipality, Preliminary Assessment due to Israeli Incursion, March 2002.
6. Palestinian National Authority, Bethlehem Governor Office, March 2002.
Special Thanks to Bethlehem TV. and Dar Audio Production company.
Prepared by:
The Applied Research Institute – Jerusalem