The Palestinian town of Araba becomes under Israeli army attack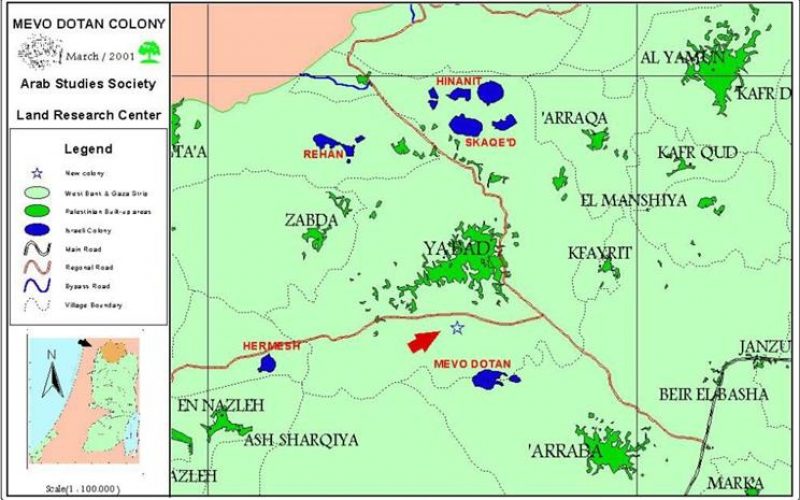 Background to Araba town
The town of Araba is located at a hilly area 16 km to south of the city of Jenin and considers the center of surrounding villages of Kufr Ra'i see map, Fahma and Ija. 10, 000 inhabitants live in the town while 40,000 others are in Diaspora. The town is served by water and electricity networks, health center, post office, Red Crescent office, 5 girls and boys schools of different levels and several kindergartens. A municipal council established in 1964 runs it.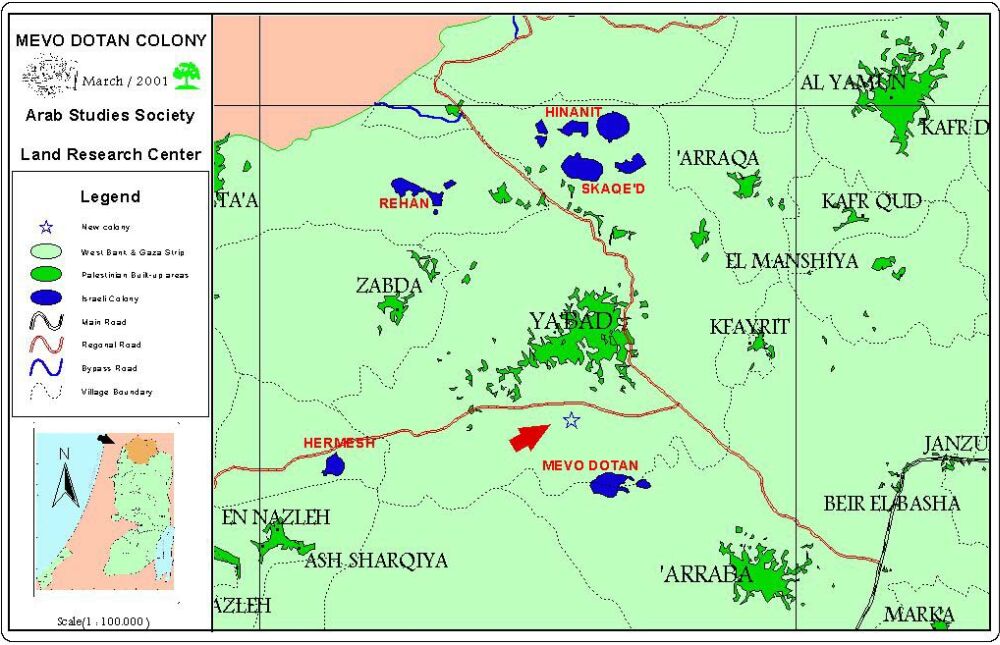 Agriculture in Araba
The town is characterized by its spacious valley, which is regarded as a vital artery of income for most farmers in the area. Various types of summer and winter vegetables and fruits are cultivated there. The olive tree is another source of income for town inhabitants…
Colonialist activity in Araba
At the beginning of the eighties, the Israeli occupation authorities confiscated more than 1000 dunums of land to make room for the establishment of the settlement of Mabo Dotan to the west of the town. An Israeli army military camp was, also, set up at the main eastern entrance to the town on land confiscated from Palestinian owners. Throughout the occupation period, more than 1000 fruitful trees of different types have been uprooted from land belonging to the town.
The latest attack and aftermath
On October 31st,, 2001, huge Israeli army force equipped with tanks, armored personnel carries and helicopter gunships stormed the town at dawn under the pretext of looking for wanted people. The attacking force carried out search campaigns in many houses causing damage in properties.
LRC field worker documented the following personal and general losses inflicted on the town by Israeli soldiers:
Two persons were injured with live bullets. Six persons were arrested and taken to unknown destination. The table bellow shows personal financial losses in properties:
| | | |
| --- | --- | --- |
| No. | Name of affected person | Losses in NIS |
| 1 | Jawad Mutlaq Assaf | 3000 |
| 2 | Husni Ahmad Abu- Jalbush | 1350 |
| 3 | Ahmad Khalil Tahnat | 14200 |
| 4 | Marwan Mustafa Abu- Amir | 2000 |
| 5 | Nasser Yaser Atari | 63750 |
| 6 | Mahmud Sa'id Ziad | 9205 |
| 7 | Ayman Abu- Jalbush | 5750 |
| 8 | Ziad Barahmeh | 5000 |
| | Sub total | 104255 |
The table below shows general financial losses in properties:
| | | |
| --- | --- | --- |
| No. | Item | Losses in NIS |
| 1 | Asphalt roads | 23500 |
| 2 | Street lights | 2500 |
| 3 | Town gate | 10000 |
| 4 | Lifting of rubble and destroyed material | 5000 |
| 5 | Agricultural roads | 3000 |
| 6 | Electric network | 127300 |
| | Sub total | 171300 |
| | Grand total | 275555 |
Prepared by
The Land Research Center
LRC