Colonialist Activities … Burning of crops and trees
Governorate: Nablus.
Village: Al- Sawyyeh.
Name of settlement: Eli
Background to the settlement:
Established in the 1984 on land seized from the villages of Al- Sawyyeh, Luban El- Sharqi and Qaryut. When started, it controlled an area of 1222 dunums. Later, 5000 additional dunums were seized. 1000 housing units were built in the settlement, 200 of them are inhabited while 800 are not. This proves that the building and expansion of Israeli settlements in the occupied territories is aimed at achieving political results rather than the need for housing for new Israeli comers as all Israeli governments always claim.
New violation:
Burning of 30 dunums of land cultivated with grain and burning of 6 classrooms in Al- Sawyyeh secondary school.
Date of violation: 1.6.2001 and 24.6.2001.
Owners of burned land:
Mr. Mohammed Izzat AbdulHalim..

Mr. Nasser Abu- As'ad.

Mr. Ibrahim Hammad.

Mr.Meriam Hammad.
Perpetrator:
Settlers from Eli settlement after the killing of one of them. The attack was carried out under the protection of the Israeli army and in front of press cameras.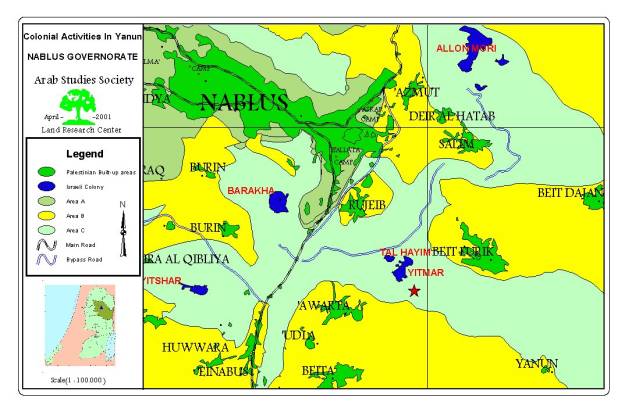 Beit Furik
Governorate: Nablus.

Town: Beit Furik.

Location: Khalet Al- Ward, Sheikh Mohammed Jadu' and Khalet Abu -Abdullah

Area: 1000 dunum.

Owners: more than 100 farmers from the families of Hanani, Khatatbeh, Nasasreh and Mlitat.

Number of burned trees: 3000, 90% olive, 6% fig and 4% almond.

Percentage of damage: 2500 trees were burned at 50%, and the remaining 500 trees at 80%.

Date of arson: during the period from June 1st, 2001 until June 24th, 2001.

Perpetrator: Settlers from Itamar settlement.
Additional information:
Israeli settlers were seen throwing burning balls at Palestinian fields. When Palestinians tried to intervene they were blocked by the Israeli army. Nablus municipality Fire Brigades were also prevented from reaching the sites under attack.
Kufr Qadum
Governorate: Qalqilya.

Village: Kufr Qadum.

Settlement: Qadumim.

Location: Wadi Qattus.

New violation: Burning of fruitful olive trees.

Area affected in dunums: 25

Number of affected trees: 400.

Percentage of damage: 300 trees at 50 % and 100 trees at 80%.

Date of arson: 17.6.2001.

Owner: Ahmad Mohammed Asa'ad Awad.
Additional information:
Eyewitnesses confirmed that settlers from the settlement of Qadumim set fire to olive fields. When Palestinians tried to stop them, the Israeli army intervened and opened fire and shot tear gas at them. A number of land owners were also beaten.
Prepared by
The Land Research Center
LRC