The Myth of Natural Growth, Who Are They Fooling?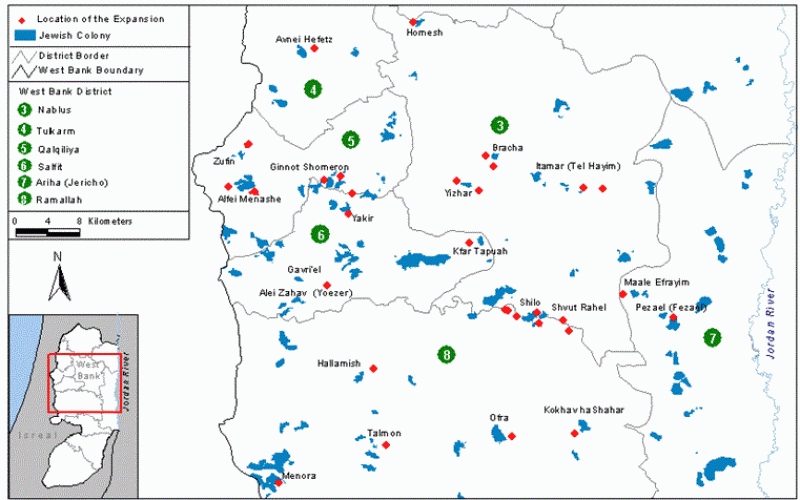 The recent declaration of the Israeli Housing Ministry that it plans to construct 5,000 housing units in Jewish settlements in the West Bank in 2001 drew a lot of criticism from all over the world. Various members of the world community expressed their distress from the move since it damaged the prospects of reviving the long-frozen peace talks. However, what should have been noted is not the construction of new housing units but rather the Israeli claim that this plan comes in response to ''natural growth''. As will be demonstrated shortly, the growth is by no means ''natural'' but politically and financially induced to serve a specific political objective. By taking a look at the population growth in the last few years one observes the following:
The Growth in Population
Israel

Jews only

Settlements in WBGS

Year

Population in thousands

Growth

Population in thousands

Growth

Population in thousands

Growth

1993

5327.6

4335.2

116

1994

5471.5

3%

4441.1

2%

128

10%

1995

5612.3

3%

4522.3

2%

133

4%

1996

5757.9

3%

4616.1

2%

147

11%

1997

5900.0

2%

4701.6

2%

160.2

9%

1998

6041.4

2%

4785.1

2%

172.2

7%
Source: Statistical Abstract of Israel, various issues.
The average growth rate for Jews in Israel is 2.0% per year (the rate including non-Jews is 2.5% per year). However, the population of the Jewish settlements grows at around 8.5% per year, which amounts to over four times the Israeli growth rate. Between 1996-98 there were 130 settlements that had an average annual growth of over 2%. That means that over 80% of the settlements grow at rates higher than the overall Israeli average. Some settlements like Peat Sade and Lapid grew by 150% in those two years.
Indeed, why wouldn't the settlement population increase at such exponential rates when all Israeli governments (both Labor and Likud) uphold substantial incentives to encourage Jewish migration into the West Bank and Gaza? The incentives are extremely tempting: business grants, housing grants, subsidized mortgages, free schooling from the age of 3, free school busing, and a 7% income tax break. In November last year the government announced it planned to spend 1.2 Billion NIS (300 million US dollars) in 2001 on the settlers. At the same time, it was reported that in Atarot industrial settlement near Qalandia 60 factories (of a total 200) closed down (Al Quds 24-3-2001). Hence the growth in the settlements is by no means spontaneous or self-perpetuating but rather funded, supported and maintained by the Israeli government despite it being an economic burden.
In terms of size, the settlements have also seen unprecedented growth. The area occupied by the settlements in the West Bank doubled in the seven years between 1992 and 1999 from 77 square kilometers (which represented 1.3% of the West Bank) to 150 square kilometers (which represents 2.6% of the West Bank).
Furthermore, the Israelis also claim that ''no new settlements will be built''. But, the Israeli authorities have already approved over 40 outposts that were erected since 1996. These outposts are scattered allover the West Bank and serve as nuclei for new settlements. Hence, the declaration of halting the construction of new settlements is just a ploy since the seeds for new settlements are already there; click here to see the locations of the expansions.
List Of New Expansion in The West Bank
District

Mother Settlement

Expansion

Area in Dunums

Bethlehem

1

Har Gilo

New Expansion

332

2

Neve Daniyyel

New Expansion

263

3

Kefar David

Outpost_Sdeh Bar Farm

125

4

Tekoa

New Expansion

122

5

Betar Illit

New Expansion

28

6

Alon Shevut

Outpost-Givat Ha'hish

19

7

Har Homa

New Expansion

18

Total

907

Hebron

1

Migdal Oz

New Expansion

104

2

Ma'ale Amos

Outpost_Ivei Ha'nachal

87

3

Maon

New Expansion

33

4

Metzadot Yehuda

Outpost_Nof Nesher

31

5

Tene Omarim

Outpost_Tene Omarim SE Caravans

26

6

Suseya

Outpost_Magen David Farm

10

7

Tene Omarim

Outpost_Tene Omarim N Caravans

4

8

Maon

Outpost_Maon Farm

2

Total

297

Jericho

1

near_Maale Efrayim

New Site

159

2

Pezael (Fezael)

New Expansion

22

Total

181

Jerusalem

1

Pisgat Amir

New Expansion

77

2

Adam (Geva Benyamin)

New Expansion

62

3

2091950_near Ramot

New Expansion

38

4

Kokhav Yaacov

New Expansion

29

Total

206

Nablus

1

Homesh

New Expansion

32

2

Bracha

Outpost Beracha A

16

3

2030350_Gvaot Olamn

New Expansion Gvaot Olamn

12

4

Mizpe Rahel ( Shvut Rahel )

Outpost Ahiya (Hill D)

9

5

Shilo

New Expansion

8

6

Itamar

Outpost Hil Neighborhood (Hill 777)

8

7

Yitzhar

Outpost Yitzhar Eastern Hill

7

8

Yitzhar

Outpost Ahuzat Shalhevet

4

9

Bracha

Outpost Sneh Ya'akov

1

Total

97

Qalqiliya

1

near Alfe Manashe

New Site

219

2

near Zufin

New Site

185

3

Neve Oranim

New Expansion

142

4

2050760 – near Alfe Manashe

New Expansion

9

5

Karne Shomron

Outpost_Nof Kane Farm

7

Total

562

Ramallah

1

2081360 next to Shilo

New Expansion

156

2

Shilo

Outpost Shillo East 2

48

3

Kochav Ha'shachar

Outpost Mizpe Keramim

35

4

Ofra

Outpost Amona

26

5

Shilo

Outpost Givat Harel (Hill 740)

17

6

Menora

New Expanstion

15

7

Shilo

Outpost Shillo East 1

10

8

Halamish

Outpost Zofit Farm

7

9

Talmon North

Outpost Haresha

4

10

Shevut Rachel

Outpost Adi Ad (Hill F, Hill 799)

1

Total

319

Salfit

1

Ginnot Shomeron

New Expansion

53

2

Yakir

New Expansion

39

3

Kefar Tapuah

Outpost Kefar Tapuah Hill 660

35

4

Between Gavri'el , Barqan

New Site

7

Total

134

Tulkarm

1

Avnei Hefetz

Outpost Avnei Hefetz Eastern Caravans

6

Total

6

Grand Total

2709
Source: ARIJ database 1999. (1 Dunum = 1000m2)
All this happened during the peace talks and the alleged commitment to refrain from Tak[ing] any step that will change the status of the West Bank and the Gaza Strip..' Article XXXI, Oslo II.
In the last two months alone there were several plans for new housing units: 2800 housing units for Jabal Abu Ghneim (Har Homa), 6000 for Gavaot, 700 for Maale Adumim and Alfe Menashe, as well as others. American officials say that there are at least 20,000 housing units that are empty and hence there is no need for new ones (Haaretz 10-4-2001).
It is hard to see, after all this, how the Israeli side can sustain its claim of building new housing units only to cater for natural growth. There is nothing natural in a 9% increase in population every year and the large scale destruction of Palestinian land in such a short period of time attests just that. The growth is aggressive not ''natural''; see photo1, photo2.
Israel's policy of building settlements and expanding them in the West Bank and Gaza Strip is part of a political strategy that aims at dispossessing the Palestinians of their land and at the same time keeping control over whatever is left of Palestinian towns and villages. The building of settlements is the proof that Israel is not serious about achieving a just and viable settlement to the Arab-Israeli conflict.
Prepared by:
The Applied Research Institute – Jerusalem