Israeli Violations In The North Of The West Bank- Palestine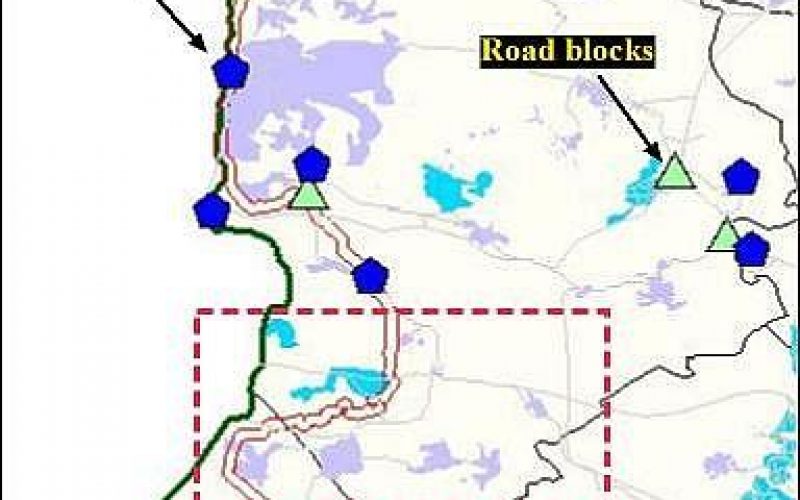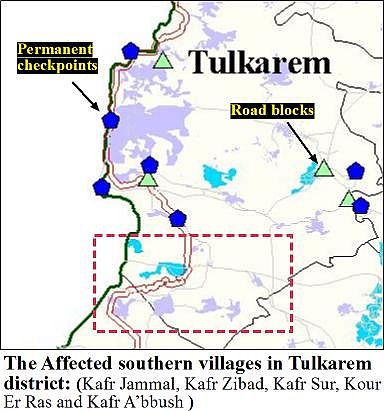 1.11. 2000:
Israeli army bulldozers started to bulldoze a nursery and agricultural land at the northern entrance to Qalqilieh City owned by Mr. AbdulLatif Nofel and Mr. Abder Qader Walail. Israeli occupation authorities had sent notifications to owners of nurseries, agricultural land and shops in the area warning them that their properties would be destroyed under the pretext of shooting at the Israeli military post at the northern entrance of the city forces from these premises.
2.11.2000 :
Israeli colonialists attacked at night Palestinian properties in Bita village, south east of Nablus, and uprooted 100 olive trees and attacked farmers in Deir Al- Hatab forcing them to stop picking olives.
6.11.2000:
Israeli Colonialists from Elon Moreh cut 200 olive trees belonging to Mr. Abdel Ra'uf Ummer, Mr. Fa'iq Alawneh and Mr. Abdallah Alawneh from the village of Azmut east of Nablus. The owners said that the colonialists attacked their fields at night and the trees were cut with electrical equipment. They also stole olives picking tools and big quantities of olive fruits.. On the other hand, colonialists from Yitshar settlement attacked Palestinian fields in the villages of Hawareh, Burin, Assera Al Qibleyyah and Orif cutting more than 600 hundred olive trees during the month of October, 2000. On Nov. 6th, 2000, Israeli armed forces prevented farmers of Salfit town and Haris village from picking olives near the settlement of Revava. Earlier, Israeli colonialists opened fire at Palestinian farmers in the same area injuring two of them seriously. The two injured persons are from the villages of Orif and Hawareh.
7.11.2000:
Israeli bulldozers destroyed agricultural land in the village of Madama, south of Nablus with the aim of building a bypass road through the town of Hawareh and on land belonging to Burin, Madama, Asseria Al- Qiblieh, Iraq Burin and Tal, passing through the land of Jit to cut the main road between Nablus- Qalqilieh joining another bypass road near Kafer Qadum heading towards Shafeh Shamrun and Aseria Ashamalieh from the military camp at Mount Ebal overlooking Nablus. Israeli colonialists set-up more caravans and residential units at a colonialist point near Kafer Qalil.
8.11.2000
Israeli bulldozers uprooted more than 100 citrus trees located on both sides of the road leading to Alfeh Minashe settlement owned by Mr. Ma'zuz Abdel Rahim Daud and his brother Mr. Mohammed from the city of Qalqilieh. Israeli bulldozers belonging to the settlement of Tishea'ri Tickfa uprooted more than 50 olive trees owned by Mr. Yusif Mohammed Al- Sheikh, Mr. Kamel Yusif Al- Sheikh and Mr. Basem Mohammed Al- Sheikh from the village of Beit Immin in Qalqilieh.
8.11.2000:
An Israeli military force stormed the village of Burin west of Nublus after midnight destroying the contents of 6 houses under the pretext of searching for wanted people.
Large Quantities of vegetables are damaged daily in the northern part of the valleys of Tubas town as a result of the Israeli closure and the prevention of trucks from transferring these goods to markets. On the other hand, animal breeders are suffering from the lack of fodder. Consequently, Palestinian farmers have called upon respective authorities and human rights organizations and international agencies for an immediate intervention to stop these inhuman measures against them.
12.11.2000:
Starting from this date, Israel occupation authorities completed the siege on the city of Qalqilieh by blocking all the ways leading to the city, including roads used by farmers to reach their land. At the same time a number of Palestinian farmers were attacked by Israeli troops and forced to leave their olive orchards. Ambulances were also prevented from transferring patients into hospitals including elderly people.
Israeli troops opened their heavy machine guns on the same day at residential areas inside the city causing damage to water tanks and electrical generators. An agricultural nursery owned by Mr. Ahmad Farraj and a cement shop owned by Mr. Abdul Rahim Sa'sa' were also destroyed. Israeli armed forces destroyed 40 dunums of agricultural nurseries located at the bypass road south of the city and owned by Mr. Yaser Hurani, Kaid Atta, Tahsin Shqeir, Mu'in Atta and Wa'el Adel. The damage caused is estimated at one million dollars. On the same day, Israeli soldiers imposed a military closure on the village of Haris in Salfit governorate by closing all the entrances to the village with piles of dirt and cement blocks. Israeli troops set-up an observation point at the roof of Mr. Tahsin Aqel's house. On the same day, Israeli bulldozers uprooted 35 olive trees located at the main entrance to the village in order to open a new bypass road to meet the ''TransSamaria'' high way.
14.11.2000:
Israeli settlers from Yitshar settlement uprooted 42 olive trees belonging to Zein family in Burin village.
14.11.2000:
Israeli occupation forces detained a truck loaded with 8700 small chicken and prevented their owners Mr. Mohammed Shamlawi from Haris and Mr. Sameer Jaber from Kifl Haris from bringing them into the villages for five hours. As a result, 1000 chicken died and another 1000 are in bad condition.
Settlers of Elon Moreh prevented farmers from the families of Odeh, Jibur and Ishteih from Salim village from picking olives over an area estimated at 120 dunums.

Israeli army uprooted 1500 olive trees at the entrance of Haris village owned by different families from the village.
17.11.2000:
Israeli settlers under the protection of army uprooted 15 olive trees from the village of Um Arrihan, close to the green line, in Jenin governorate owned by Mr. Omer Mohammed Mustafa Zaid.
18.11.2000:
Israeli occupation forces seized a piece of land belonging to Mr. Mohammed Ali Aqel and located at the western entrance to Haris village. The land was seized to erect an Israeli military post there.
18.11.2000:
Israeli settlers uprooted 15 olive trees owned by a family from the village of Tora south of Jenin.
19.11.2000:
Israeli settlers destroyed large quantities of olive fruits and confiscated olive picking tools from the town of Hawareh in Nablus governorate.
21.11.2000:
Israeli occupation forces uprooted 100 olive trees from the town of Dir Istiah in Salfit governorate owned by Mr. Abdul Aziz Abu Zaid and Mahmud Abu Zaid and bulldozed a large area along the main road joining between the settlements of Emmanuel and Takiir. Farmers were also prevented from entering their land. Israeli settlers uprooted 50 olive trees in the village of Haris with electrical machines.
21.11.2000: Israeli settlers and under the protection of the army uprooted 120 olive trees from Deir Istiah and owned by Mr. Abdul Azis Abu- Zaid, Mr. Murshed Abu- Hajala and Mr. Abdel Khafar Yassin.
Prepared by
The Land Research Center
LRC