Israeli Army Holds Olive Farmers as Hostages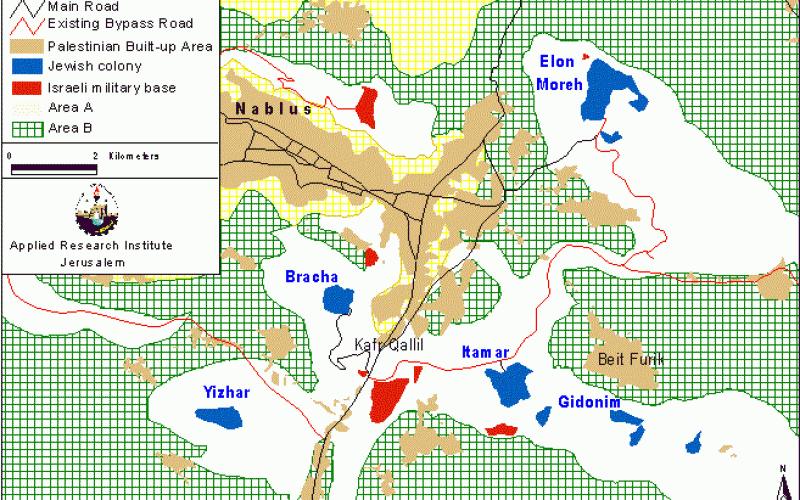 Introduction:
'When can we go back to Al Mantara, dad? I forgot my kite there.' That was how innocent young Ahmad asked his dad not knowing what was going on around him. He did not realize that he and a big group of farmers were held hostages in the cold weather for more than four hours on the 20th of October 2000.
Location and Area:
Al Mantara is part of the Kufr Qalleel village, located 4 kilometers to the south of Nablus. The area of the land owned by the above-mentioned farmers is about 150 dunums planted with olive trees. It is part of the 8000 dunums that constitutes the total of Kufr Qalleel's land. Half of this land was confiscated in the past for the purpose of the establishment of Israeli settlements on it; see map.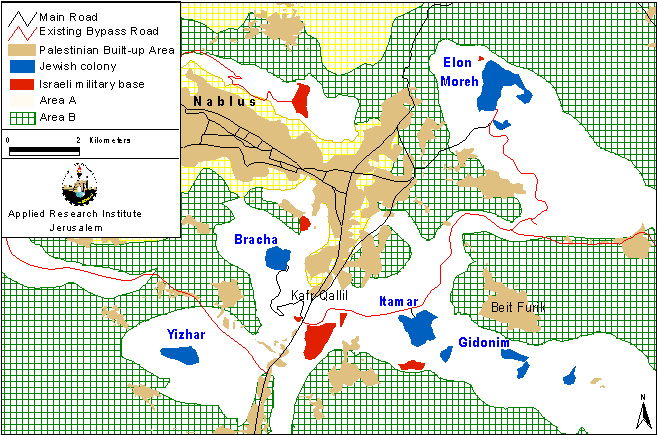 Assault Details:
Kufr Qalleel farmers started heading home after a long day spent in collecting olives from their land. Suddenly, an Israeli military force appeared and took all the men, women, children, the elderly and even the donkeys as hostages until some Palestinian youth stopped throwing stones at the force. A total of 20 families were held hostage and were taken as human shields; they were subjected to be hit, from the one side, by stones thrown by Palestinian youth while, from the other side, they were subjected to being hit by live, rubber and dumdum bullets shot by Israeli troops. One of the farmers, Mr. Fathi Al Rasheed, gave the following statement:
''We were about 85 persons including 35 children under the age of 10 in addition to 25 women. The villagers were dismayed while children started screaming and women called for help. Even some animals ran away into the woods. Pleas with the Israeli soldiers went in vein despite the rain that started pouring heavily on us.''
The news about the hostages reached the Governor of Nablus who in turn contacted the Red Cross seeking their help in defusing the situation. Negotiations with the military unit continued until the release of the hostages at 9 PM, four full hours after being held as human shields. The danger lies in the fact that these villagers did not finish harvesting all of their olives and they feel that their life would be in danger if they were to go back to their fields soon to continue harvesting ..
Prepared by
The Land Research Center
LRC