Israeli Colonists Take Over an Agricultural Road in Ya'bad town / Jenin Governorate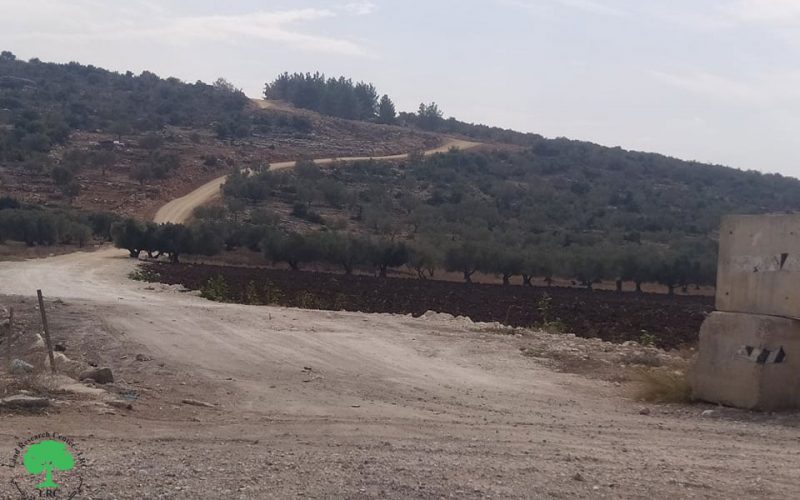 Violation: Taking over an agricultural road for the favor of colonization.
Location: Ya'bad town / Jenin Governorate.
Date: October 17th 2021.
Perpetrators: Mevo Dotan Colony.
Victims: Farmers of Ya'bad town.
Description:
Sunday October 17th 2021 , Mevo Dotan settlement council southwest Jenin city carried on rehabilitating an agricultural road that provides access to Agricultural lands in Ya'bad town , in addition to opening a new segment that connects the road to Mevo Dotan colony.
The road is 900 m * 4 m , and used to provide access to 140 dunums of olive groves belong to several farmers from Ya'bad town , the road was opened in 2003 by the agricultural committee to access their farm lands. However, the occupation served a halt of work notice for the road on the pretext of opening it without a license . Recently , Israeli illegal colonists rehabilitated the road , and added a new segment about 200 m * 4 m . So the road in total in 1100 m , and it is a new rod between Mevo Dotan colony , and the bypass road that leads to the occupied territories of 1948 which passes through Imreha village.

Farmers are worried that the lands are now under demolition threat, since every large land grab starts with opening a road , noting that all of the town's roads that lead to As-Sahel area were closed since 2002 . On the other hand, the occupation ravaged a road between Imreha and Ya'bad that was facilitating movement for farmers between the two villages.
Mevo Dotan colony was established in 1977 by a group of religious Israeli illegal colonists, at the beginning it was a group of tents sat up a hill, on an area that the occupation claims is a state property, and its name was taken after a Palestinian antiquities area Khirbet Dothan
And during Al-Aqsa uprising in 2000 , the colony's population number decreased , but recorded an increase back in 2006 , and according to statistics conducted in 2019 , Mevo Dotan population amounted to 477 .
At the time Israel imposes restrictions against Palestinian's movement between villages and cities, while colonists can move freely and get support from the government to develop their infrastructure. This road is an example of Israeli racist measures against Palestinians, when the road was going to provide access for hundreds of dunums of olive groves and agricultural lands the occupation prohibited it , but for colonists they opened and expanded it.
Between 2021 , until the day of writing this report , the occupation destroyed ans ravaged 6 roads, most of them lead to rural or Bedouin communities , in addition to providing notices to 14 roads . And in 2021 the occupation closed 19 roads with earth mounds and metal gates.
A Glimpse of Ya'bad:
18 km to the west of Jenin , and surrounded by Al-Kheljan , At-Tarm, Al-'Arqa , Imreha , Khirbet Mas'oud , Zibda , Tura , Nazlat Ash-Shaikh Zayed (North) , Quffin (west) , Al-Kafriyat Village (east) , 'Arraba , Kafr Ra'ie, An-Nazla Ash-Sharqiya , Baqa Ash-Sharqiya (South).
Ya'abad has a population of 16 ,012 people according to 2017 census, and a total area of 29572 dunums , of which 1814 dunums are a built up area.
 The Occupation Confiscated 1840 dunums for the following:
Israeli Colonies confiscated 483 dunums of the town's lands for: Mevo Dotan and Hermesh Colony.
The Occupation Confiscated 1357 dunums for bypasses 596 and 585.
Oslo Accords Divided the town's lands as follows:
Area (A) : 1674 dunums.
Area (B): 8124 dunums.
Area (C ): 19774 dunums.
Prepared by
 The Land Research Center
LRC