Talmon colony expands on Al-Mazra'a Al-Qibliya lands \ Ramallah governorate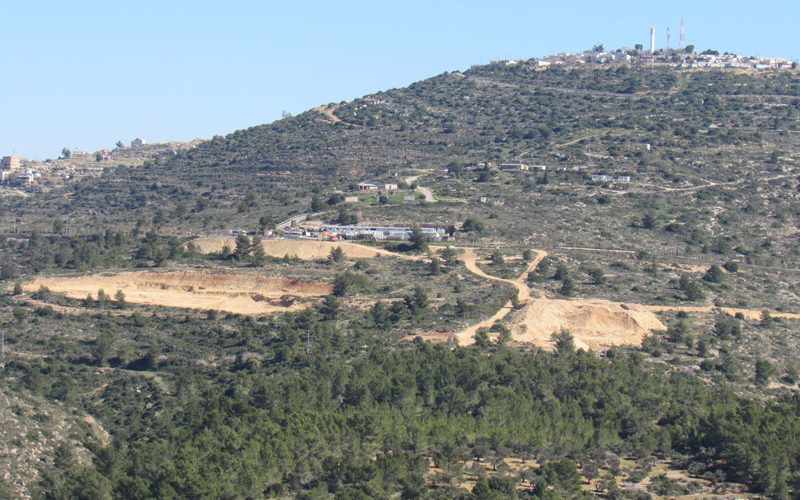 Violation: Colonial expansion.
Location: Al-Mazra'a Al-Qibliya northwest Ramallah.
Date: January 4th 2021.
Perpetrators: Talmon (A) colony.
Victims: Farmers from Al-Mazra'a Al-Qibliya.
Description:
The Israeli Occupation authorities carried on leveling vast areas of lands in Al-Mazra'a Al-Qibliya northwest Ramallah, the ravaging works took place about 100 m north Talmon (A) colony  in order to establish a new colonial block.
Reportedly, the targeted area is a pastoral land named "Ein Al-Mesraj" , and located in natural block 6 of the village lands ,and the ravaged area amounts to 13 dunums.
The Occupation authorities claims that these lands are governmental properties , and have been banning Palestinian farmers' access to their lands for more than 15 years.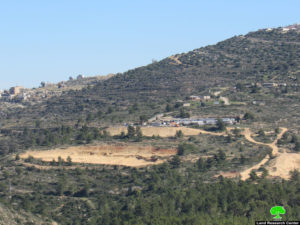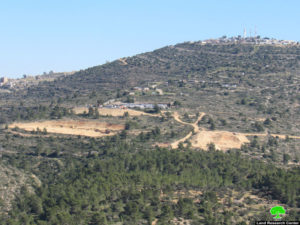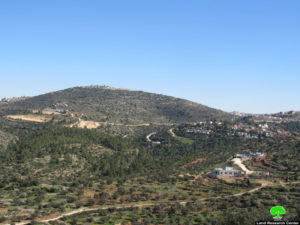 Photos 1-3: Ravages around Talmon Colony
Mr.Sa'ada Zaqout head of Al-Mazra'a Al-Qibliya told LRC:
"We have noticed recently colonists leveling lands around Talmon (A) colony, the Israeli government have approved an outline to annex the illegal colonies Talmon, Niriya m and Kerem Elem to each other through new outposts and colonial blocks, if the scheme was fullty implemented it will devour vast areas of olive groves , which means that hundreds of farmers from Al-Mazra'a Al-Qibliya m Ras Karkar , Aj-Janiya, and Deir 'Ammar will lose their lands to colonialist projects." 
About Al-Mazra'a Al-Gharbiya (Al-Qibliya): [1]
It is located 12km to the northwest of Ramallah city. The village is edged by Abu Shkeidim area from the north, Talmon colony from the west, Abu Qash village from the east, and Ein Qiniya village from the south.
The village has a total land area of 15,275 dunums, of which 1165 dunums are the built-up area. Around 5000 people inhabit the village (2014).
The Israeli occupation confiscated around 329 dunums from the village's lands to establish the colonies of Nahliel (1984) and the colony of Talmon (1989).
Also, the bypass road number 450 confiscated 75 dunums from the village.
According to Oslo lands classifications, the village lands are as follows:
8533 dunums are area classified "B"
6742 dunums are area classified "C"
[1] GIS-LRC