For the favor of colonies" water pipeline: Israeli Occupation Forces cut down trees in Salfit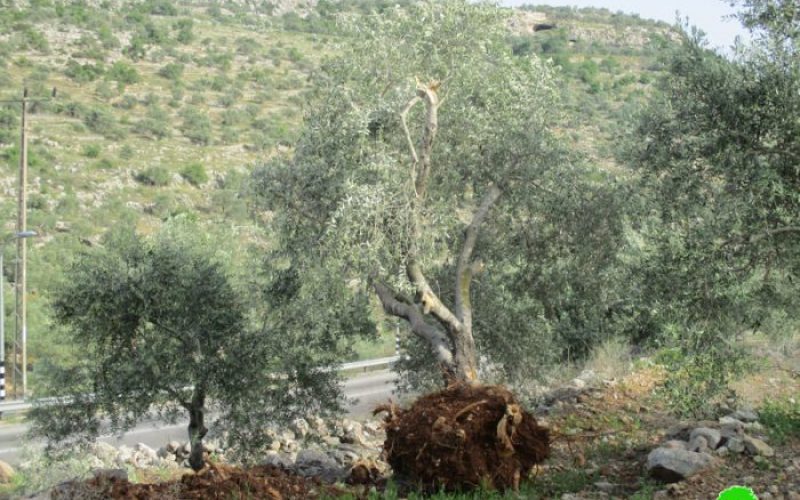 Violation: cutting down olive trees
Location: Deir Ballut, Bruqin and Kfar Ad-Dik
Date: April 15, 2017
Perpetrators: Israel Civil Administration
Victims: Palestinian farmers
Details:
The machineries of Israeli Occupation Forces keep on ravaging lands in the western suburbs of Salfit governorate in order to establish a water supply pipeline that connects the colonies of Peduel, Ali Zahav and Leisham outpost. This step is meant to develop the infrastructure of the aforementioned colonies on the expense of Palestinian towns and villages, which as a matter of fact, suffer from water scarcity due to the occupation's policy in controlling water resources.
According to the data of the villages councils, the occupation's machineries ravaged a number of parcels and uprooted 42 trees and 25 saplings aging 3 years. Noteworthy, the occupation tends to cut down the tree before uprooting them to make it impossible for Palestinian farmers to replant them again.
There is no doubt the Israeli occupation works hard to destroy the agricultural sector and Palestinian environment through cutting down trees, pumping sewage water into lands and ravaging vast areas for the favor of expansionist plans.
Photos 1-4: the destruction that followed the agricultural lands
The following table shows information about the affected owners and lands:
| | | | | |
| --- | --- | --- | --- | --- |
| Affected citizen | Family | Town | Nature of damage | Type of damage |
| Mohammad Mustafa | 9 | Deir Ballut | Cutting down 11 trees | Total |
| Khalil Abdllah | 7 | Deir Ballut | Cutting down 6 trees and breaking branches of three trees | 6 total and 3 partial |
| Bashar Ad-Dik | 5 | Kfar Ad-Dik | Dumping soil into a parcel | |
| Tayseer Ad-Dik | 7 | Kfar Ad-Dik | Uprooting 3 trees | Total |
| Fares Ad-Dik | 4 | Kfar Ad-Dik | Uprooting 6 trees and dumping earth into a parcel | Total |
| Talal Samara | 5 | Bruqin | Cutting down 7 tree | Total |
| Jamal Salameh | 7 | Bruqin | Cutting down 3 trees and damaging 25 olive seedlings | 3 total and 25 partial |
| Yaser Salameh | 6 | Bruqin | Cutting down 4 trees | Total |
| Mohammad Khatib | 6 | Bruqin | Cutting down 2 trees and damaging other 3 | 2 total and 3 partial |
Source : Field observation- Department of Monitoring Israeli Violations- Land Research Center
The Village of Deir Ballut:
The village is located on the Green Line west of the Governorate of Salfit at a distance of 20 kilometers from the City of Salfit. The total area of the village is about 13,941 dunums of which 503 dunums are its built-up area.
Its population is about 4500, according to the Deir Ballut Municipality, most of whom depend on agriculture as the main source of income.
The dependency of agriculture has risen sharply after the inception of the second Intifada due to the inability to access Israeli job market.
The main agricultural products of the village include garlic, okra, cucumbers, wheat and olives. The presence of a water spring in Wadi Al Ain in the southern parts of the village has helped the agricultural sector to prosper. A for the drinking water of the residents of the village, they rely on water cisterns as well as on the Israeli Water Company.
In terms of the main clans in the village, there are 9 of them including Tuffaha, Khair, Abdullah, Qasem, Qaroush, Mishel, Mustafa, Musa and Hadrous.
Kfar ad Dik [i]
Kfar ad Dik is located 15 km to the west of Salfit. It is surrounded by Bidya (north), Rafat and Deir Ballut (west), Bruqin and Sarta (east), and Bani Zaid villages (south).
Kfar ad Dik has a population of 4553 people, according to a 2007 census.
Its total area is 15529 dunums; however, it has been suffocated by bypasses and 3 Israeli colonies that lay over its lands.
This has further limited its expansion knowing that it had already had a 791-dunum organizational plan (built-up area); it also isolated the village from its surroundings.
The Israeli occupation confiscated 2477 dunums of Kfar ad Dik lands for the benefit of:
Colonies devoured 1225 dunums, and they are:
Name of colony

Year of construction

Area of confiscated land/ dunum

Number of colonists

Har Eli Zahav

Eli Zahav- Yoezer

Bedoel

Bruchin

1
*Source: Field Research- Monitoring Israeli Violations Team- Land Research Centre (LRC).
Bypasses stole 362 dunums
The Apartheid Wall seized 890 dunums and isolated 8824 dunums and is expected to be 8905 long in Kfar ad Dik lands.
Lands of Kfar ad-Dik are categorized according to Oslo Accords into lands under Area B (15% of the lands) and lands under Area C (85% of the lands).
i] Source: Geographic Information System- Monitoring Israeli Violations Team- Land Research Center
Prepared by
The Land Research Center
LRC