Israeli Occupation Forces seal off a Jerusalem house on the claim of "Security Purposes"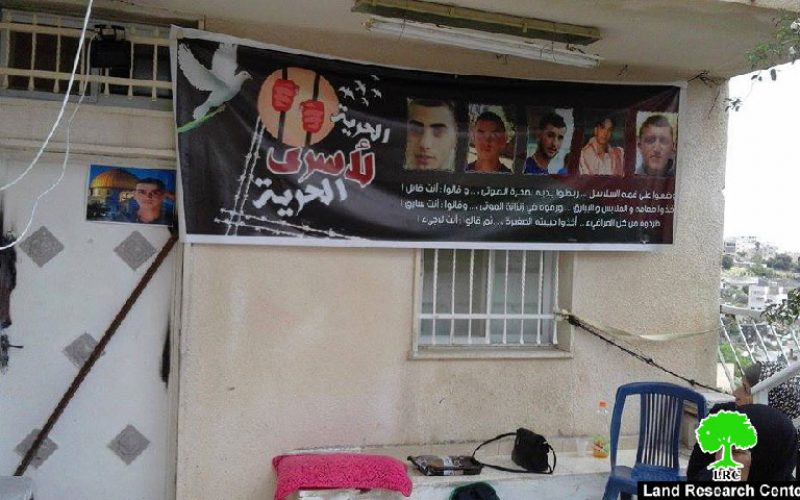 Israeli Occupation Forces on April 11, 2016 sealed off the residence of Dwayat family in the Jerusalem town of Sur Barher. The act occurred after an Israeli court objected the plea submitted by the affected family. The court's decision was made after the minister of internal affairs ordered the closure of the house, claiming that a member of the family, Abdullah Dwayat, killed a colonist after throwing stones on car while driving.
The mother of prisoner Abdullah, Sara Dwayat, told Land Research Center the following: " We live in the neighborhood of Al-Mashahed that is relative to Sur Baher town. Our house totals 129m2 in area ; it is where my daughter Amani (24) and I live. Abdullah lived with us in the same house before being arrested on September 25, 2015. At time, police raided the house, assaulted Abdullah and arrested him on the claim of killing a colonist with help of three guys from the neighborhood. The three youth are Walid Al-Atrash, Mohammad Abu Kaf and Mohamad Al-Tawil, who are all residents of Sur Baher.
She also added: " Despite that my son is still arrested and not convicted yet, the minister of interior affairs revoked his residency permit due to the killing charges directed at him. Not only, the minister issued an order to seal off the residences of the four attackers. The step is told to deter other youth from carrying out similar attacks. We sought Hamoked Defense Center to submit a plea objecting the decision of the minister of interior that stated the demolition of the attackers' residences. The court rejected the plea on April 03, 2016 and approved the demolition effective. As a result, I evacuated the house".
On April 11, 2016 I was heading to the hearing session of my son in the court when I got a text message informing me that a massive force from the Israeli occupation army was surrounding my house to demolish it. I did not come back, I continued to the court, which delayed the session until July 2016. When I arrived back home, I found out that the occupation sealed off the house by welding the doors and windows using metal poles and slaps. I cried until I collapsed. Now my daughter and I live with our relatives until we find a place to rent".
The occupation's policy is meant to force Jerusalemites out of their homes. The Israeli government works hard to pass laws and legislations that make Jerusalemites suffer in terms of building conditions. Building permits and licenses are never granted for Palestinians, which violates the very fundamental human right to housing and to life of dignity.
It should be marked that Article 53 of the Geneva Fourth Convention (1948) stated the prohibition of demolition as follows : "Any destruction by the Occupying Power of real or personal property belonging individually or collectively to private persons, or to the State, or to other public authorities, or to social or cooperative organizations, is prohibited, except where such destruction is rendered absolutely necessary by military operations."
Prepared by
The Land Research Center
LRC