The Israeli Occupation dozers demolish part of a restaurant in Jerusalem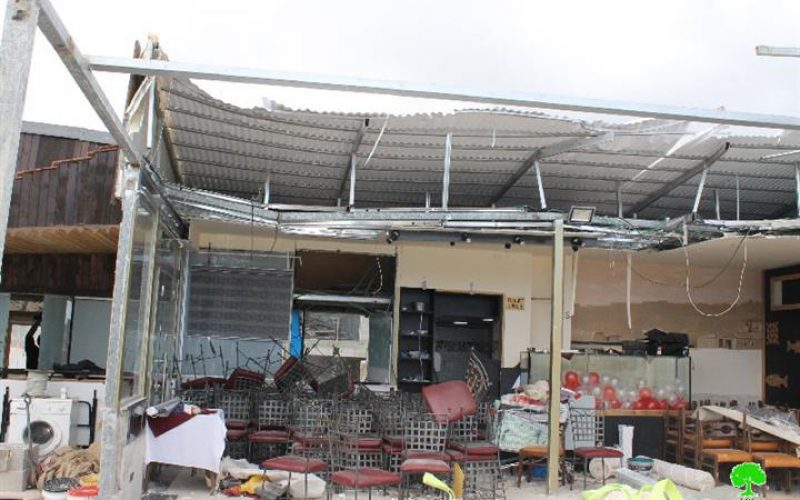 The dozers of the Israeli Occupation Forces on January 07, 2016 demolished part of the Mediterranean Restaurant in the Jerusalem neighborhood of Safafa on the claim of "unlicensed construction".
The owner of the restaurant, Ahmad Burqan, told a researcher from Land Research Center the following: "The restaurant was opened in 2010 and serves sea food; it is of 80m2 in area. As a result to customers turnout, I annexed a 144m2 room to accommodate more people in the restaurant. The new room was built by Gibson boards .
At the morning of Thursday, I received a phone call informing me that the occupation dozers embarked on demolishing the annexed part . The demolition lasted until 8:00 in the morning"
Land Research Center sees the policy of home demolition as an ethnic cleansing practice and a violation of the following:
Article 17 of the (1948) Universal Declaration of Human Rights stating: "Everyone has the right to own property alone as well as in association with others. No one shall be arbitrarily deprived of his property."
Article 53 of the Geneva Fourth Convention (1948) declaring: "Any destruction by the Occupying Power of real or personal property belonging individually or collectively to private persons, or to the State, or to other public authorities, or to social or cooperative organizations, is prohibited, except where such destruction is rendered absolutely necessary by military operations."
What Israel does of demolitions in east Jerusalem and West Bank is a clear-cut violation of human rights and all of the international laws and covenants. Israel only aims at displacing Palestinians for sake of serving the colonial expansion plans.
Prepared by
The Land Research Center
LRC