Israeli Occupation Forces ravage Hebron land to establish a military watchtower
Violation: ravaging Palestinian private lands
Date: December 29, 2015
Location: Wadi Sa'ir- Hebron
Perpetrators: Israeli Occupation Forces
Victims: Citizen Ismael Shalaldih
Details:
Dozers from the Israeli occupation army ravaged at early hour of December 29, 2015 part of Citizen Ismael Shalalhdih's land in the area of Wadi Sa'ir, east Hebron city. It is reported that the ravaging operation took place without any prior notice or warning from the Israeli side.
It is believed that that the ravaging act was meant to establish a new military watchtower in the area. Being established, the occupation forces will control the area and the road leading to Asfar colony, which is established on confiscated lands from Sa'ir town during the nineties.
Murad Shalaldih, the son of the land's owner, said that a force from the occupation army accompanied by heavy machineries raided on December 29, 2015 the area , closed the roads leading to the area and opened a road up to our lands.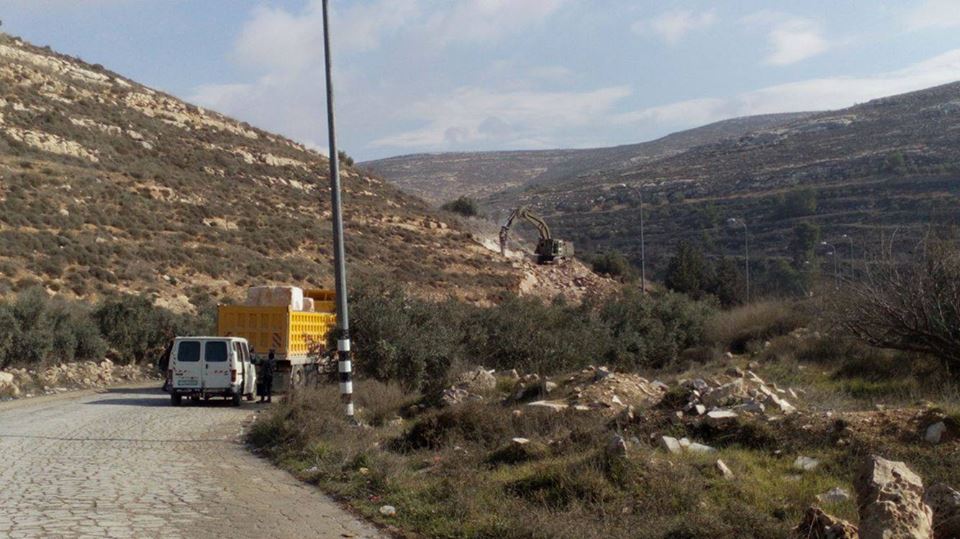 Photos 1-3: view of the ravaging operation
The mayor of Sa'ir, Kayed Jaradat, pointed out that the occupation forces embarked on violating citizens' lands without delivering prior notices and orders.
Jardat said "We as a municipality requested the occupation to show us documents justifying the ravaging operation but the force commander only said that it was for the establishment of a new watchtower".
The Palestinian- Israeli District of Coordination Office DCO and Hebron governorate were informed of the violation in order to take an action in that regard.
It should be marked that the occupation forces issue military orders prior to lands confiscations. Such orders include aerial photos and maps showing the exact location of the targeted lands. Noteworthy, the owners of lands have the right to object those orders within a deadline specified in them.
Murad also said that after five days of works conducted on the land, the occupation opened a (30*5 m) road that leads to an area where 500m2 of lands are ravaged to accommodate the new watchtower.
He added: "a digger is working in a two dunum plot, which is part of a 25 dunum land belonging to us. Noteworthy, the land is cultivated with aging olive trees"
The mayor of Sa'ir said that such a move is seen as a harassment by the occupation and a collective punishment on the residents of the town. It should be marked that the new watchtower is the fifteenth to be built on Hebron lands.
Some international laws and convections pertaining to confiscation and destruction of properties:
Art. 147. Grave breaches to which the preceding Article relates shall be those involving any of the following acts, if committed against persons or property protected by the present Convention: wilful killing, torture or inhuman treatment, including biological experiments, wilfully causing great suffering or serious injury to body or health, unlawful deportation or transfer or unlawful confinement of a protected person, compelling a protected person to serve in the forces of a hostile Power, or wilfully depriving a protected person of the rights of fair and regular trial prescribed in the present Convention, taking of hostages and extensive destruction and appropriation of property, not justified by military necessity and carried out unlawfully and wantonly.
Article 17 of the (1948) Universal Declaration of Human Rights stating: "Everyone has the right to own property alone as well as in association with others. No one shall be arbitrarily deprived of his property."
Section ‹G› of article 23 of the (1907) The Hague Conventions asserting: "In addition to the prohibitions provided by special Conventions, it is especially forbidden to destroy or seize the enemy's property, unless such destruction or seizure be imperatively demanded by the necessities of war."
Prepared by
The Land Research Center
LRC