Colonists of Elkana destroy 140 olive trees in Az Zawiya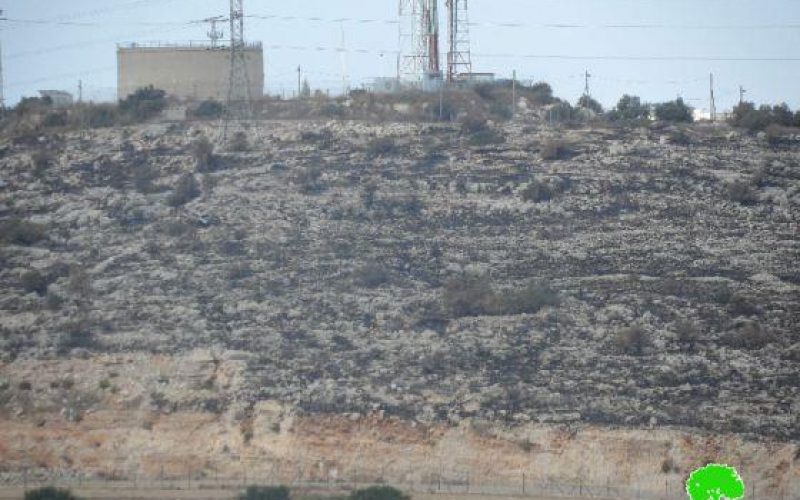 Violation: Burning of 80 dunums of agricultural land leading to the damage to 140 olive trees
Date: 26/09/2013
Location: Az Zawiya town- Salfit governorate
Perpetrators: Colonists of Elkana
Victims: Families of Qados and Shuqair
Details:
With the outset of the olive harvest, colonists of Elkana decided to mark the event by setting a piece of land on fire. The land is isolated behind the Apartheid Wall in Az Zawiya, Salfit.
The inaccessibility to their lands behind the Apartheid Wall prevented farmers from taking action to distinguish the fire.
The fire ate up 80 dunums and burnt 140 olive trees on its way.
Pictures 1-4: The burnt agricultural land which is adjacent to Elkana colony, both located beyond the security barrier
Eng. Saeed Mawqadi, mayor of Az Zawiya municipality, stated to an LRC observer that:
"There is an organized crime by the Israeli occupation against people, land, and environment. The occupation has been stealing Palestinian lands. And now in synchronization with the time of olive harvest, colonists set a piece of land ablaze. " .
The land and trees belong to Qados and Shuqair families.
Gamal Abu Beeh (64), a farmer, told an LRC observer that:
"The Israeli occupation intentionally disallowed Palestinian Civil Defense crews from reaching the site of attack where they granted an Israeli fire apparatus access. The fire engine could not have been of help because the fire spread in the opposite direction of the colony."
About Az Zawiya:
Located 17 kilometer west of Salfit and adjacent to the Green Line, Az Zawiya has a population of 4754 people according to statistics conducted in 2007. 81% of the population depend on agriculture and sheep grazing while the rest work in governmental jobs or private sector projects.
Az Zawiya has a total area of 12,000 dunums, 693 of which are a built-up area of the town. Most agricultural lands in Az Zawiya are planted with olive, figs, and cactus.
The Israeli occupation confiscated 1747 dunums of Az Zawiya lands for colonies and the Apartheid Wall as the following:
Two colonies are built on Az Zawiya lands. The first is Mazor Atiqa which was built in 1986 and confiscated 573 dunums. The other is Elkana which was built in 1977 and confiscated 57 dunums. Elkana is inhabited by 3050 colonists.

Bypass road number 5 and it devoured 520 dunums of Az Zawiya lands

The Apartheid Wall which destroyed 579 and isolated 4228 dunums