The Segregation Wall Causes floods in Qalqiliyya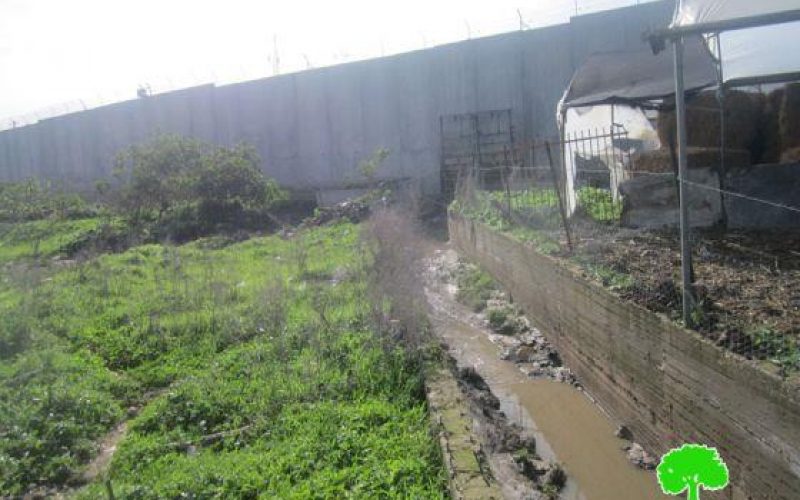 Violation: the segregation wall causes floods in Qalqiliyya.
Date: January 9, 2013.
Agricultural fields around Qalqiliyya were drastically damaged due to floods that hit the area. The floods were caused by the segregation wall which trapped the water and, at the same time, the Israeli Occupation Authorities refused to open the draining pipes.
Over 300 dunums of agricultural fields were flooded as a result. A number of families were forced to leave their houses due to the floods; also Al Shariqa Elementary School doors were closed due to the floods. According to the Ministry of Agriculture, over 6000 birds died and 300-400 dunums of agricultural fields were destroyed.
It is worthy to mention that the Israeli Occupation Army constructed a concrete wall on the western side of Qalqilliyya regardless of the demographical characteristics of the area or the biodiversity.
In addition, they had not installed any drainage system which caused the floods. Colonization and the construction of the segregation wall cost Qalqiliyya huge areas of lands. Qalqiliyya's total area is 174,425 dunums including 10,451 dunums of built up areas, inhabited by 100753 people. According to the GIS unit at LRC, a 50-km-long section of the segregation wall have already been built while 39 others are planned.
The wall shall isolate a total of 60,403 dunums of Palestinian lands in Qalqiliyya. Since the occupation of the West Bank in 1967, all of the Palestinian lands have become a target for Israeli colonization, especially Qalqiliyya which is close to the shoreline. 19 cisterns were isolated behind the wall and eventually destroyed while 42 others were damaged. Over 41 dunums of greenhouses were completely destroyed during the construction of the wall while 40880 trees were uprooted in the process. In addition, 179481 trees were isolated behind the wall rendering them unreachable.
The Israeli Occupation Army placed 22 gates on the wall section around Qalqiliyya, most of these gates are closes permanently and those which are open are opened irregularly.