For the eighth time, the occupation demolishes a tent and a barn in Yatta area of Laseifer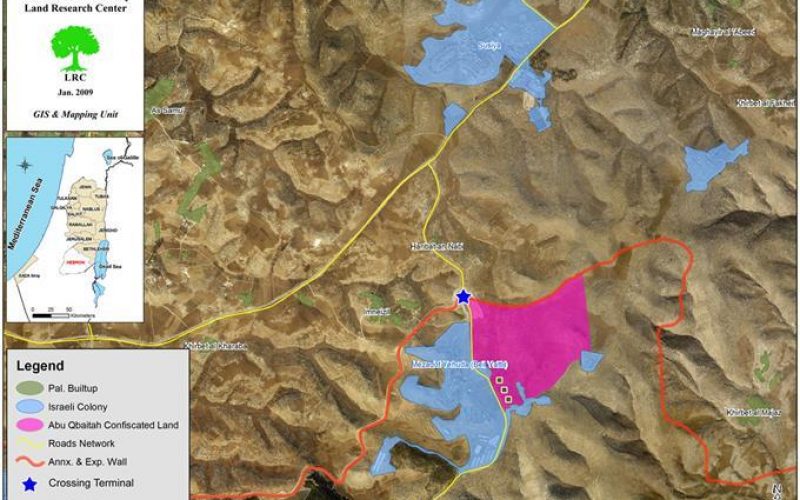 Violation: demolition of a tent and a barn
Location: Laseifer area-Yatta
Date: January 24, 2016
Perpetrators: Israel Civil Administration and army troops
Victims: Mustafa and Mohammad Abu Qbeitah
Details:
The Israeli Occupation Forces demolished on January 24, 2016 a residential tent and a barn and destroyed crops for citizens in Laseifer area, east Yatta town of Hebron.
Citizen Mohammad Abu Qbeitah (60) said that a force from the occupation army accompanied by a staff from the Civil Administration and JCB dozer arrived at the location, which is behind the wall surrounding Mezadot Yehuda colony and demolished a tent owned by Mustafa Abu Qbeitah. Noteworthy, the 50m2 tent was built in 2013 by metal slaps and cloth shade to be home for the citizen's seven member family. The occupation justified the demolition on the claim of "unlicensed construction".
Citizen Mohammad also said that at time the force demolished his cousin's tent, the dozer reached out a barn he owns. Part of the 200m2 barn (10m height) fell off causing a notable damage. Also, an area of four dunums of winter crops was destroyed as a result to the occupation's machineries moving in and out of the area.
It should be marked that the apartheid wall isolated Abu Qbeitah family from their neighbors and relatives. The family now resides nearby 200 colonial residences of the Mezadot Yehuda colony. To reach home, Abu Qbeitah has to travel through the crossing that surrounds the colony and after showing specific permits to allow him in.
It is reported that the Israeli occupation authorities declared on January 05, 2009 thousands of agricultural dunums belonging to Abu Qbeitah family confiscated. Not only, this demolition is the eighth of its kind on the citizen's property. Such measures are taken to forcibly displace Palestinians to create room for lands takeover and colonial expansions.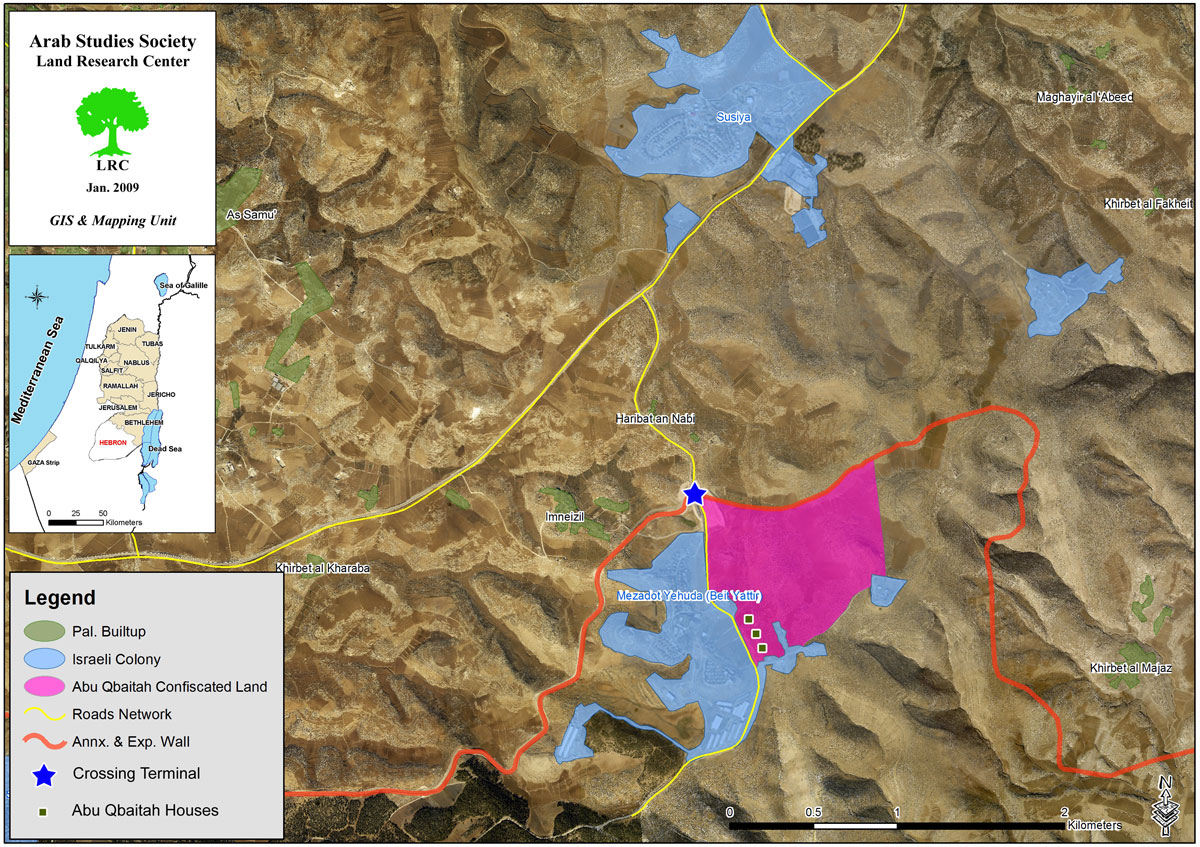 Mezadot Yehuda (Beit Yattir):
The colony is located one km away from the armistice line and 6 km away from As Samu' town. Before 1979, it used to be an abandoned Jordanian military camp that was evicted after 1967. In 1979, Luziver colony was established by 'Gush Emunim' colonial society. The paln was establishing a colony that will hold 100 families and get to 300 families within 3 years. It was called Mezadot Yehuda in 1983.
In February 1987; the corner stone of Beit Yattir colony was put in place by David Levy, the Israeli Minister of Housing back then. The colony was built 500 meters to the north of Mezadot Yehuda as a cooperative farm that held 41 families by 1990; the nuber reached 90 in 1994.
Land Research Center documented the violations Abu Qbeitah family witnessed over the past nine years:
1. The Demolition of Housing Structures in the Village of Imneizel (Ar, Eng)
2. Israeli Occupation Forces Confiscates 22 Dunums South of Yatta and Declares 150 Dunums as "Closed Military Area."(Ar, Eng)
3. "Buffer zone", a new Israeli term to confiscate Palestinian land inside the Wall (Ar, Eng)
4. The Lands of Mr. Mohammad Abu Qbeita has Become a Grazing Area for Colonists (Ar, Eng)
5. The Demolition of a Zinc House and the Confiscation of A Caravan owned by Abu Qbeita Family (Ar, Eng)
6. Land Seizure Notification in Yatta – Hebron Governorate (Ar, Eng)
7. The Israeli occupation army demolishes a residence in Yatta town (Ar, Eng)
Prepared by
The Land Research Center
LRC