The expansion of Sde Boaz Illegal Outpost west of Al Khader Town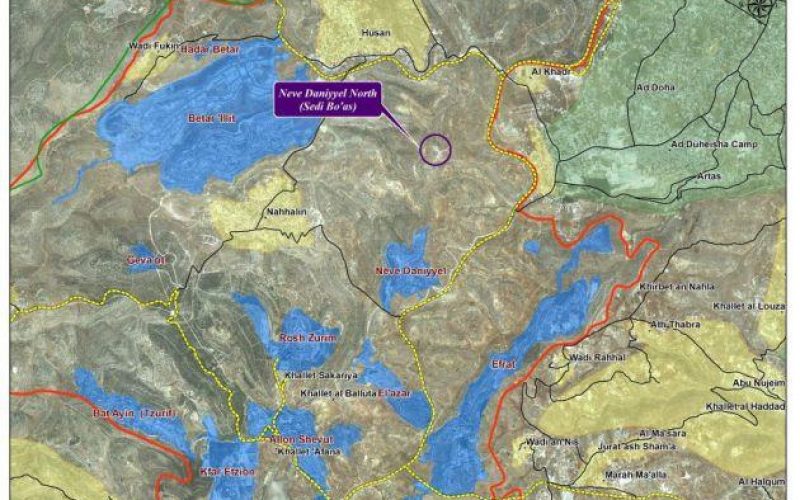 On May 30, 2013, the Israeli settlers of the illegal outpost of "Nevi Daniel North" or "Sede Bo'az" located in Wadi Al-Qassis area west of Al-Khader town, installed four caravans (mobile homes) on a hilltop adjacent to the outpost.
Photos 1& 2: the new caravans installed in the site
On December 16, 2012 the Israeli Occupation added cement foundations to the houses at the site and installed new caravans (mobile homes) in the a new site in the illegal outpost of "Nevi Daniel North" outpost that illegally built on the Al-Khader residents lands in Ein al Qassis area west of the town. See Photo 3
The Outpost of Nevi Daniel North or Sede Bo'az
The illegal outpost was established in January 2002 when Israeli settlers from the illegal settlement of Nevi Daniel took over a nearby hill located about 1500 meters north of the settlement where the Illegal Israeli settlement of Nevi Daniel.
It is located about 1.5 kilometers north of Nevi Daniel settlement and 1.8 kilometers west of Al-Khader town. The outpost started out with one Israeli settler who coarsely took control of one of the mountain top west of Al-Khader town and set-up a mobile "caravan" house in the area where he encircled the location with barbwire and attack dogs for protection. The settler who received help and protection from the Israeli Army while setting up the location of the outposts advocated for years for many other settlers to join him. See Map 1 & Map 2
Since its establishment, the outpost was subjected to expansion many times, where
it got bigger in size with 16 caravans in the site inhabited about 20 Israeli settlers, who enjoy basic services and good infrastructure (water, electricity, roads), all come with the courtesy of the Israeli authorities in spite the fact that the outpost is illegal.
According to the International law rules and conventions and the Road Map of Peace, the Israeli outposts are illegal and obstacle to the peace process and accordingly should be dismantled especially those were erected since March 2001 according to the Road Map of Peace adopted by the
Quartet
, the United States, European Union, Russia and the United Nations.