Attacking and Burning 6 Vehicles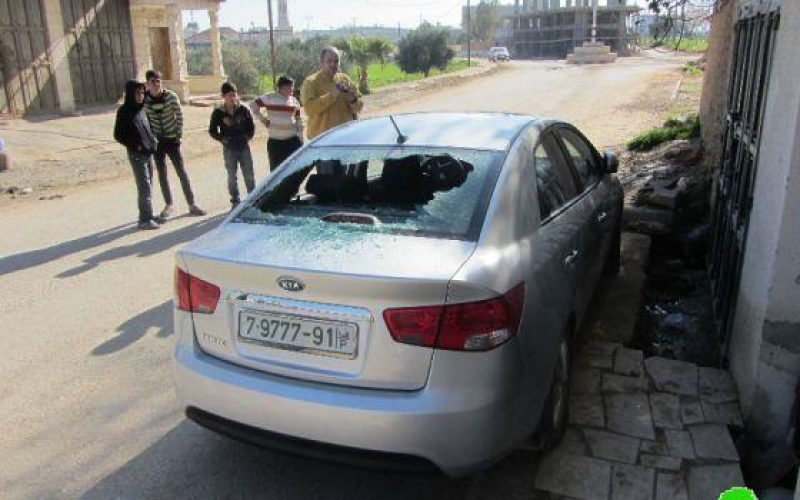 Violation: Burning 6 vehicles that caused their total damage
Date: 21/02/2013
Perpetrators: Colonists of "Majdolem"
Victims: 7 Palestinian citizens
Details:
On 21/02/2013, a group of colonists sneaked in to Al-Qasra village that is near "Majdolem" colony.
The colonists used patrol to set four cars on fire. In addition, they broke the glass of two cars and punctured their wheels after failing in setting them on fire like the other four.
The table gives information about the damage resulted from burning the cars:
| | | | |
| --- | --- | --- | --- |
| | | | |
| | | | |
| | | | |
| | | | |
| | | | |
| | | | Smashed windscreen and side glass+ punctured wheels |
| | | | |
*source: Field research- Dept. of Israeli Violation Inspection- LRC
Yaser Abu- Raida told an LRC observer that, " at 2:30 in the morning, I woke up hearing noises. I rushed to open the window to find two masked people smashing the windows of my car and trying to burn it by pouring petrol into it. I almost lost my mind and shout at them at the top of my lungs. They ran away."
Abdul-Minem Hasan was not in a better situation. He told an LRC observer that,
"I woke up by the sounds of flames devouring my car which I parked near the house. I was fortunate to handle the fires before they reach my house. My neighbors helped me in pulling the car on fire away from my house."
Mr. Ziad Awd, a town council member in Qasra village, told an LRC observer that, " There is a full cooperation between the Israeli occupation authorities and the colonists. The former had a surreptitious presence in the town before the later came. According to eyewitness, "Majdolem"
colonists headed south east of the village after burning the cars. They specifically went to "Yish Kodsh" outpost under the guard of the Israeli occupation authorities. There is suspicion about Israeli soldiers helping the colonists pouring petrol into the cars.
Qasra village has always been under attack by Israeli soldiers and/or colonists. Breaking in houses, attacking children, burning trees and burning the mosque of the village are some examples of attacks carried out by colonists.