13 Stop-Work Orders in Dura
Violation: 13 stop-work orders issued against agricultural water pools.
Date: February 17, 2010
Location: al Majnouna – south east Dura.
Perpetrators: the Israeli Occupation Civil Administration.
Victims: members of Amr family in Dura.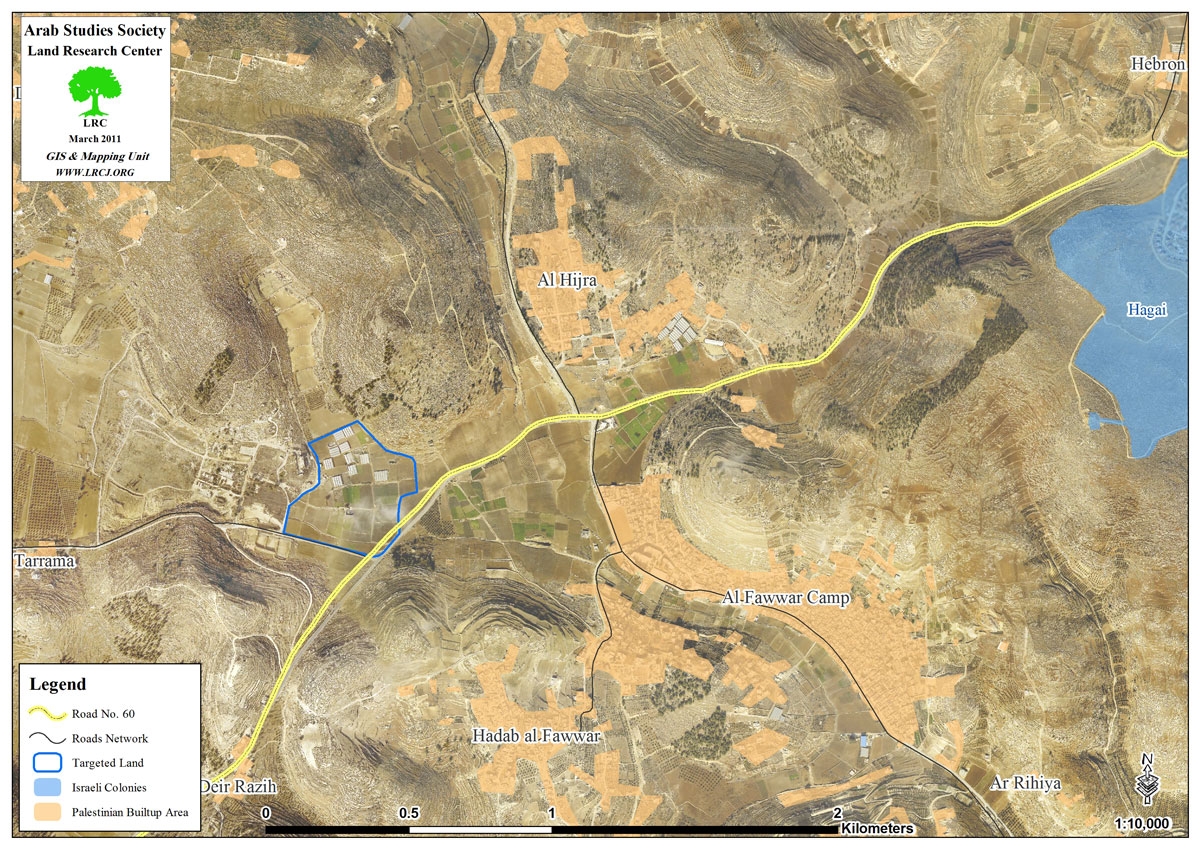 Details:
The Israeli Occupation Authorities handed 13 "stop-work orders" issued against 13 water gathering pools; property of members of Amr family. The pools are used to gather the rain water; in addition, there are two natural water springs in the area that partially feed the pools. The gathered water is used to supply 130 dunums of fields planted with vegetables. The total area of the greenhouses in the area is around 20 dunums in addition of 110 dunums of open fields.
Picture 1-3: an overview of the fileds
According to Mohammad al Komi, a farmer who reside in the area and a partner in planting and harvesting it, the Israeli Occupation Civil Administration broke into Al Majnouna area, located near Al Majnouna military camp which was evacuated around 5 years ago. They roamed the area, examining the water pools while placing the orders on the pools. Al Komi and members of Amr family rejected the Israeli Occupation authorities act while wondering about the reasons for such move especially after the evacuation of the military camp and handing part of the lands to its actual owners.
It must be noted that if the Israeli authorities actually demolish these pools, they will eliminate agriculture in the area and abolish the source of income of tens of Palestinian families.
Victims of the Israeli aggression:
The heirs of Abdul Majid Amr who owns 6 pools used to irrigate around 100 dunums
| | | | | | | |
| --- | --- | --- | --- | --- | --- | --- |
| No. | Structure | Used/ not used | Volume (m3) | Established (year) | Order number | picture |
| 1 | Spring | used | 12 per day | 2008 | 147690 | |
| 2 | Water pool | Used | 80 | 2008 | 147691 | |
| 3 | spring | Used | 20 per day | 2005 | 147692 | |
| 4 | Water pool | Used | 60 | 1985 | 147693 | |
| 5 | Water pool | Used | 150 | 2000 | 147696 | |
| 6 | Water pool | used | 350 | 1998 | — | |
Yaser Amr and brothers, owners of three water pools used to irrigate around 20 dunums:
| | | | | | | |
| --- | --- | --- | --- | --- | --- | --- |
| No. | Structure | Used/ not used | Volume (m3) | Established (year) | Order number | picture |
| 1 | Water pool | used | 250 | 2005 | 147694 | |
| 2 | Water pool | Used | 200 | 2005 | 147695 | |
| 3 | Water pool | Used | 200 | 2005 | 147698 | |
The heirs of Abdul Majid Amr, owners of 4 water pools used to irrigate around 8 dunums:
| | | | | | | |
| --- | --- | --- | --- | --- | --- | --- |
| No. | Structure | Used/ not used | Volume (m3) | Established (year) | Order number | picture |
| 1 | Water pool | used | 60 | 1990 | 147697 | |
| 2 | Water pool | Used | 70 | 1990 | 147699 | |
| 3 | Water pool | Used | 70 | 1990 | 1476700 | |
| 4 | Water pool | Used | 70 | 1990 | — | |