Colonists of Ma'on Violate Al Huraini Property in the Hamlet of Twani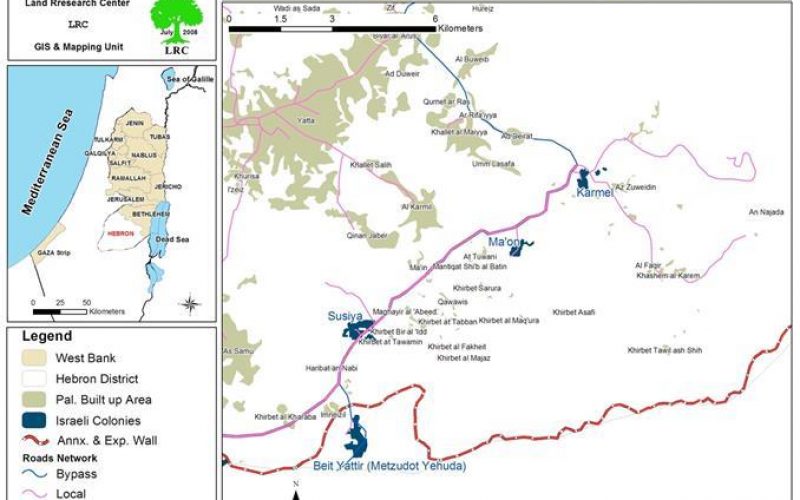 The colonists of Ma'on (a colony established atop lands owned by Palestinians of Twani) uprooted a fence surrounding a land owned by the hamlet's village council head, Mr. Saber Al Huraini.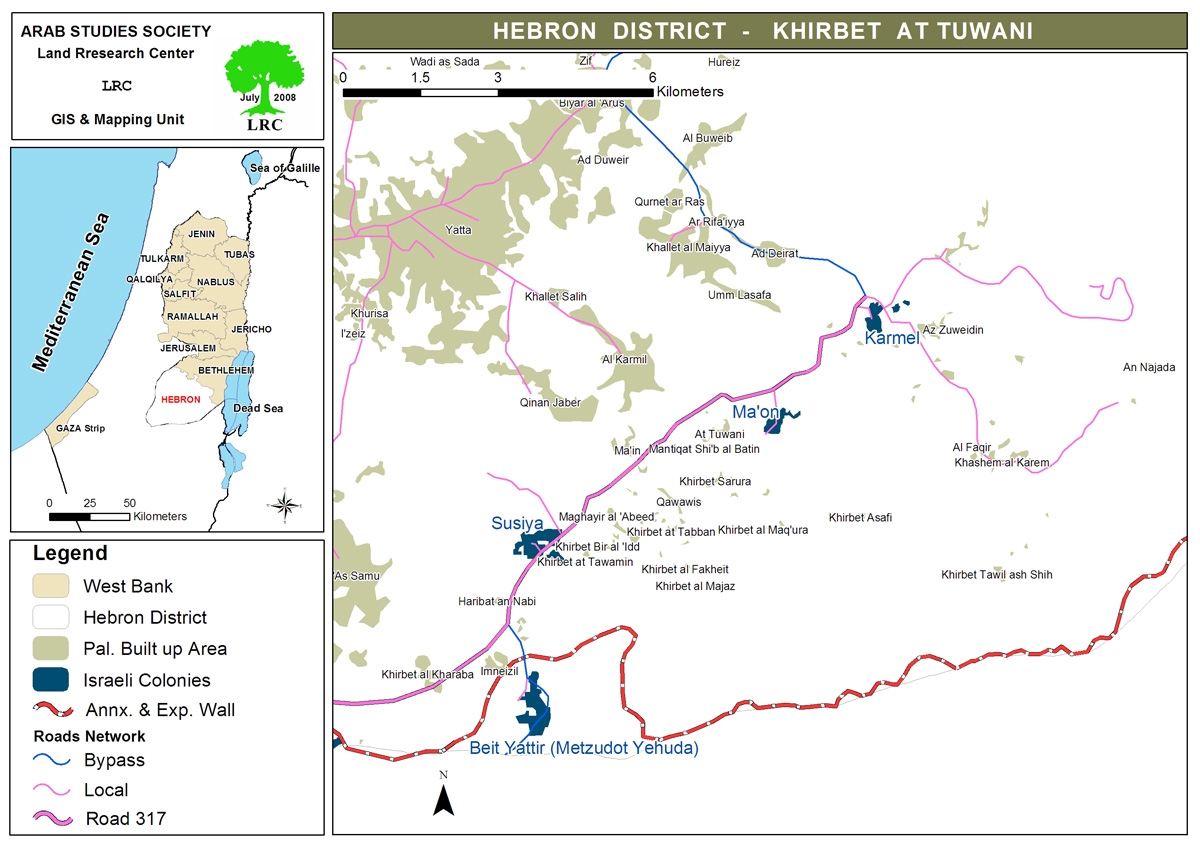 The area of the land is 15 dunums and it is planted with cereals. Mr. Saber Al Huraini expressed the following to the Land Research Center's field researcher: 'The fence was provided to me by the Union of Agricultural Work Committees through its project to protect lands near colonies.'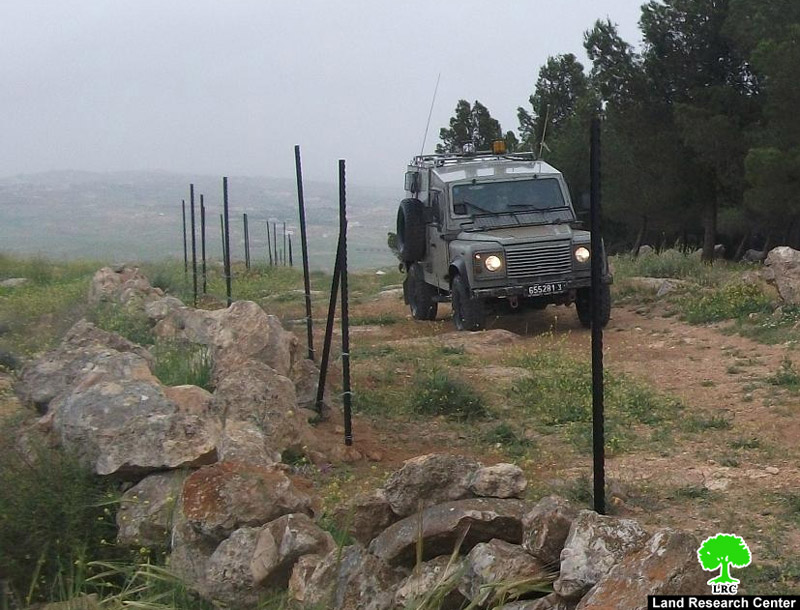 Photo 1

:
Colonial machinery near the fence

before destroying it
Al Huraini continued: ' The fence was removed only one day after it was placed. It was Ma'on colonists who destroyed it as they usually carryout such attacks against Palestinian farmers and residents of Twani. It is not the first time that my land was targeted as a number of trees and crops were destroyed and uprooted by them throughout the years. Israeli occupation forces declared the land in 2004 part of the so-called "Closed Military Area" which allowed them to prevent the Hurainis from accessing their land.'
Photo 2 & Photo 3: Traces of the uprooted fence
Mr. Huraini indicated that the attack is only one in a series of violations against the residents of Twani. Such attacks are aimed at forcing the Palestinians to leave their lands for the benefit of further colonial expansion.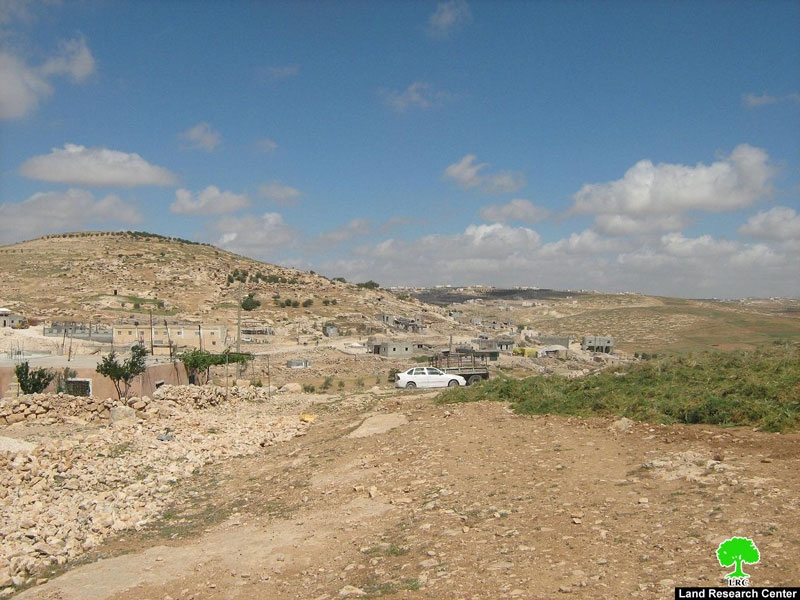 Photo 4

: An overview of the village of

Twani
Twani Suffers from Continuous Darkness:
The hamlet of Twani, like other hamlets in the South, suffers from the lack of electricity due to Israeli occupation measures that prevent electrical linkages under flimsy excuses. Mr. Huraini indicated that Israeli occupation authorities have indeed given a green light to establish an electricity network in the hamlet as a prelude to connect it to the nearby village of Al Karmel. Work commenced on the internal network in 2008. When the network was ready to be connected to the electrical grid the residents were surprised when they saw Israeli occupation forces on November 8th, 2009 removing two main electrical poles while confiscating a hanger owned by Mr. Mohammad Ali Al Awaysa that was used in implementing the project. The hanger was released only after 20 days and after paying a fine of NIS 20,000. Not only did the forces stop the project, they came back on the 20th of December, 2009 and damaged an additional part of the internal electrical network.
Currently there is no electricity in the village, except for the generators run by the residents as to provide light during the night hours. More often the residents find it difficult to provide the needed fuel to run the generators. As such, Mr. Huraini has called upon all humanitarian organizations to press the Israeli side to allow the electricity project to resume andor provide fuel for the village to enable it to use the light between now and then.