Threats of House Demolitions in Beit Sakariya Hamlet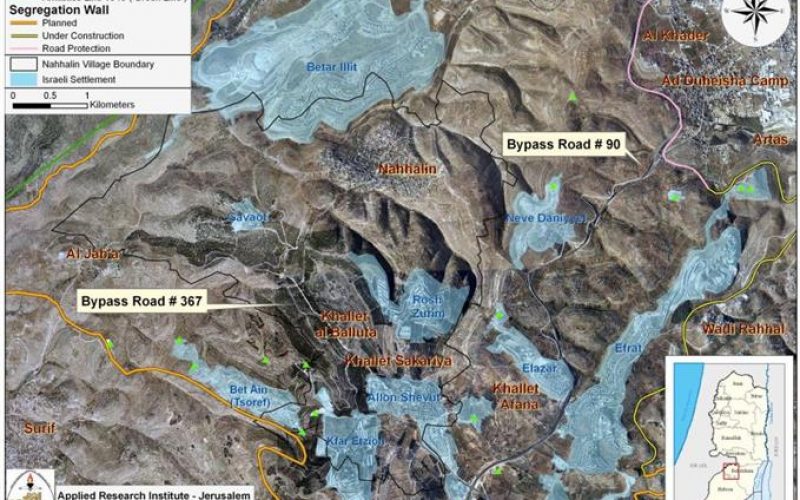 On February 21, 2007, the Israeli occupation Army distributed 12 demolition notices for structures belonging to residents of Beit Sakariya Hamlet southwest of Bethlehem city. The targeted structures are number of residential houses, barracks and a well. See Table 1 for detailed information.
Table 1: Details of Israeli Military notices to residents of Beit Skaria
No

Owner's Name

Type of structure

Area in meters square

1

Khalil Mohammad Sa'd

House

100

2

Mohammad Ibrahim 'Attalla Sa'd

Agricultural Barrack

234

3

Taysir Sa'd

House

40

4

Ayman Khalil Sa'd

House

50

5

Nedal Khader Ibrahim 'Attalla ( 2)

House &

Agricultural Barrack

150 /

30

6

'Attallah Ibrahim 'Attallah Sa'd

House

170

7

Ibrahim Mahmud Ishmael Sa'd

Well

N/A

8

'Amer Hussein Mustafa

House

40

9

Issa Sem'an Al Sara's

House

80

10

Mahmud Ibrahim Khalil Shah hen

Barrack

30

11

Abed Al Mageed Sa'd

Agricultural Barrack

30

12

Jamal Mahmud Ishmael Sa'd

House

22
Source: khallet Beit Sakariya village council – 2007
The reason stated in the demolition notices is that the Palestinian structures were built without licenses due to their location in areas classified as Areas 'C' according to Oslo agreements of 1995, areas under the full Israeli control and require residents to issue license permits from the Israeli Civil Administration of Beit Ell. Owners of the threatened houses and barracks were given a period of two months from the issuance date of these military notices to put forward their objections to the demolition notices.
Seven days later, the Israeli Occupation Bulldozers broke into the village of khallet Beit Sakariya and demolished five Palestinian structures (2 houses, 2 agricultural barracks and a well), the owners of which are Ibrahim Mahmud Ishmael, 'Aimer Hussein Mustafa, Mahmud Ibrahim Khalil Shaheen, Abed Al Mageed and Issa Sem'an Al Sara's, all of whom received the demolition notices on February 21, 2007.
Previous acts of demolitions in Khallet Beit Sakariya village:
This is not the first time the Israeli Army targets Khallet Beit Sakariya and demolishes structure in it. During the last years, (2002- 2006), the Israeli occupation authorities handed out residents of Khallet Beit Sakariya 12 military notices to demolish Palestinian structures, also under the pretext of building without proper licensing. See table 2 for more details.
Table 2: Palestinian structures received demolish notices during the year 2006
Owner name

Type of structure

Area in meters square

Status Today

Date of demolition

1

Mohammad Issa Ishmael Sa'd ( 2)

House

&

a Well ( 2 notices)

40 /

N/A

demolished

30.11.06

2

Jamal Khalil 'Attalla

Agricultural Barrack

30

Demolished

23.07.06

3

Ahmad Mahmud Ahmad Sa'd

House

60

Demolished

19.12.05

4

Muhammad Mahmud Abed Allah

House

50

Threatened to be demolished

_

5

Ministry of Education in Bethlehem

School

200

Threatened to be demolished

_

6

Tarek Ibrahim Jad Allah

House

100

Threatened to be demolished

23.12.06

7

Fares Khalil Mohammad Sa'd

House

case is followed by a lawyer

19.12.05

8

Omar Abdallah Mustafa Sa'd

House

Case is now in the Supreme court

23.07.06

9

Mohammad Hussien Mohammad Mustafa

House

case was not presented to court.

19.12.05

10

Muneer Abdallah Mustafa Sa'd

House

case is followed by a lawyer

19.12.05

11

Ali Abdeh

House

NA

2002

12

Al-Naby Zakarieh School

School

IL DCL told VC that the school will be safe from destruction

05.09.05
Source: Beit Sakariya council – 2007
Beit Sakariya Hamlet: (location & population)
Khallet Beit Sakariya (Beit Sakariya hamlet) is located some 5 km east of the 1949 Armistice Line (Green line) and about 8.5 km to the southwest of Bethlehem city. It's considered part of Nahhalin village cluster along with Khallet al Balluta (Al Balluta Hamlet), all comprise a total area of 17249 Dunums. Khallet Beit Sakariya is a home to 98 inhabitants, according to the Palestinian Central Bureau of statistics – 2006 and sets on a total built of 10 dunums.
For the Israeli settlers, the location of the hamlet is quite strategically annoying as it sets in the heart of Israeli settlements cluster , part of the settlements that comprise the Gush Etzion settlements bloc, which explains why villagers of Beit Sakariya often suffered the continuous and endless provocative actions of Jewish settlers who attempted to seize their lands for expansionist purposes and drive them out of the area by destroying their agricultural lands, uprooting trees and incorporation with the Israeli Army destroy their residential houses and other means for their livelihood. The Israeli settlements that surround Beit Sakariya hamlet are Kfar Alon and Shevut Etzion settlements from the south (established in 1967 and 1971 respectively), Rosh Tzurim settlement from the north (established in 1969), Eli'azer settlement from the east (established in 1975) and Beit 'Ain settlement from the far west (established in 1989).
Israeli settlements established within Nahalin villages cluster:
Nahalin village cluster coercively lost considerable agricultural lands area for the construction of six Israeli settlements following the 1967 war when Israel occupied the West Bank and the Gaza Strip. Today, these settlements occupy a total area of 2982 dunums, 17.3 % of the total villages cluster area (17249 dunums). The establishment of those six settlements contributed much to the hard living conditions residents of Nahalin cluster are facing today due to settlers' continuous violations against land and people there. Farmers reported that Israeli settlers often prevent them from accessing their lands or to utilize it, particularly areas located at close of the settlements. Many times the Israeli settlers raided Palestinian agricultural lands and uprooted or burned the trees; particularly vine trees. Table 3 list Israeli settlements within Nahalin village cluster with related information.
Table 3: Israeli settlements established within Nahalin Village cluster
Settlement
Name

Establishment. Date

Population – June 2006

Area inside village cluster (dunum) 2005

Location

from Beit Sakariya Hamlet

Kfar Etzion

1967

416

577

Southwest of Khallet Sakariya

Rosh Zurim

1969

298

889

North of Khallet Sakariya

Allon Shevut

1971

3200

589

South of Khallet Sakariya

Gava'ot

1984

56

135

Northwest of Khallet Sakariya

Betar Illit

1985

25700

688

North of Khallet Sakariya

Bet Ain (Tsoref)

1989

796

104

Southwest of Khallet Sakariya

Total

30466

2982
Source: ARIJ GIS Database 2006
In addition to the settlements builtwithin Nahalin village cluster, the Israeli settlers established two settlements' outposts on the surrounding lands during the years between 2001 and 2003. See table 4
Israeli settlement outposts established on lands of Nahhalin village cluster
| | | | | |
| --- | --- | --- | --- | --- |
| Status | Period | Outpost Name | No. of Structures | Closest Mother Settlement |
| Outpost (construction) | Feb 2001 -Nov 2002 | South Kfar Etzion | 2 | Kfar Etzion |
| Outpost | June 2002 – 2003 | West Kfar Etzion | 11 | Kfar Etzion |
Source: ARIJ GIS Database 2006
Moreover, Nahalin villages' cluster lost more of its lands for the construction of bypass road number 367 which extends from the Gush Etzion settlement Bloc, from the settlement of Geva'ot, runs by the settlement of Kfar Etzion and heads towards Beit 'Ayn and Migdal 'Oz settlements in the southwestern parts of Bethlehem. Palestinian travel without a permit is forbidden on this road. The road extends a length of almost 2.5 kilometers on the lands of Bethlehem Governorate.
This bypass road has contributed much in reshaping the topography of the cluster as it separates Beit Sakariya village from its agricultural lands while creates a contiguity between settlements comprising the Gush Etzion settlements bloc and Israel. This bypass road also connects with bypass road number 60 which connects the eastern settlements of the Gush Etzion Settlements bloc with settlements located in the northern and northeastern parts of Bethlehem Governorate such as Gilo, Har Gilo, and Har Homa settlements and with settlements in Jerusalem city.
Nahalin Village Cluster and the Israeli Segregation Wall
According to the Israeli revised wall map of April 30, 2006, Nahalin Village cluster (Nahalin village, Beit Sakaria and Al Balluta Hamlets) along with the rest of western rural villages such as Battir, Husan, Wadi Fukin and Al Jab'a are going to be entrapped in one big enclave where about 51000 Dunums (51 Km2) of lands will be segregated between the Segregation Wall and the 1949 Armistice Line and consequently out of Bethlehem Governorate's lands. The segregated area includes the aforementioned Palestinian villages segregated in addition to the 11 settlements of the Gush Etzion.
The Palestinian villages in the Western Part of Bethlehem will be cut off from their agricultural lands, livelihood and vital social services that are only found in the city centers; east of the Segregation Wall; of which Bethlehem, Beit Jala and Beit Sahour. The Segregation Wall also cut these communities off from their natural resources; natural springs, irrigation wells, areas of territorial expansion, etc. See Map 2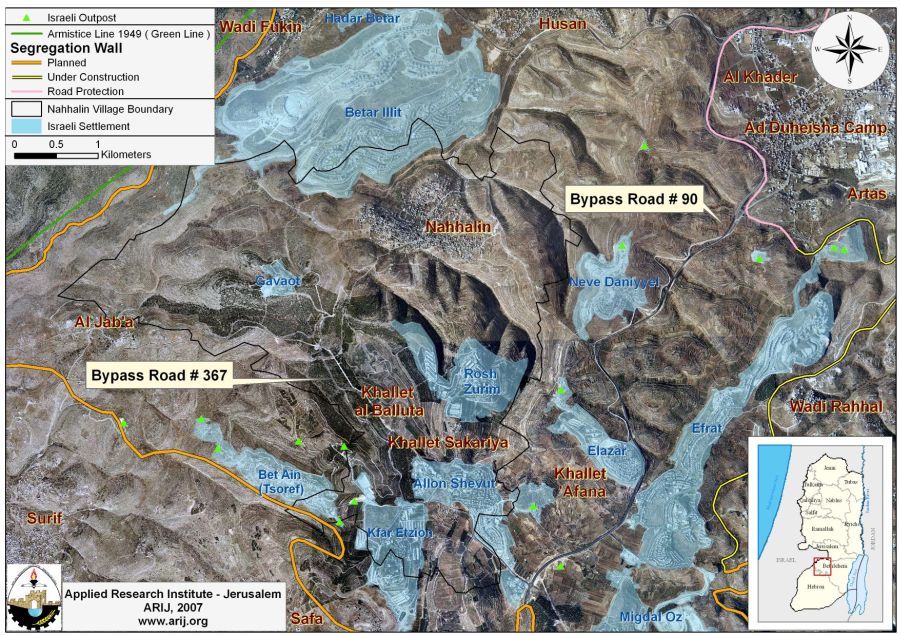 Conclusion:
The house demolition policy adopted and practiced by the Israeli occupying Army in the occupied Palestinian territory constitute war crime under international law, even though Israel attempts to justifies the houses demolishing using security pretext, but with thousands of Palestinian houses demolished over decades of Israeli occupation, Israel's security pretext is no longer sufficient, not that it ever was The Israeli consecutive governments and its occupying Army have declared repeatedly that their house demolishing policy is aimed at deterring Palestinian resistance activities, yet these measures constitute a form of collective punishment and retaliation, which are also prohibited and considered crime under international law.
And the International Convention on the Elimination of All Forms of Racial Discrimination (1965)
Article 5 provides that: 'States' Parties undertake to prohibit and eliminate racial discrimination in all of its forms and to guarantee the right of everyone, without distinction as to race, color, or national or ethnic origin, to equality before the law, notably in the enjoyment of the following rights: … (e) in particular … (iii) the right to housing'.
Also according to the Fourth Geneva Convention Israel is prohibited to demolish the Palestinian houses according to the Article 53 of the Convention which provides that: 'Any destruction by the Occupying Power of real or personal property belonging individually or collectively to private persons, or to the State, or to other public authorities, or to social or cooperative organizations, is prohibited, except where such destruction is rendered absolutely necessary by military operations.
::::::::::::::::_
[1] Gush Etzion settlement bloc is comprised of 11 Israeli settlements (Kfar Etzion, Allon Shevut, Betar Illit, Efrat, Elazar, Gav'aot, Hadar Betar, Neve Daniyyel, Rosh Zurim, Tzurif and Migdal Oz). The correlation of the Gush Etzion settlements cut off the five Palestinian rural communities in that area (Battier, Husan, Nahhalin, Wadi Fukin & Al-Jab'a) from each other and from the main centers of Bethlehem district.
Prepared by
The Applied Research Institute – Jerusalem
ARIJ