In less than a week, another crime against olive trees in Turmus'ayya / Ramallah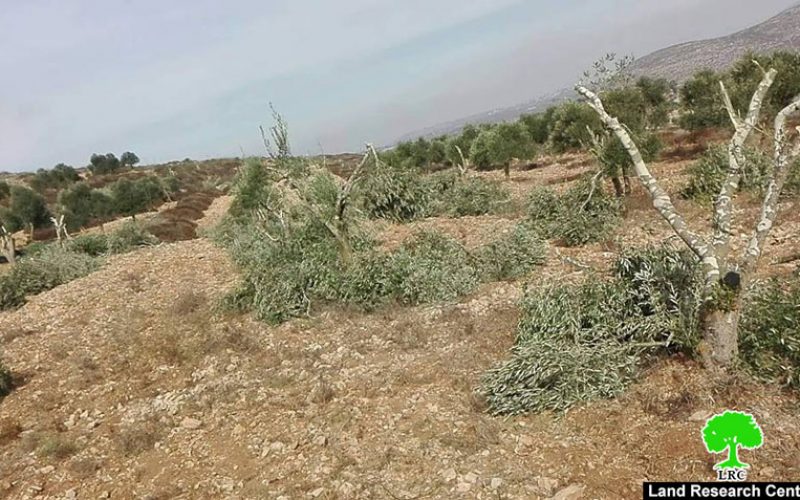 Violation: Cutting and destroying 86 olive trees.
Location: Turmus'ayya, north east Ramallah.
Date : 7 October 2018.
Perpetrators: Adei Ad settlers.
Details:
Settlers of "Adei Ad" commit new crime against Olive trees in Turmu'ssaya north east Ramallah, In the evening hours, 7 October  2018, a group of settlers broke into (Al Dhahrat) north Tumus'ayya close to "Adei Ad" settlement which is built over devoured lands of the town, the settlers using sharp tools cut and destroyed 86 (30 years old) olive trees, the trees were violently destroyed which reveals  the buried hate in Zionists' hearts.
Mohammad Awad (71 years) one of the victims of the new assault whose face features reveal the pain he feels after losing the trees he lived with all his life, told LRC observer:
"we were patiently waiting olives harvesting season in order to ensure food for my family that consists of my four sons and their families, today at the beginning of olives harvesting season, we found ourselves victims of this assault that destroyed the whole season , this is the third assault on olive trees, the same thing happened in 2011,  Settlers cut and destroyed 37 trees,  Today the same group of settlers cut and destroyed 35 trees, Despite the number of filed charges against them to the occupation's police, nothing has changed
The Israeli police record the charge as a crime against an anonymous, then they completely close the file. After a while, settlers commit the same crime against our lands under the occupation's protection."
 The last attack is the second one in the location, after 4 days of another attack against 21 olive trees, the victim is the same farmer  Mahmoud Hazma, this time 28 olive trees were cut and destroyed in the same location. The following chart reveals details of the damages according to firsthand observation in the location:
| | | |
| --- | --- | --- |
| victim | Total space of the land | Number of damaged trees |
| Mohammad Awad | 3 | 34 |
|               Mahmoud Hazma | 1.5 | 28 |
| Tawfeq Hazma Inheritors | 1.5 | 24 |
| total | 6 | 86 |
It is important to point out that (Al Dhahrat) area is one of the most subjected by settlers in Turmus'ayya, In the recent five years, settlers carried out many attacks against olive trees far in (Al Dhahrat) , the result is uprooting over 5000 olive trees, number of charges were filed to the occupation police, who now know the proprietors. They did not do anything to deter them. On the contrary, the IOF supports them and provide facilities to continue and decrease their attacks. 
About Turmus'ayya:
25 km to the north east of Ramallah city, Turmus'ayya  has a population of 2464 people (2017 census) most of them belong to two measure families : Awad and Jbara, In addition to other small families who located themselves in the town after 1948 : Shalabi, Kouk and Hezmawi.
Its total land area is 18139 dunums,2464 of which 1350 dunums are considered built-up area. About 11218 dunums of  Turmus'ayya lands are classified as  Area B (PA is in charge of civil matters with Israel responsible of security) where 6921 dunums are classified as  Area C (Israel maintains full security and administrative control).
The Israeli occupation confiscated vast areas from the village for the benefit of the following colonies:
Shilo and Mizpe Rahel devoured 1023 dunums
Mizpe Rahel  devoured 706 dunums
The bypass road number 60 stole 12.5 dunums