The Circling of East Jerusalem – Road 5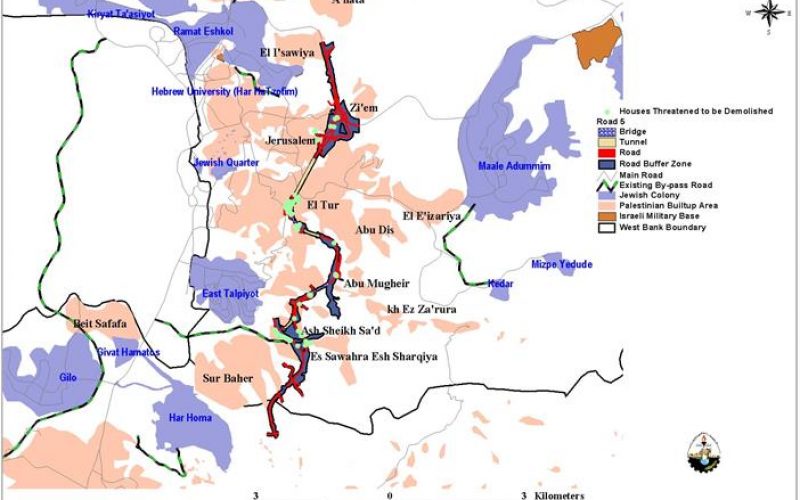 Jerusalem is considered the epic center of Palestinian polity, culture, economy and spirituality. Such significance came as Jerusalem is at the heart and the capital of historical Palestine. Its area is about 353.7 squared kilometers and it is inhabited by more than 200 thousand Palestinians. Recently, it has been the stage of continued Israeli attacks ever since Al Aqsa Intifada started on its soil on the 29th of September 2000.
The unilateral actions by the Israeli government are still taking place to create facts on the ground that would alter the course of the final status talks. Most recently, the municipality of Jerusalem started the construction of Road 5 around Jerusalem, which circulates the city from the eastern part, See Map 1. The new bypass road will swallow large areas of the Palestinian lands.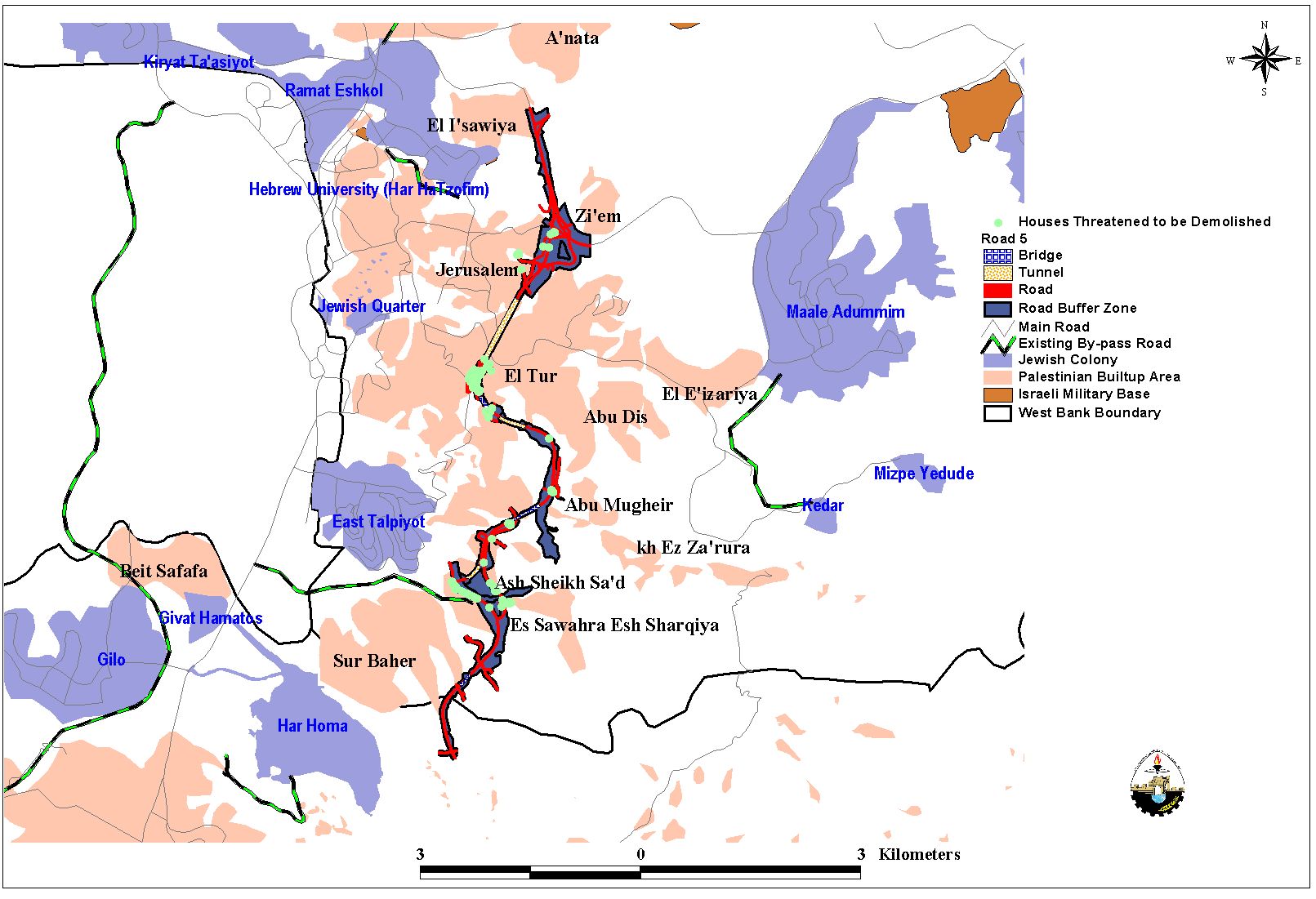 In 1996 the Israeli government approved the plan for constructing road 5 and the construction commenced on September 2000 to be accomplished in 3 years. Approximately 200 million USD were allocated for the construction of the road. The plan includes the confiscation of more than 760 Dunums from Zi'em, El Tur, El E'izariya, Abu Dis, Abu Mugheir; Es Sawahra esh Sharqiya, Sur Baher, El I'sawiya, Ash Sheikh Sa'd Lands, See Map 2.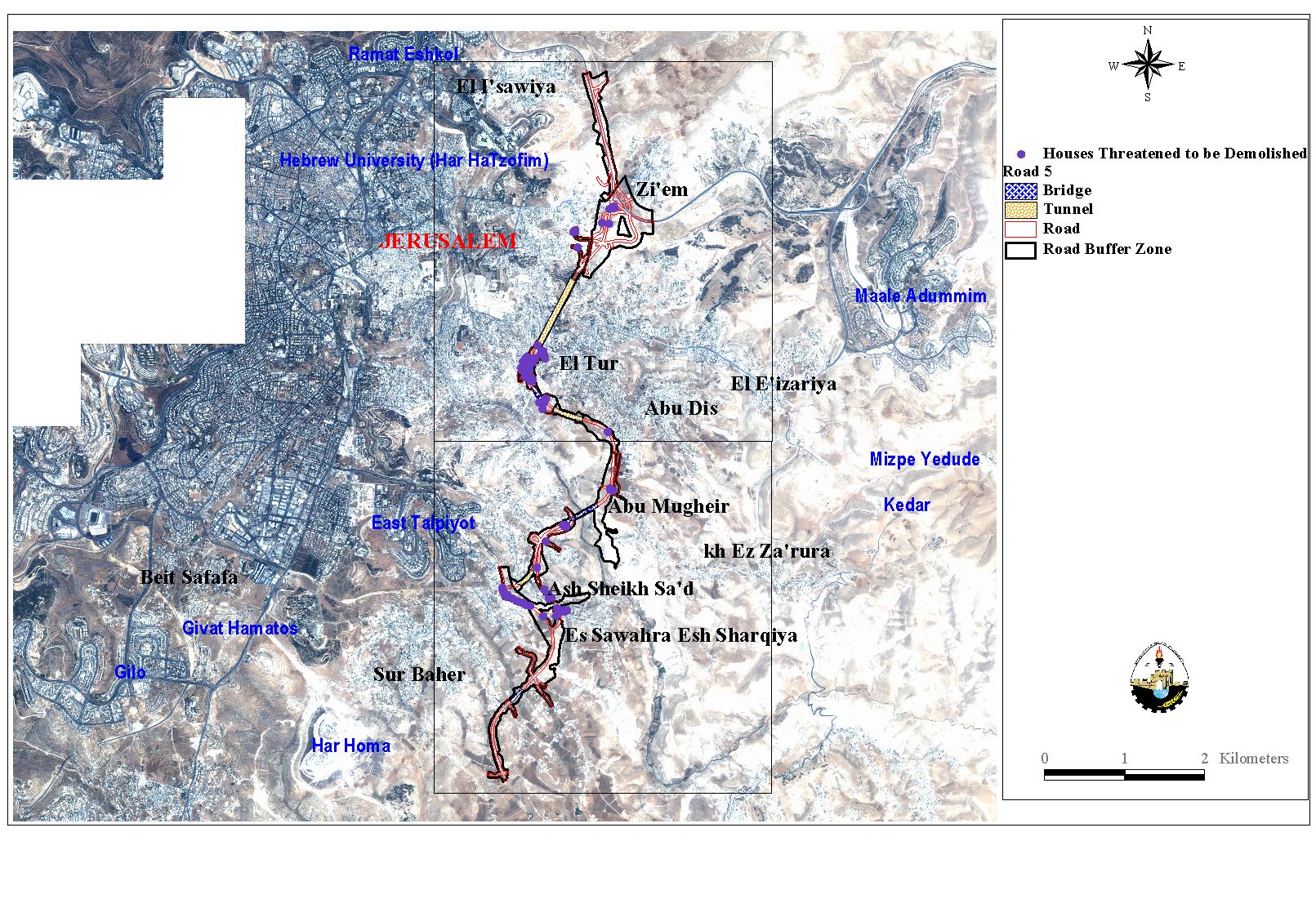 The planned by pass road will isolate the Palestinian localities from Jerusalem and split the built-up area of El Tur into two parts such as El Tur village, See Map 2. The road will create a ring around Jerusalem, which inevitably will isolate the Palestinian localities from Jerusalem and obstruct any plan to divide Jerusalem into eastern and western Jerusalem. Road 5 is considered to be a new extension to Road 45 that circulates Jerusalem from the northern part. Moreover, road 5 will be joined with the bypass road of Za'tara in the south forming a physical barrier around Jerusalem.
The calculated length of road 5 according to the planning scheme is 9719 meters, whereas the area of the buffer zone around the road is estimated to be 2110 Dunums. It is important to note that the buffer area is considered as a security zone for the road prohibiting the Palestinians from utilizing their lands. Spatial analysis of the IKONOS satellite scenes for the targeted area showed that 86 houses owned by Palestinians are threatened to be demolished. Moreover, hundreds of Dunums of agricultural land will be bulldozed.
The road will operate as a direct connection between the eastern and the western settlements and between the northern and southern settlements as well. Under the pretext of building new bypass roads around Jerusalem, Israel is re-demarcating the boundaries of Jerusalem.
Prepared by:
The Applied Research Institute – Jerusalem