Demolition and Removal of an Agricultural Facility in At-Tawani village / East Yatta south Hebron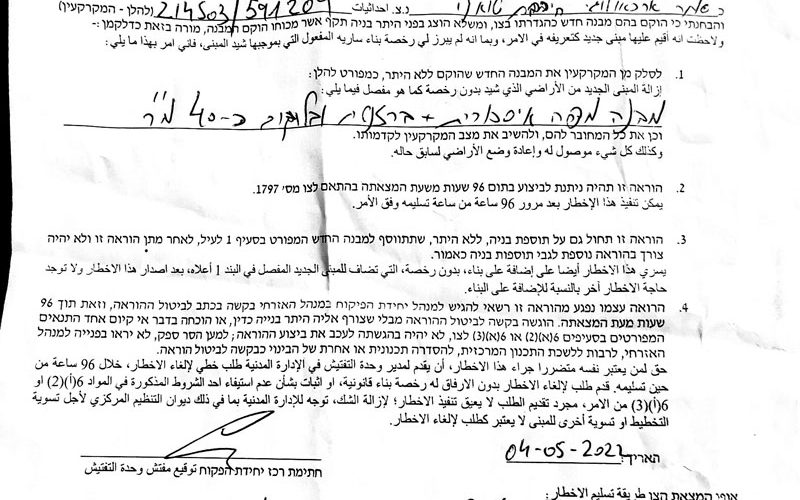 Violation: Notice of removal for an agricultural facility.
Date: May 7th 2022.
Location: At-Tawani – Yatta town / Hebron governorate.
Perpetrator: The Israeli Civil Administration.
Victims: citizen Suliman Al-'Adra.
Description:
Saturday , May 7th 2022 the Israeli Occupation authorities demolished and removed an agricultural facility , on the pretext of building without a license in At-Tawani village east Yatta  south Hebron.
About 11:00 pm , an army force accompanied by a vehicle belongs to the Israeli civil administration raided the village and arrived at citizen Suliman Al-'Adra , the building inspector wrote the notices , and hanged it on the targeted structures , then took pictures of them before withdrawing.
The notice was intitled " A notice of removal for a new building" numbered (21151 ) , where the occupation authorities decided to level the structure on the pretext of building without a license , and returning the plot to its previous status   in 96 hours , The notice was issued in reference to military order (1797) for 2018 which targets newly built and incomplete structures.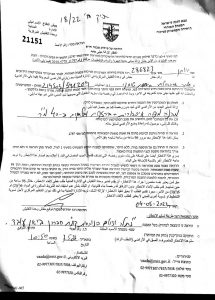 Notice number 21151 which targets Suliman Al-'Adra facility
The notice targeted a cattle barn with a total area of 50 m2 , built of bricks and topped by barbed wires and a steal sheets ceiling.
The barn was built in early 2022 and contains about (20 heads of sheep) , and considered a source of income for a family of (9 members – among them 4 children).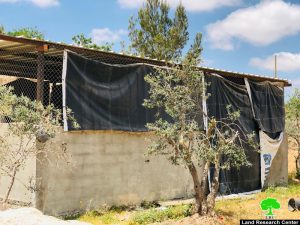 .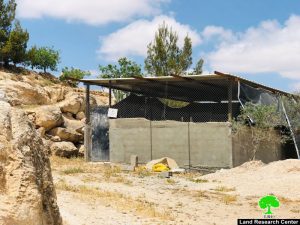 Photos 1+2: The targeted facility
The occupation authorities refuse objections submitted against this kind of notices, noteworthy the occupation authorities rarely grants licenses for Palestinians.