Brukhin settlers attack 24 olive trees in the town of Kafr ad-Dik  Salfit Governorate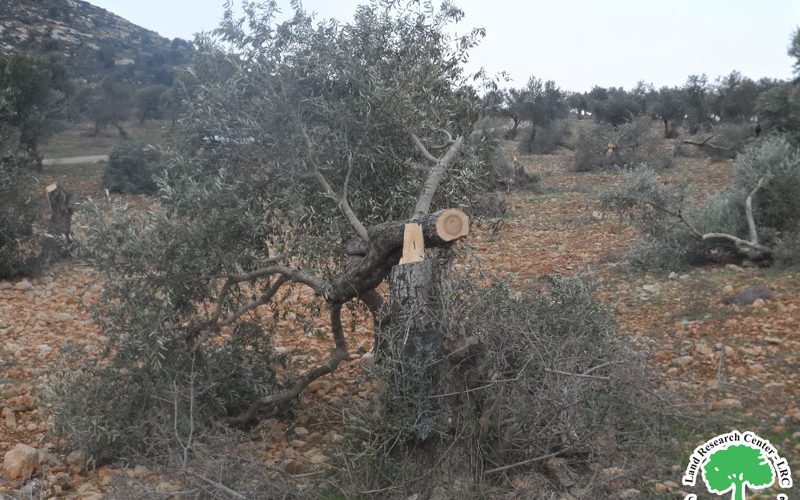 Violation: Olive trees Vandalized.
Location: Kafr ad-Dik, west of Salfit.
Date of violation: 05/05/2022.
The perpetrator: the "Brukhin" settlers.
The affected party: three families from the town.
The violation details:
 In the early evening hours of Thursday, 5/5/2022, a group of settlers from the settlement of "Brukhin" raided the olive fields in the "Al-Qasariah" area, located to the north of the town of Kafr ad-Dik, west of Salfit Governorate, and sawed down the stems and branches of 24 olive trees aged 25 years, causing total damage to 9 trees and partial damage to 15 others.
The targeted olive orchard is located about 300 meters to west of the "Brukhin" settlement which was built on parts of the town's lands. Kafr ad-Dik's Olive tree damage by owner's name, land area, total damage and partial damage:
| | | | |
| --- | --- | --- | --- |
| Owner's name | Land area M2 | Total damage | Partial damage |
| Emad Ismail Ali Ahmed | 4.5 | 2 | 5 |
| Nasser Mohammed Ali Ahmed | 2 | 0 | 6 |
| Aziz Youssef Qasoul | 5 | 7 | 4 |
| Total | 11.5 | 9 | 15 |
For his part, the farmer Imad Ali Ahmed, one of those affected gave the following account to LRC's field researcher:
"For more than three years, we have been subjected to constant harassment by the settlers every time we go to our land, which is located in the vicinity of the settlement.  Even, the occupation army previously closed the road leading to our land in an attempt to prevent us from reaching it, but despite the all the obstacles, challenges and dangers we continue to tend the land and this doesn't suit the settlers who carried out the latest attack against our land".
 Over the past years, the LRC's field research team monitored a large number of violations in the town of Kafr ad-Dik, most of which were concentrated on the northern side of the town, during which a number of agricultural service rooms and some developmental agricultural projects were vandalized, and olive trees were, also, cut down.
On the other hand, the occupation authorities distributed more than 45 notices to stop work and construction in the northern and western areas of the village. Moreover, a network of agricultural roads was also destroyed, and a large number of olive trees and plants were cut and vandalized. All of these attacks are taking place with the aim of emptying the area of its original owners and using it for future expansion of the Israeli settlement activity.
Prepared by
 The Land Research Center
LRC