Notice  to vacate a plot in Taybeh area, east of Tarqumiya/  Hebron Governorate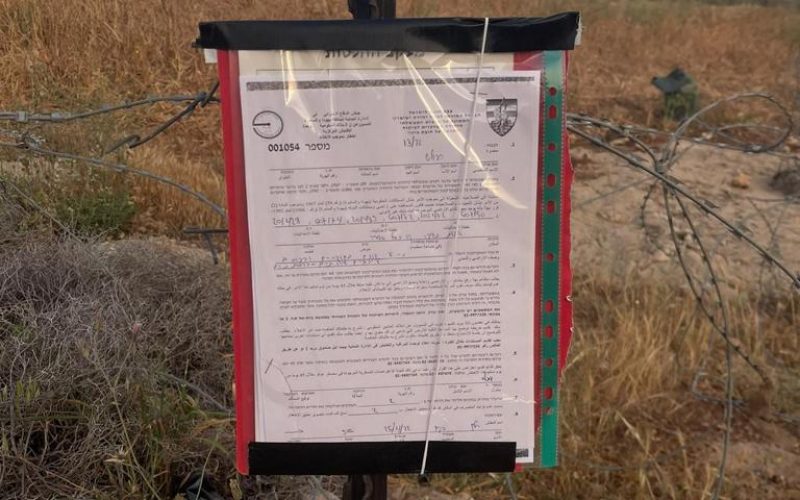 Violation: Notice to vacate a plot of land.
Date: 25/04/2022.
Location: Al-Taybeh – Tarqumiya/ Hebron Governorate.
Perpetrator: the so-called civil administration.
Victims: Citizen Muhammad Youssef Odeh.
Description:
On Monday, April 25th  2022, the Israeli occupation authorities issued a notice to vacate a 6-dunum plot of land in the Taybeh area, east of Tarqumiya town, Hebron governorate, under the pretext that it is classified as "state land."
In details, citizen, Muhammad Yousef Odeh, found two copies of the notice hanging on the fence surrounding the plot of his target land. They were issued by the so-called " in-charge of the government property", titled "Notice to vacate a piece of land" and bearing the number (001054).
In its notice, the occupation authorities demanded that the lands should be "vacated and returned to its previous status within 45 days" under the pretext  of being classified as  "state land", meaning that it has been confiscated and expropriated in accordance with the occupation laws and military orders and its ownership has been transferred to the occupying force, and, accordingly, its original owner was prohibited from working in it, cultivating it, or constructing any building in it.
Photo 3: Copy of the military notices targeting the land of the citizen Muhammad Youssef Odeh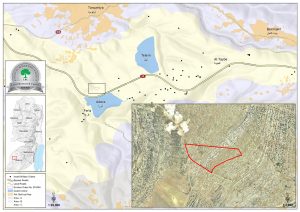 A map showing the location of the target land
In its notice, the occupation authorities threatened that if the owner of the land doesn't restore the situation to its previous status, the occupation authorities will carry out the task and he has to pay all costs.
Mr. Odeh had bought this plot of land  from his relatives about two years ago, fenced it with barbed wire, planted it with 60 olive,  almonds and grapes seedlings, and built  a water cistern to irrigate his plants.
It should be noted here that the "Adora" settlement is located 300 meters to the north of the target plot of land. It is also bordered from the northern side by the bypass road No. 35, and from the eastern side it is only one km away from the "Tilm" settlement.
The term "vacating the land", according to the occupation authorities, encompasses  that the owner of the target plot removes all the crops from it, demolishes walls, cisterns, stone terraces and  agricultural dwellings, etc.