Halt of Work Notice for an Agricultural room in Immatin village / East Qalqilya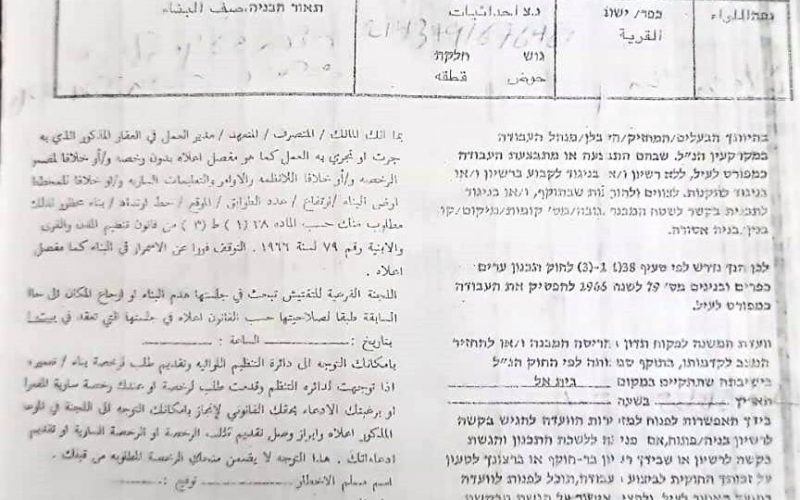 Violation: Halt of Work and construction notice.
Location: Immatin village / Qalqilya governorate.
Date: March 2nd 2022.
Perpetrators: The Israeli Civil Administration.
Victims: Farmer Mohammed Suwan.
Description:
March 2nd 2022, The Israeli Occupation accompanied by the so calls building inspector at the Israeli civil administration raided Immatin village east Qalqilya , and served halt of work notices to an agricultural room belongs to farmer Mohammed Suwan built of steel sheets and fixed on a baton floor with a total area of 45 m2.
According to the details in notice number (32743) , the occupation sat March 23rd 2022 , as the date of the building and organization session in Beit El military court  to decide the fate of the structure.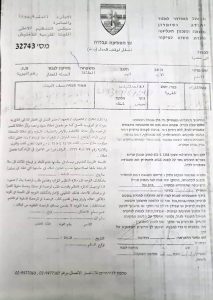 Halt of Work Notice number 32743 which targets a room belongs to citizen Mohammed Suwan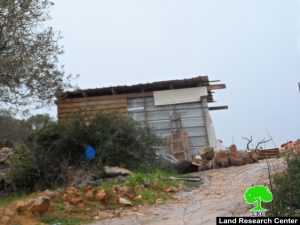 Photo 1: the targeted room
The targeted room is at Al-Marah area southwest Immatin village, that wetness continuous assaults represented in expanding Immanuel colony, and its so called industrial area.
The affected citizen told LRC the following:
"Since September 2021, I started building a small structure In my plot in Marah area , in order to rest at it while I go to cultivate my plot nearby "Immanuel" colony , in 2016 colonists carried on ravaging a part of my plot , and destroying some olive saplings."
Farmer Mohammed Suwan supports a family of 9 , among them 4 children and 4 females.
About Immatin Village:[1]
The village of Immatin is located 20 km to the east of Qalqilya. It is edged by Qalqiliya city from the east, Kfar Qaddum from the north, Al-Funduq from the west , Fartaa and Jit from the north and Deir Istiya from the south.
It has a population of 2,755 until 2017. It has a total area of ​​7,346 dunums, of which 306 dunums are built-up area.
The Israeli occupation forces confiscated 311 dunums of the village's lands as follows:
Emmanuel colony looted (160) dunums from the village lands
The bypass road number 55 confiscated about 30 dunums from the lands
The apartheid wall seized 121 dunms for its construction
Classification of land according to the Oslo agreement for the village:
Areas classified B are (3,940) dunms.
Areas classified areas C are (3,406) dunums.
When completed, the wall in Immatin will be 4,582 meters and will confiscate and isolate  a total of 2,675 dunums.
[1] GIS-LRC
Prepared by