Two cows poisoned due to Israeli military trainings Leftovers in Khirbet Al-Hameh / Tubas governorate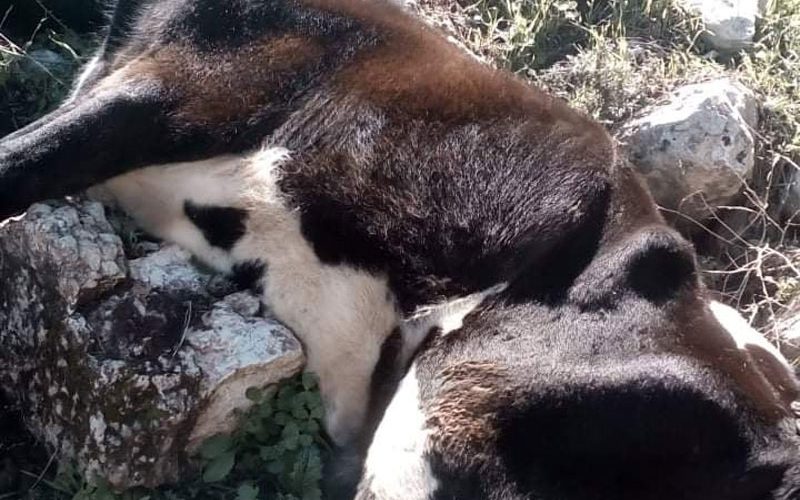 Violation: Two heads of cows killed during military trainings.
Location: Khirbet Al-Hameh at the northern Jordan Valley / Tubas governorate.
Date: February 27th 2022.
Perpetrators: The Israeli Occupation forces
Victims: Citizen Mahioub Faqha
Description:
Military trainings at the Jordan valley are a part of Israeli intolerable violations practiced against 50,000 Palestinians in the Jordan valley, the only victims of these violations are the locals who were forcedly displaced from their Bedouin communities, so their machineries destroy everything in sight. Among the violations, personal assaults, land grabs, and forced eviction.
Two cows killed
Sunday morning (February 27th 2022), while cows were posturing in Al-Himeh area at the northern Jordan valley, about 7 cows, 2 of them had died in poison caused by military trainings leftovers, noting that Mahyob depends on cattle breeding as a main source of income.
The affected farmer said:
Cattle breeding is our only source of income, and these are the only postures that we can use in Al-himeh Ash-Sharqiya which the occupation forces are now using for military trainings, this comes with devastating effects over us , and the result is the death of several cattle heads.
The Jordan Valley is threatened of Judaization and Confiscation at any time, military training areas are only an excuse to confiscate more Palestinian lands and use them for the construction of illegal colonies.
Prepared by