Halt of Work Notice for 6 Agricultural Rooms in Kafr Ad-Dik town/ West Salfit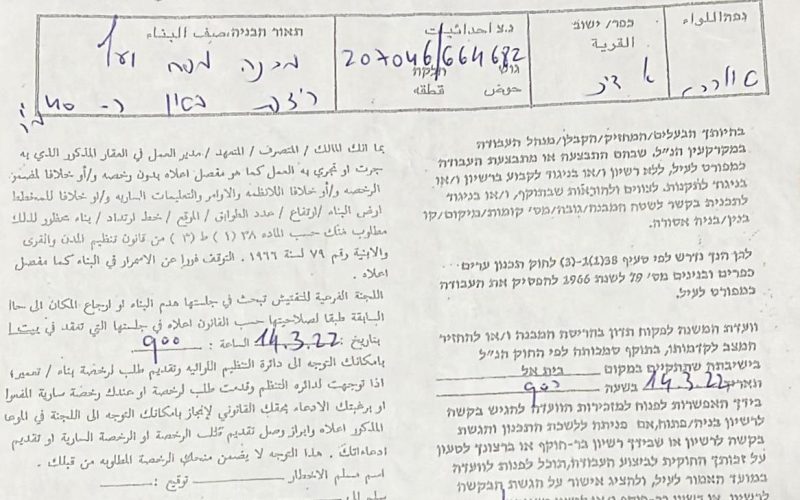 Violation: Halt of work notice.
Location: Kafr Ad-Dik town / Salfit governorate.
Date: February 20th 2022.
Perpetrators: The Israeli Civil Administration.
Victims: 6 families from the town.
Description:
Sunday morning, February 20th 2022, the building inspector at the Israeli civil administration raided Kafr Ad-Dik town west Salfit city , arrived at "Khallet As-Sumaika" and "Khallet Al-Qameh" west the town , and targeted 6 agricultural rooms with halt of work notices on the pretext of building without a license , noting that the rooms are in private palestinian lands nearby "Leshem" and "Eli Zahav" illegal Israeli colonies.
According to the military notices , the occupation sat March 14th 2022 , as the date of the building and organization session in Beit El military court to decide the fate of the structures. Two weeks before that , colonists raided the rooms and destroyed everything inside them. The following table shows more information about the damages:
Affected citizen

Family members

children

notices

The targeted facility

area

photo

Males

females

Nemr Ahmed

4

5

3

agricultural room built of bricks and baton , and an outdoor bathroom

40

1

Najeh Harb

3

1

–

Agricultural room built of zinc and woods on a baton floor

60

2

Habib Ahmed

6

5

5

Agricultural room built of bricks and  a zinc ceiling

40

3

Mohammed Ahmed

3

2

3

N/A

Agricultural room built of woods and zinc

18

N/A

'Atef Ahmed

5

7

2

Agricultural room built of bricks zinc

45

4

Jamal Ahmed

2

4

2

N/A

Agricultural room built of bricks zinc

24

N/A

 

23

24

15

 

 

 

 
Farmer Nemr 'Ali Ahmed told LRC: "Most o the targeted rooms were built before at least four years, and were used to store agricultural tools and several agricultural materials, in addition to providing a resting place for families , the area is heavily targeted by Israeli military notices , and colonists are always present at the area , harassing citizens."
Kafr Ad-Dik area witnesses daily assaults that included uprooting tens of olive saplings, and land grabs for future colonial projects.
During the past few years, the occupation targeted a large number of facilities in Kafr Ad-Dik town , with halt of work notices , that exceeded 38  in number since the beginning of 2021 and until this day , especially at the northern and western parts of the town.
Kafr Ad-Dik:[1]
Kafr ad Dik is located 15 km to the west of Salfit. It is surrounded by Bidya (north), Rafat and Deir Ballut (west), Bruqin and Sarta (east), and Bani Zaid villages (south).
Kafr ad Dik has a population of 4553 people, according to a 2007 census.
Its total area is 15529 dunums; however, it has been suffocated by bypasses and 3 Israeli colonies that lay over its lands.
This has further limited its expansion knowing that it had already had a 791-dunum organizational plan (built-up area); it also isolated the village from its surroundings.
The Israeli occupation confiscated 2477 dunums of Kafr ad Dik lands for the benefit of:
Colonies devoured 1225 dunums, and they are:
Name of colony

Year of construction

Area of confiscated land/ dunum

Number of colonists

Har Eli Zahav

1983

134

339

Eli Zahav- Yoezer

1982

290

424

Bedoel

1984

800

1088

 

1999

1

339

 

1225

1512
*Source: Field Research- Monitoring Israeli Violations Team- Land Research Centre (LRC).
Bypasses stole 362 dunums
The Apartheid Wall seized 890 dunums and isolated 8824 dunums and is expected to be 8905 long in Kafr ad Dik lands.
Lands of Kfar ad-Dik are categorized according to Oslo Accords into lands under Area B (15% of the lands) and lands under Area C (85% of the lands).
[1] GIS-LRC
Prepared by
 The Land Research Center
LRC