The Israeli Occupation Demolishes an Agricultural Project in Suba / West Hebron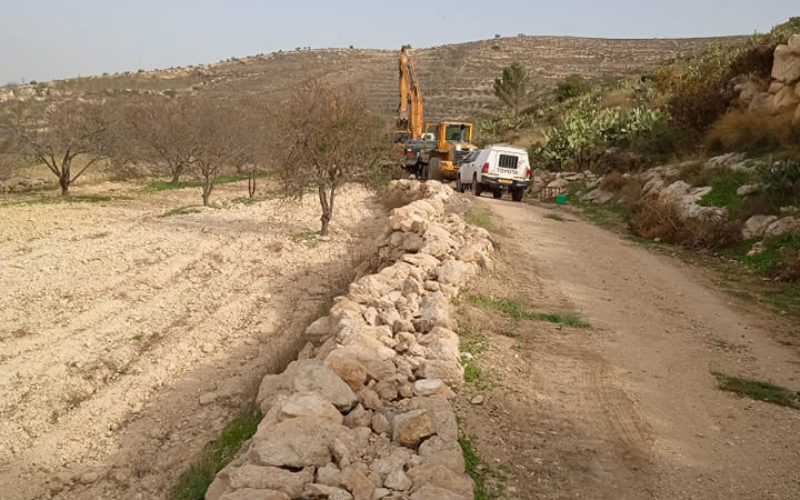 Violation: Destroying an agricultural project.
Date: December 15th 2020.
Location: Suba- Idhna / Hebron governorate.
Perpetrator: Israeli Civil Administration.
Victims: family of citizen 'Ali Al-'Amayra.
Description:
December 15th 2020, The Israeli Occupation authorities sabotaged an agricultural project through uprooting trees and demolishing retaining walls, which caused a great financial loss, and wasted the efforts and work of 25 years spent in developing this project in Suba area in Idhna.
The Owner's son Ayman Al-'Amayra told LRC:
"A massive army force accompanied by the Israeli Civil Administration and an army force raided our plot about 9:00 am , along with two excavators and two bulldozers and workers of an Israeli company.
The Occupation forces spread around the land and carried on uprooting trees, and demolishing retaining walls."
Al-'Amayra pointed out that the occupation claims those lands are state properties, despite the fact they haven't received any notices regarding declaring this land as a property of the Israeli state.
The Occupation authorities sabotaged 20 dunums of Al-'Amayra lands explained in the following table:
| | | | |
| --- | --- | --- | --- |
| # | Area in dunums | Species | Plant age |
| 1 | 9 | Almond | 20-22 years |
| 2 | 7 | Olives | 20 years |
| 3 | 1 | Cactus | 12 years |
The Occupation's machineries also demolished retaining walls (500 m around the blot and 4-5 m high).
The accompanying workers cut down the remaining trees using electric tools.
Al-'Amayra said that this project provides a source of income or a subside source of income for 40 members of Al-'Amayra family.
Al-'Amayra was running a successful agricultural investment, he used to get student groups coming to learn about his experience in growing a variety of crops, but all that was destroyed in only few hours by the Arbitrary occupation .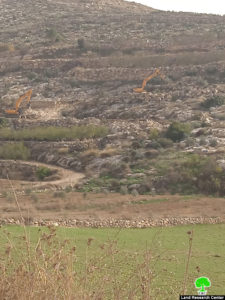 Photos 1-7: after destroying the agricultural project