Notices to stop work and construction in sheep dwellings  and cistern in the village of Al-Buwaib, east of Yatta, Hebron Governorate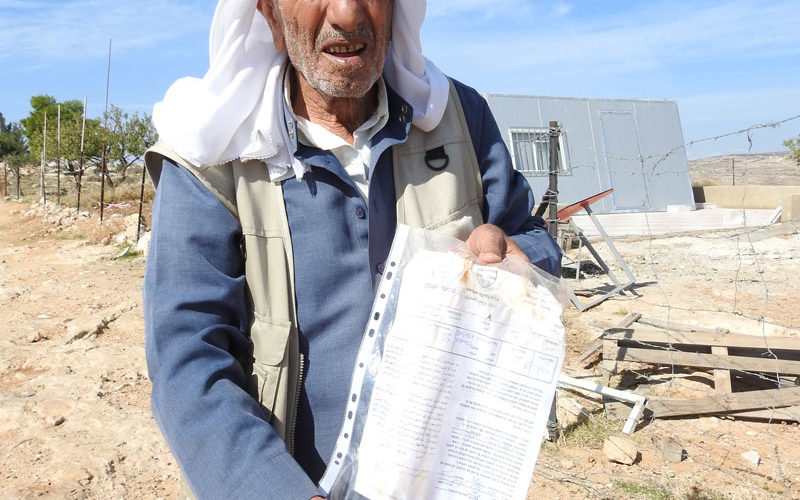 Violation: notifications to stop work.
Violation Date: 03/11/2020.
Location: Al-Buwaib – Yatta / Hebron Governorate.
Perpetrators: the so-called Israeli Civil Administration.
Affected party: three citizens of Al-Buwaib village.
Violation details:
On Tuesday, November 3, 2020, a force of the occupation army, accompanied by a vehicle belonging to the so-called Civil Administration, raided al-Buwaib village, east of Yatta, Hebron Governorate. The so-called buildings inspector of the Planning and Construction Department of the Israeli "Civil" Administration wrote seven notices calling for the suspension of work in two sheep shelters and a water well under the pretext of not being licensed.
Picture 1: A citizen displays a notice to stop work in his agricultural facility.
The notices demanded to "immediately stop the construction work" under the pretext of commencing it without a permit, and set the date of  30/11/2020 for a hearing session of the so-called subcommittee for inspection to be held at its headquarters in the settlement of "Bet El"  to decide about the issue.
Stop work notices by owner's name, fam member, unit area, unit type construction date, notice No. and unit use
| | | | | | | | |
| --- | --- | --- | --- | --- | --- | --- | --- |
| No. | Owner name & Fam. Members | Unit Area m2 | Type of unit | Cons. date | Notice No. | Pic No. | Unit use |
| 1 | Burhan Gabriel Da'jneh -7 | 180 | # tents | 2019 | | | to house a herd of  sheep 150 heads |
| 2 | Muhammad Othman Mahani -8 | 250 | Barrack made of bricks and tin roofed | 2018 | | | To house a herd of sheep  100 heads |
| 3 | Tayseer Othman Mahani -6 | 200 |  Cistern | 2017 | | | For agricultural purposes |
| 4 | Abu Amir al-Ja'bari | 100 | Dwelling room | 2020 | | |   Under construction – on his farmland |
| 5 | Khalil Hassan Da'jneh -3 | 150 | Cement made dwelling | 2020 | | | To house  50 heads of sheep |
| 6 | Ibrahim Khalil Da'jneh-10 | 150 | Cement made dwelling | 2020 | | | To house  50 heads of sheep |
| 7 | Mahmoud Khalil Da'jneh-9 | 250 | Cement made dwelling  and barrack | 2019 | | | To house  70 heads sheep |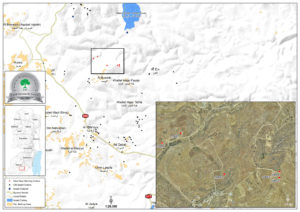 On 10/15/2020, the occupation authorities issued five notices to stop work in the aforementioned sheep dwellings in the village of Al-Buwaib, thus bringing to eleven the number of notices that were distributed in the village during the year 2020. For more, see the report issued by the Land Research Center at the time ( in Arabic and English). All these measures were taken under the latest military Law No. 1797 of 2018. 
Military order No. 1797:
The Coordinator of Israeli Government Activities in the Occupied Territories (COGAT) issued military order 1797 on 17 April 2018. COGAT, under the direct control of the Israeli defense ministry, runs civil affairs in the occupied West Bank.                                       
This military order makes it possible for Israeli forces to demolish Palestinian homesdeemed as "new" in Area C within 96 hours of a demolition order or removal notice being issued which "blatantly violate international law and contravenes existing local legislation.
According to the military order, "new structures" are those identified by an Israeli " Civil" Administration (ICA) inspector as having been built within the previous six months, or inhabited for less than 30 days prior to the removal notice. The only way to prevent the demolition is to produce a valid building permit or provide evidence that the targeted structure is not "new" within the meaning of the order.
The new order severely restricts the right to a hearing or the opportunity of appeal. According to the planning regulations applicable in Area C, the first enforcement measure against an unlicensed structure is a stop-work order, which gives the owner 30 days to object and try to obtain a building permit retroactively. If this fails, (COGAT) may issue a final demolition order, usually due for implementation within two to four weeks. 
Military Order 1797 allows the Israeli Military Commander to summarily destroy Palestinian structures – including those provided as humanitarian assistance – with virtually no legal recourse available to those whose homes will be destroyed. No access to justice and no protection from grave breaches of IHL. 
Military order says Palestinians have 96 hours to appeal house demolition
Even if Palestinians fulfill the appeal requirements put in place by military order 1797, Israeli authorities maintain complete authority to proceed with demolition.
Under the order, COGAT excuses itself from informing Palestinian homeowners directly that their homes are slated for demolition. The Israeli authorities only require demolition orders be placed "next to" relevant structures 96 hours before Israeli forces arrive to execute demolition. If a homeowner does catch wind of an impending demolition, he or she must present an approved master plan and building permit to appeal the demolition. Israel's discriminatory housing policies in the West Bank ensure that this is an almost impossible requirement for the 300,000 Palestinians living in Area C, 60 percent of the West Bank, to fulfill. For example, between 2010 and 2014, Israel approves 1.5 percent of building applications in Area C. Israeli authorities, however, routinely approve of settlement master plans and even halt demolitions of settler outposts citing the existence of master plans. Indeed, since 2017 Israeli officials have approves  nearly 14,000 settlement units in the West Bank.
In addition to having to produce an approved master building plan within four days, Palestinian residents of Area C attempting to forestall demolition must prove that construction on their home or home addition has been completed for six months or that the structure has been inhabited for thirty days.
By requiring that Palestinians produce so many documents in such a short period of time, this military order "virtually strips the affected residents of the right to due process and the capacity to challenge the demolition orders through legal avenues, by requiring that objections to the demolition order be accompanied with a valid building permit. Moreover, COGAT remains the sole arbiter of these appeals. Put differently, even if Palestinians fulfill the appeal requirements put in place by military order 1797, COGAT empowers itself to proceed with demolition anyway.
Al-Buwaib Village:
It is located about 10 km to the east of the city of Yata, and has a population of about a thousand. The village is bordered on the east by the village of Arab al-Ka'abneh, to the west by the village of Ziv and the bypass road (356), to the north by the colony of "Bani Hafer" and to the south by the  villages Al-Deirat and Al-Rafa'ya. Administratively speaking,  the village is affiliated with the regional joint village council of Khallet Al-Mayya.