Settlers set fire in "Al-Ber Wal Ihsan" mosque – Al-Bireh / Ramallah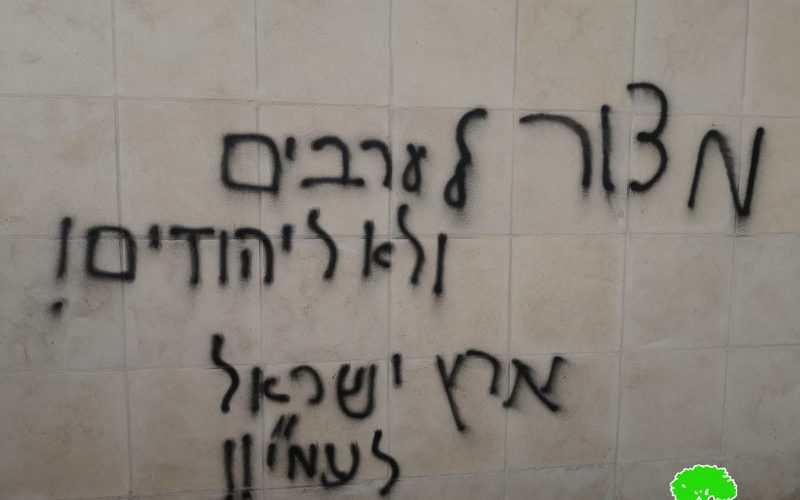 Violation: Setting fire on a mosque.
Location: Jabal Al-Taweel / north Al-Bireh.
Date: July 27th 2020.
Perpetrator: settlers of "Pesegot".
Victim: People of the targeted areas.
Description:
In the early morning hours of Monday, July 27th 2020, about 2:00 am , a group of settlers sneaked to Al-Ber Wal Ihsan mosque in Jabal At-Taweel.
In the early morning hours, fanatic settlers sneaked to the first floor of the mosque and sat it on fire, they pour flammable materials on the mosque's carpet then wrote hatred inciting slogans such as "blockade for Arabs and not for Jews" , it also says "Land of Israel for the Israeli people".
Settlers tried to sneak in to the second floor to set it on fire too, but with closed windows and doors settlers couldn't take the heat of the fire and had to run to the closest settlement only 800 m away from the mosque.
Photos 1-6: The remains of the mosque after the fire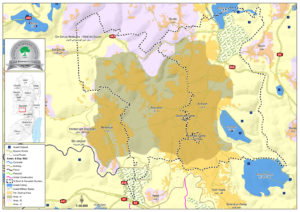 Settlers carry out attacks on mosques and worshipping places to give the conflict an ideological form, it also reflects settlers' extremism along with their right wing government, not only to impose control on Palestinian people, but also to transform this into a religious war in West Bank and even in the occupied lands of 1948.
During last year, settlers set fire on number of mosques and wrote hatred inciting slogans on walls of mosques and houses in Al-Mughayyir and Huwwara villages among many others.
Al-Bireh and Ramallah:[1]
15 km to the north of Jerusalem , (Al-Bireh and Ramallah) is surrounded by Ein Yabrud , Dura Al-Qare'a , Surda Abu Qash  (north), Ein Qinya and Betuniya (west), Bitin and Burqa (east) and Kufur 'Aqab and Rafat (south).
Al-Bireh and Ramallah has a total population of (328,861) people until 2017 census.
Al-Bireh and Ramallah has a total area of 38,164 dunums , of which 14,712 dunums are a built up area.
The Occupation devoured (3357) dunums for the following purposes:
Israeli settlements devoured (1213) dunums , for:
| | | | | |
| --- | --- | --- | --- | --- |
| settlement | Establishment year | Area in dunums | Number of settlers in 2018 | Total area |
| Pessegot | 1981 | 826 | 2,046 | 930 |
| Beit El | 1977 | 360 | 6,027 | 1,183 |
| Kokhav Yacoub | 1984 | 27 | 8,910 | 2,408 |
Bypass roads 466 and 463 ate up 111 dunums.
The Annexation and Expansion wall is 1,359 m , ate up 135 dunums and isolated 370 dunums behind it.
Israeli military camps ate up (1,898) dunums.
Oslo accords divided the town's lands as the following:
A area: 19,046 dunums.
B area: 3,921 dunums.
C area: 15,197 dunums.
[1] GIS – LRC