Notice of eviction for 40 dunums west Jayyous / Qalqilya governorate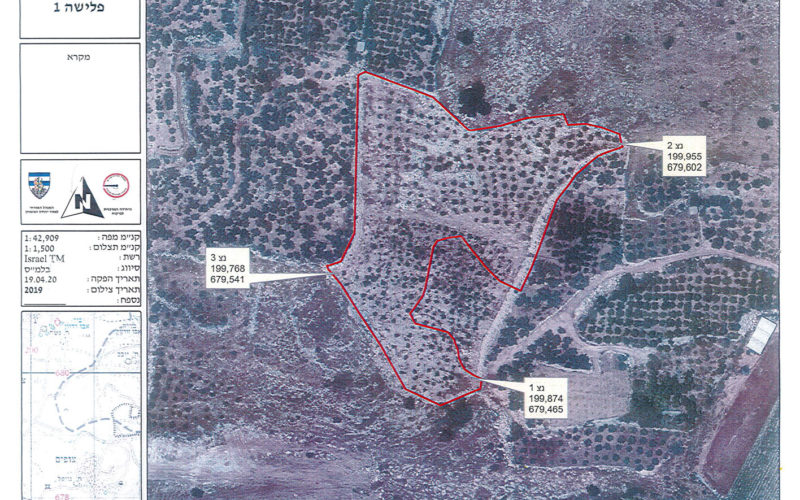 Violation: Notice of eviction.
Location: Jayyous town / Qalqilya governorate.
Date: May 10th 2020.
Perpetrators: the Israeli Occupation Civil Administration.
Victims: three families from the town.
Description:
Sunday, May 10th 2020, the Israeli Occupation Forces raided Jayyous village to the northeast of Qalqilya , and headed to an agricultural land behind the Annexation and Expansion wall , where they served three notices of eviction targeting 40 dunums of lands isolated behind the wall.  Noteworthy, the owners have legal paper proving they own the land.
The Occupation Authorities ordered "Eviction of the Land" , and returning it to its previous status , within 45 days after the day of issuing the notice.
The following table shows more information about the targeted facilities:
Owner

Location

Notice No.

The targeted area in dunums

Crops at the land

Ma'azouz Al-Qadoumi

As-Sath

12.5

Cultivated with Olives aging 5 years old

Jihad Saleem

Khalaya Al-'Adas

13

Planted with strawberries

Medhat Abu Zayed

Khalaya Al-'Adas

14

Planted with different vegetables and  Avocado trees

 

39.5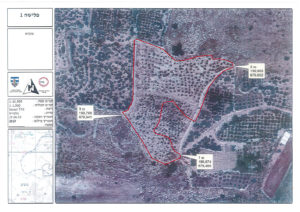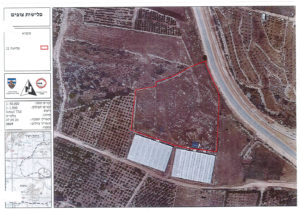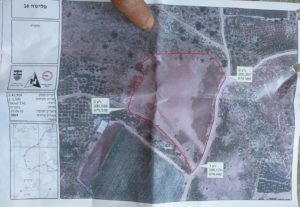 One of the Victims Ma'azouz Al-Qaddoumi told LRC the following:
"The targeted land belong to the town's people and are cultivated regularly before and after the construction of the Annexation and Expansion Wall . The Occupation is trying to prohibit our access to our own land, but we won't give up on it and we will keep cultivating it every season, the occupation claims that this is a state land despite the fact that is cultivated and planted with olives, which is proved by official papers."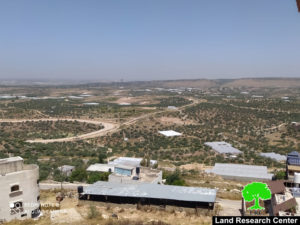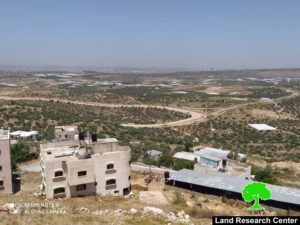 Photos 1+2: Lands isolated behind the Annexation and Expansion Wall
During the last few years, after modifying the track of the Annexation and Expansion Wall at the town's lands in 2011 the Occupation imposed number of restrictions to prevent people from cultivating their lands , in addition to vast areas announced as state lands , which hinders developmental projects in the area.
Jayyous:[1]
Jayyous is located 10 km to the northeast of Qalqiliya city and is edged Falamya village from the north,   Zufin colony the west, Khirbet Jabir from the east and Izbet Al-Tayeb from the south.
Its population mounts to 3731 (2014 census) people who live on a total land of 10,925 dunums, of which 418 dunums are considered the village's built-up area.
Israeli colonies confiscated 724 dunums from Jayyous lands. Zufin colony that was established in 1990 is founded on confiscated lands from the village.
The apartheid wall is founded on 1045 dunums from the area and was reported to isolate 6,496 dunums behind its construction. The lands of Jayyous hamlet are classified according to Oslo Accords as the following:
3128 dunums (29%) are classified as area B
7707 dunums (71%) are classified as area C
[1] GIS-LRC