Brukhin settlers uproot tens of olive saplings in Bruqin / Salfit governorate
Violation: Cutting and Sabotaging tens of olive trees.
Location: Northwest Bruqin / Salfit governorate.
Date: March 2020.
Perpetrators: settlers of "Brukhin".
Victims: Farmer Jamal Salama.
Description:
 During march 2020,  LRC team documented 3 attacks perpetuated against farmer Jamal Salama  (62) in Bruqin village , the attacks were represented by uprooting 57 olive saplings (aging 3 years old) , and destroying 3 olive saplings , vine tree and a carob tree.
This is not the first time farmer Salama suffers from settlers' violence , in October 2018, a group of settlers sabotaged 45 olive trees aging 12 years old.
Salama told LRC:
"I own 5 dunums in Al-Khalayel location, situated 1 km away from Bruqin , I have a family composed of 5 members , one of them is a child , in early 2018 I rehabilitated the plot with the help of the ministry of agriculture hoping to protect it from colonial expansion projects. Early October , settlers cut and sabotaged most of the trees in my plot.
In early 2020 I planted olive saplings in the plot,  but it went through another attack in March 11th  , when settlers uprooted 11 olive saplings, and in March  14th , fanatic settlers uprooted 35 olive saplings , carob tree and Guava tree, but this would not hold me back from cultivating and benefiting from my land , which is my legitimate right."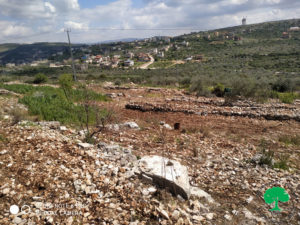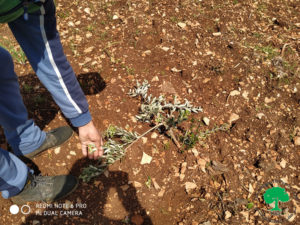 Bruqin:[1]
It is located 10 km to the west of Salfit city; Bruqin is one of the Palestinian villages that depend mostly on agriculture in its income. And bordered by Haris (north), Kafr Ad-Dik (west), Farkha and Salfit (East), Kafr Ein, Bani Zayed, Qarawat Bani Zaid (south).
The town has a population of (4,174) people in 2014 census.
The town has a total population of 285,12 dunums , of which 706 dunums are the town's built up area.
The occupation devoured (3,385) dunums , for the following purposes:
Table 1: land confiscations in Bruqin:
No.

Colony

Establishment date

Built-up area

Type

Built over

1

Barkan

1981

622.5

Industrial

Sarta, Bruqin, haris

2

Bruchin

1999

265.5

Residential, industrial

Bruqin, Haris

3

Ariel Gardens

1978

5226

Industrial

Bruqin

 
Bypass roads devoured about 503 dunums.
Oslo accords divided the land into the following :
A area: (1,005) dunums.
B area : (4,376) dunums.
C area: (6,906) dunums.
[1] GIS-LRC