The Israeli Occupation notifies agricultural facilities in Deir Dibwan / Ramallah governorate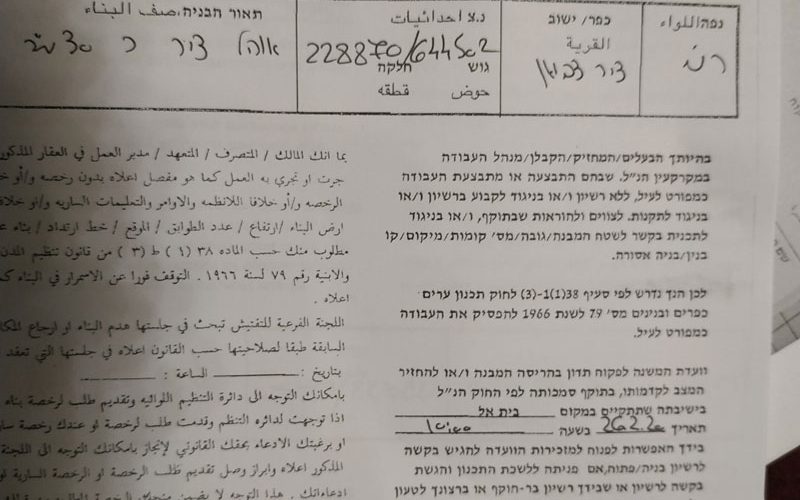 Violation: halt of work notices on agricultural facilities.
Location: Deir Dibwan / North East Ramallah.
Date: February 10th 2020
Perpetrators: The Israeli Occupation Civil Administration.
Victims: Three Palestinian families.
  Description:
The Israeli Occupation forces accompanied by the building and organization officer – the Civil Administration raided Deir Dibwan in Tuesday , and targeted "Khallet Al-Harayeq" east the village and close to bypass "Alon" , the targeted area is a destination for farmers, ranchers and Bedouins.
The Israeli Occupation gave three families in the area halt of work military orders on facilities built of steel sheets and sackcloth on the pretext of building without licenses, the targeted facilities are built since more than 15 years in the same location , the occupation set February 26th 2020 as the date of the subcommittee session in "Beit El" military court.
The following table shows more information about the targeted facilities:
owner

Family members

Sheep #

Military order number

The targeted facility

photo

Hassan Manasra

5

230

-a tent of sackcloth and woods

1

 

Ghazi Manasra

5

 

'Atef 'Awawdeh

4

310

 

 

 

 

14

540

 

 

 
Source :Firsthand field observation- Israeli violations monitoring section – LRC – February 2020
Deir Dibwan village council head Mansour Mansour told LRC:
"Khallet Al-Harayeq area consists of 400 dunums of agricultural lands that benefit farmers and ranchers, during the recent few years the occupation forces demolished number of agricultural facilities and ravaged several planted plots that belong to families from the village and Bedouin communities , the area is also heavily targeted by "Kokhav Hashaher" settlers' assaults, who insist to make the lives of the area's residents a living hell  to push them to leave the area."
About Deir Dibwan:[1]
5 kilometer east Ramallah, Ramallah is surrounded by Ramon and Ein Yabrud (north), Beitin (west), Al-Nuwe'ma and Ein Dyuk Al-Fuqa (east) , Anatta, Mikhmas. Burqa from the south.
Deir Dibwan has a total population of 4169 people according to statistics conducted in 2017. It has a total area of 74,285 of which 1,789 dunums are a built-up area of the village.  The occupation devoured (4121) dunums for the following purposes:
1: settlements confiscated 1346 dunums:
| | | | |
| --- | --- | --- | --- |
| Settlement's name | Establishing year | Area of confiscated land | Number of settlers |
| Kokhav Yaacov | 1984 | 51.4 | 3,918 |
| Mitzpe Danny | unavailable | 87.7 | unavailable |
| Neve Erez | 1981 | 1.114 | 980 |
| Maale Mikhmas | unavailable | 62.7 | unavailable |
2: Bypass roads (458 and 457) devoured over (1,543) dunums.
3: Military camps devoured (1,232)dunums
According to Oslo conventions The areas are clarified in donums as following:
Area A (307) donums
AreaB (12,925) donums
Area C (61,052) donums .
[1] GIS-LRC
Prepared by