A final demolition order on a house in Suba village – East Ethna / Hebron governorate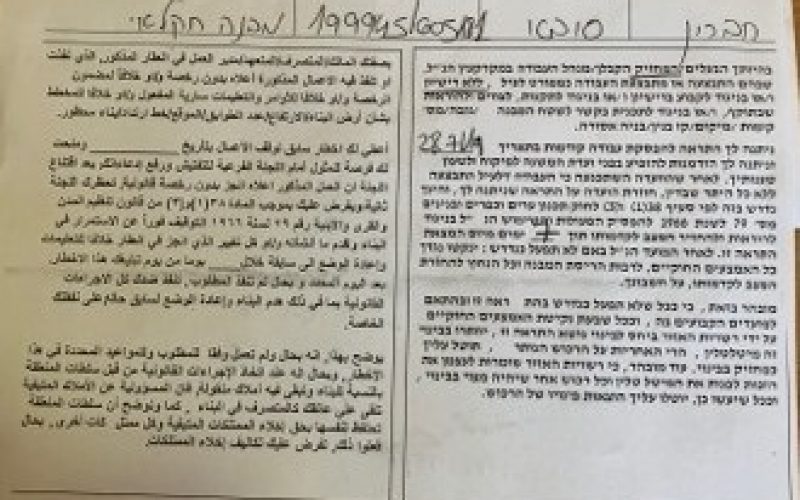 Violation: a demolition order on a house.
Date: December 10th 2019.
Location: Suba village – East Ethna / Hebron governorate.
Perpetrator: The Israeli Occupation Civil Administration.
Victims: Citizen 'Imad Al-Qawasmeh.
Description:
Tuesday December 10th 2019, the Israeli Occupation Authorities issued a final halt of work order on an agricultural house that belong to 'Imad Al-Qawasmeh on the pretext of building without licenses , in Suba village east Idhna in Hebron governorate.
Al-Qawasmeh told LRC that he found the military order hanged on the door of the house .
The demolition order was issued by The civil administration- high organization council – The central inspection unit numbered (60381) and requested the demolition of the house within 7 days on the pretext of building without licenses , they also threatened that in case the owner failed to implement the demolition before the deadline, the occupation forces will do that and file the costs on the owner.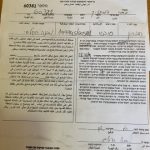 Photo 1: A demolition order on Al-Qawasmeh house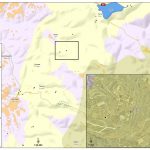 The occupation authorities claimed that they issued a previous demolition order on the house in July 28th , and set a date for the licensing procedures, while Al-Qawasmeh said that he did not receive any previous notices. Noteworthy, Al-Qawasmeh throws halt of work or demolition orders on the ground or hang them on a building or even leave them under a stone, which leaves them unprotected from the weather factors.
Al-Qawasmeh who originally lives in Hebron city pointed out that the targeted house consists of two rooms attached by a bathroom and a small kitchen, it is built of bricks with steel sheets ceiling , the house has a total area of 44 m2 , it was built early this year on a plot with a total area of (1.1) dunums , Al-Qawasmeh built this small house for his family to rest inside it during agricultural seasons.
About Suba hamlet:[1]
The Suba hamlet is located about 15 km to the west of Hebron city. Its total land area is 2942 dunums of which 21.7 dunums as built up area, its population toll reached 200 people ( source: GIS unit at the Land Research Center).  The hamlet is rich of underground water resources because of its unique location at the western aquifer, but its population are deprived of taking advantage of this wealth due to Israeli restrictions.
[1] GIS-LRC
Prepared by