Sabotaging 60 olive saplings in Turmus'ayya/ Ramallah governorate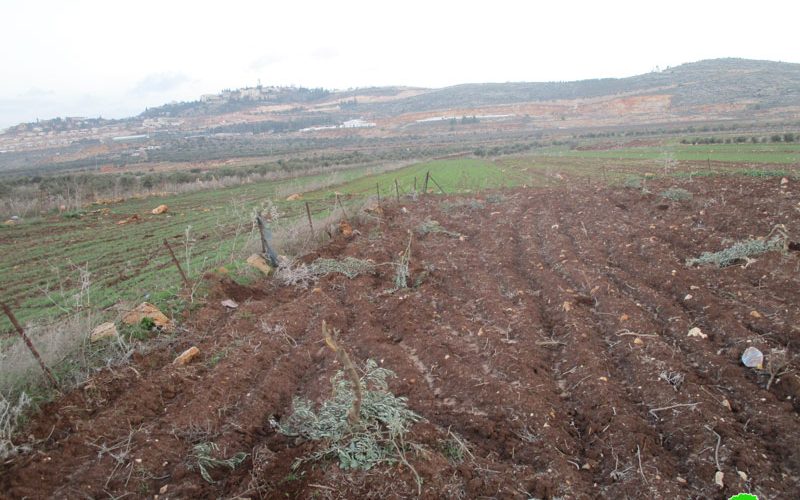 Violation: sabotaging olive saplings.
Location: North – East Turmus'ayya / Ramallah governorate.
Date: 18/12/2018.
Perpetrators: Settlers of "Adei Ad".
Victims: Farmer Abdullah Hazmeh.
Description:
18 December, a group of fanatic settlers from "Adei Ad" settlement sneaked into "Khallet Sabha" area north-east Turmus'ayya, settlers sabotaged 60 olive saplings aging 5 years old from a dunum of olive grove that belongs to Abdullah Hazmeh (56).
The area after the attack
According to the owner, the land was subjected by several Israeli attacks before , as it is 1 km away from the outpost that connects "Amihai" and "Shilo".
Field observation shows that this is the second attack within 48 hours, preceded by another attack targeting 244 olive saplings at a close by location.
Mayor of Turmusa'yya, Rasmi Shehaded stated that the Agricultural commission and agricultural NGOs with Turmus'ayya municipality will support farmers in the targeted area , through opening agricultural roads, and providing saplings, in order to support their steadfastness.
About Turmus'ayya:[1]
25 km to the north east of Ramallah city, Turmus'ayya  has a population of 3736 people (2007 census). Its total land area is 18139 dunums, of which 1350 dunums are considered built-up area. About 11218 dunums of  Turmus'ayya lands are classified as  Area B (PA is in charge of civil matters with Israel responsible of security) where 6921 dunums are classified as  Area C (Israel maintains full security and administrative control).
The Israeli occupation confiscated vast areas from the village for the benefit of the following colonies:
Shilo and Mizpe Rahel devoured 1023 dunums
Mizpe Rahel  devoured 706 dunums
The bypass road number 60 stole 12.5 dunums
[1] GIS-LRC