Demolition of a tent and a stop-work order of a cistern in Susiya hamlet/ south Hebron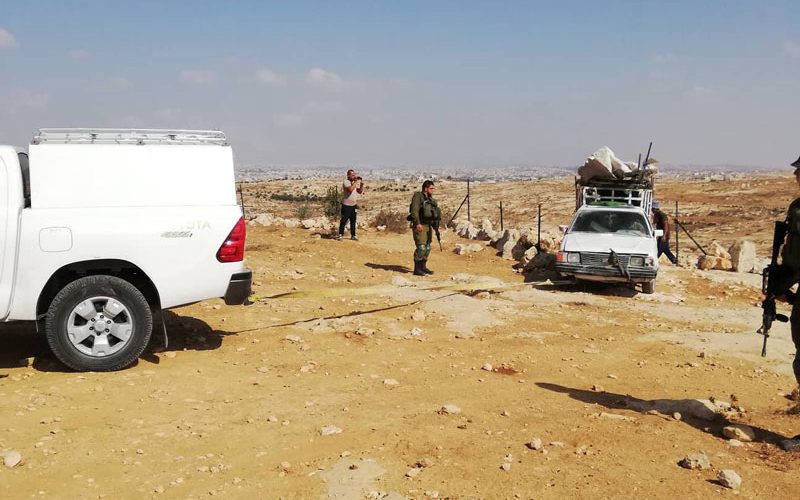 Violation: Demolition of a tent and a stop-work order of an agricultural cistern.
Location: October 15/17, 2018.
Perpetrators: The occupation's civil administration.
Victims: Khader Al-Nawaja'a and Fareed Jbour families
Description:
On the pretext of building without permission, the occupation's "civil administration" demolished a (40 m2) tent used for Cattle breeding owned by villager Khader Al-Nawaja'a , stopped the work on an agricultural cistern owned by Fareed Jbour and confiscated digging equipment in Susiya – south Yatta in Hebron.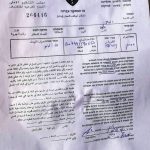 Picture 1: stop-work order of a cistern for Fareed  Jbour.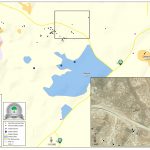 A vehicle belongs to the so called "Israeli civil administration" broke into the cistern's location and confiscated equipment that were used in digging , the mentioned equipment belong to citizen Husam Al-Barkandy. Previously, Villager Jbour was a victim of another Israeli violation when they confiscated a tent he installed in his agricultural land to reside there during reaping season.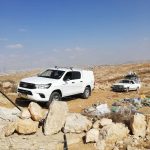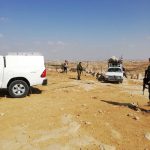 Picture 2+3: confiscating the digging equipment.
The military order (206416) claims that the building is built without permission, and set November 7 a date for holding a session to discuss wither to demolish the place or return it to its previous status.
It should be also marked that Susiya village depends on solar panels to generate electricity. Due to fact that the area consumes much power in lighting structures and dairy productions, Commit Me company gifted more solar panels to the residents to meet their needs. Intentionally, the Israeli occupation forces confiscated the recently gifted panels.
With a total population of 300 inhabitants, Susiya village is reported to be under the threat of forcible displacement, taking into consideration that the Israeli colony of Susiya founded in the area is constantly expanding at the expense of Palestinian lands.
In 1983 illegal settlers built a colony over villagers' confiscated lands and named it "Susiya", they continuously commit crimes against people of arab Susiya Hamlet.