Israeli Occupation Forces demolish commercial kiosks near Ni'lin checkpoint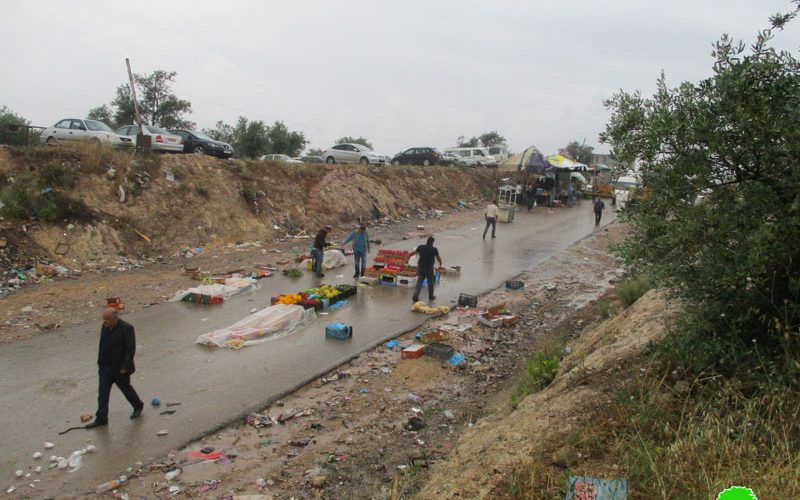 Violation: demolition of kiosks
Location: Ni'lin town- Ramallah
Date: April 26, 2018
Perpetrators: Israeli Occupation Forces
Victims: number of Palestinian families
Details:
The area of Ni'lin witnessed on April 26, 2018 a demolition operation that affected nine commercial kiosks (metal slabs and wood) belonging to five Palestinian families on the claim of "unlicensed construction". Noteworthy, the attack location is only 100 meters away from Ni'lin military checkpoint. The real reason behind demolition is to harass Palestinians and push them out of their lands to become subject for colonial plans of expansion.
The demolished structures are considered main source of income for 6 Palestinian families, whose details are shown in the below table:
No.

Affected citizen

Family

No. of demolished structures

Financial losses

Nature of structure

1

Nafi' Safi

8

1

700

Hot drinks kiosk

2

Muhssein Qadous

4

1

600

Vegetable kiosk

3

Ramzi Khawaja

2

1

240

Vegetable kiosk

4

Marwan Abu Nasra

5

1

700

Hot drinks kiosk

5

Said Omeirah

5

1

1100

Snacks kiosk

6

Saed Nafi'

7

1

600

Hot drinks kiosk

7

Ayed Khawaja

6

1

1200

Foods kiosk

8

Majed Khawaja

5

1

700

Vegetable kiosk

9

Mohammad Safi

2

1

900

Foods kiosk

Total

44

9

6740
Source : Field observation- Department of Monitoring Israeli Violations- Land Research Center-2018
Israeli Occupation Forces justified the demolition on the claim that the kiosks were "unlicensed". Noteworthy, the Israeli Occupation Authorities didn't serve previous warnings of eviction. The demolition was surprising.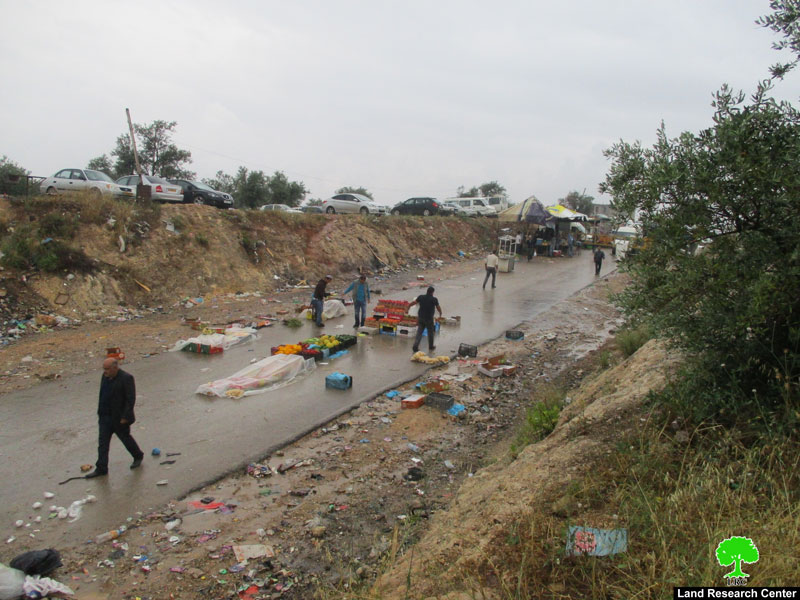 Photos 1-3: signs of the demolition act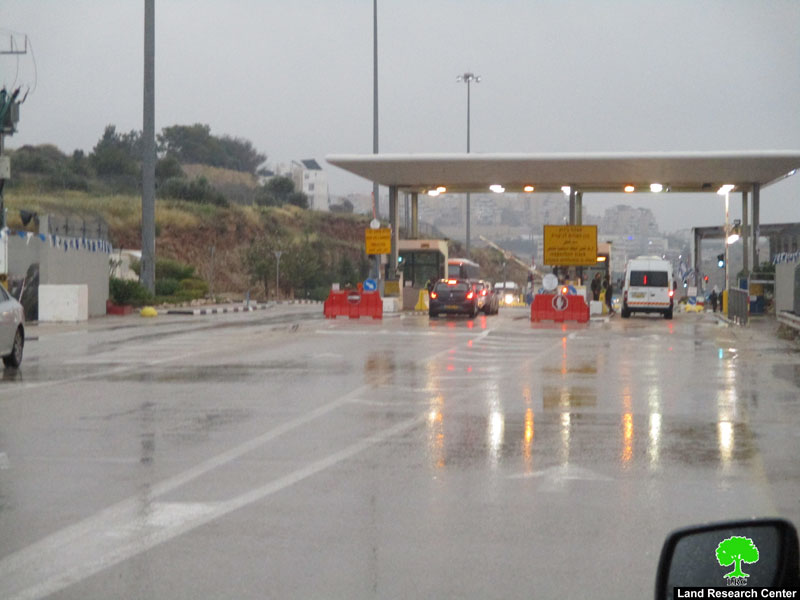 Photo 5: Ni'lin checkpoint
About Ni'lin:
20 km to the northwest of Ramallah, Ni'lin is edged by the towns of Qibya and Budrus from the north, Al-Midyah town from the southwest, Deir Qidees town from the east and Mod'in and Kiryat Sefer colonies from the south.
Ni'lin is inhabited by 5897 people on a total land area of 15,206 dunums , of which 748 dunums are the village's built-up area.
The occupation confiscated a total of 3020 dunums for colonial ends, which are detailed as follows:
Hashmona'im colony: it was established in 1985 on confiscated area of 858 dunums from the village. It is now inhabited by 2097 colonists.
Kiryat Sefer: it was established in 1991 on confiscated area of 476 dunums from the village. It is now inhabited by 24,290 colonists.
Mattityahu colony: it was established in 1980 on confiscated area of 657 dunums from the village. It is now inhabited by 1365 colonists.
Colonial bypass road number 446 confiscated 408 dunums
The apartheid wall confiscated 621 dunums for the favor of its construction and isolated 14,083 behind it.
According to Oslo Accords lands classifications, Ni'lin lands are classified as follows:
1,123 dunums are classified as area "B"
14,083 dunums are classified as area "C"
Land Research Center LRC sees that demolitions contradict with all of the International conventions and Humanitarian laws including:
Article 17 of the (1948) Universal Declaration of Human Rights stating: "Everyone has the right to own property alone as well as in association with others. No one shall be arbitrarily deprived of his property."
Section ‹G› of article 23 of the (1907) The Hague Conventions asserting: "In addition to the prohibitions provided by special Conventions, it is especially forbidden to destroy or seize the enemy's property, unless such destruction or seizure be imperatively demanded by the necessities of war."
Article 53 of the Geneva Fourth Convention (1948) declaring: "Any destruction by the Occupying Power of real or personal property belonging individually or collectively to private persons, or to the State, or to other public authorities, or to social or cooperative organizations, is prohibited, except where such destruction is rendered absolutely necessary by military operations."
Section 1, Article 11 of the International Covenant on Economic, Social and Cultural Rights (1966): "The States Parties to the present Covenant recognize the right of everyone to an adequate standard of living for himself and his family, including adequate food, clothing and housing, and to the continuous improvement of living conditions. The States Parties will take appropriate steps to ensure the realization of this right, recognizing to this effect the essential importance of international co-operation based on free consent."
Prepared by
The Land Research Center
LRC