Israeli Authorities order five pastoral reserves "to be evicted" in Nablus governorate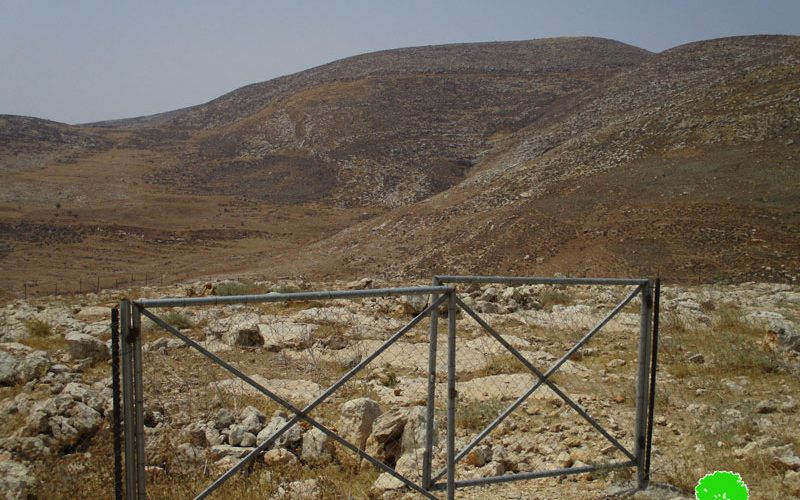 • Location: Khirbet Tana, east of Beit Furik village, Nablus governorate
• Date: July 09, 2017
• Perpetrators : responsible for "State Property" in Israel Civil Administration
• Victims: the inhabitants of Khirbet Tana.
• Details:
In the afternoon of Sunday, July 09, 2017, the Inspector of State Property, under the name of the Civil Administration, raided Khirbat Tana and hanged eviction orders to the fences of five pastoral reserves. The orders mentioned a 45 day deadline to implement the evacuation\ eviction orders under the pretext of violating land designated as "state land" according to the Israeli description.
The target pastoral reserves were implemented during the beginning of 2016 the Land Research Center and Oxfam Foundation with funds from the Belgian Development Cooperation within the project of "Building and strengthening the steadfastness of the Bedouin communities in the West Bank". The project targeted total area of ​​300 dunums. And included the cultivation of more than 4000 pastoral plants and the construction of three water collection wells with a capacity of 50 cubic meters per well, in addition to setting up around these five reserves.
The main objective of the project is to strengthen the Palestinian presence in Khirbet Tana, which is threatened with demolition and removal, as well as to provide support to the farms there by providing sheep grazing lands.
Photos 1-3: Tana pastoral reserves
The following table shows information about the targeted reserves :
| | |
| --- | --- |
| No. of order | Area of targeted lands\ dunum |
| | 36 |
| | 54 |
| | 19 |
| | 38 |
| | 22 |
| | 1 |
| Total | 170 |
Source: GIS department at Land Research Center
About Tana:
Located to the east of Beit Furik village, Tana is inhabited by 42 families comprising of 280 members. The hamlet accommodates 40 residential tent, 40 barn sheltering 8000 sheep and 20 caves used as storages.
Khirbet Tana has a total land area of 6000 dunums that are all classified as area "C" according to Oslo Accords. One third of Tana's lands was confiscated for the favor of Mekhora and Jetit colonies.
It should be reported that Tana hamlet gets demolished based on a military order made by Israel Supreme Court in 2008.
Services:
The hamlet is not connected to water network
The hamlet is not connected to electricity network
It has one school comprised of two classes. The school is demolished now.
Despite the fact that the hamlet is founded before the occupation itself, the Civil Administration still refuses to allow citizens to expand and construct on their lands. Most of the hamlet's residents live in houses built by bricks and metal slaps, tents and caves. Tana hamlet accommodates a mosque and a single school.
It should be marked that Tana underwent thirteen demolition operations since 2005.
Israel Civil Administration is reported to reject developmental master plans for the hamlet where the neighboring colonies of Mekhora and Jetit enjoy all such privileges denied for Palestinians. As a result, the hamlet of Tana is still "Unrecognized" despite the ownership documents residents have on their lands and properties.
Prepared by
The Land Research Center
LRC