Eli colonists set fire to 22 aging olive trees in Qaryut village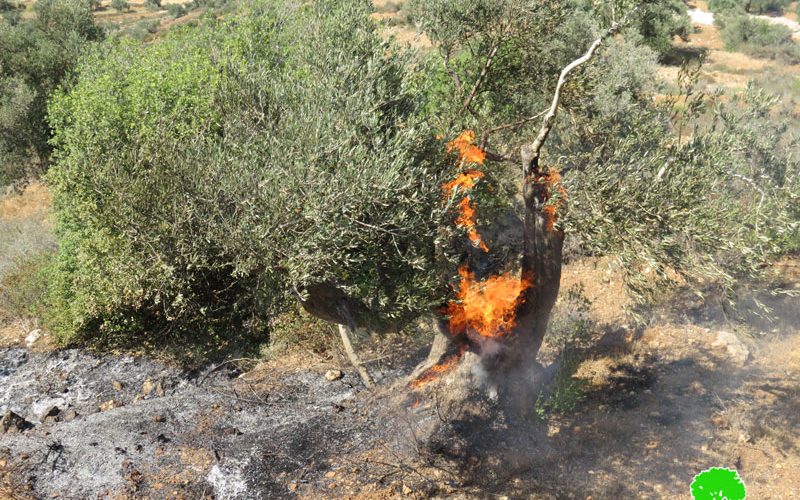 Violation: torching trees
Location: Qaryut- Nablus governorate
Date: June 24, 2017
Perpetrators: Eli colonists
Victims: four Palestinian families
Details:
On June 24, 2017, a radical group of Eli colonists set fire to the southeastern area of Qaryut village known as "Al-Bteisha". The fire ate up a massive area and totally destroyed 22 "Roman" olive trees where 9 other trees were partially damaged. Colonists took advantage of the fact that the Israeli occupation army declared an area in the southern part of Qaryut a closed military zone to set it ablaze. It should be noted that residents of the area with help of Palestinian Fire Brigade managed to extinguish the fire three hours after it started. The affected trees were reported owned by the following residents:
Affected farmer

Family

Village

Type of trees

No. of affected trees

Total damage

Partial damage

Khazar Amer

8

Qaryut

Roman olive trees

4

1

Bashar Dhib

4

Qaryut

Roman olive trees

8

0

Mohammad Dhib

11

Qaryut

Roman olive trees

3

4

Mohammad Awwad

6

Talfit

Roman olive trees

7

4

Total

29

22

9
Source : Field observation- Department of Monitoring Israeli Violations- Land Research Center-2017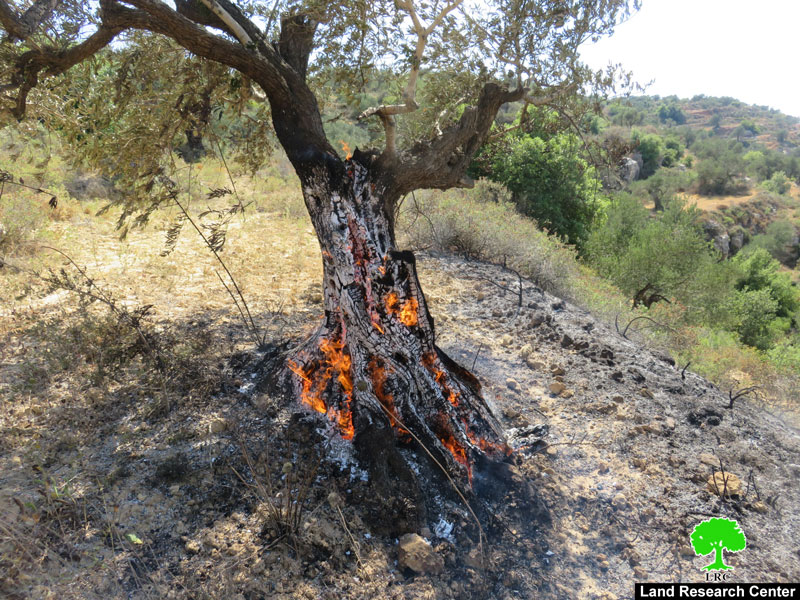 It is worth mentioning that the attack is not one of its kind as colonists set agricultural lands on fire in Qaryut several times before. Colonists, under the protection of the army, carry out attacks like confiscating lands, harassing farmers and shepherds, and setting lands ablaze. They cause a great damage to agriculture, a main source of income to inhabitants of Qaryut.
Farmers try to avoid reaching the southern area of the village due to the intensified colonist attacks that are carried out on a daily bases. Cases of beating farmers, stealing crops and agricultural tools as well as setting lands on fire have been recorded.
About Qaryut:
Qaryut is 20 km south of Nablus and 28 km away from Ramallah. It is one of the villages that are totally surrounded by colonies and outposts. The village populates 2321people on a total land area of 8471 dunums, of which 312dunums are the village's built-up area.
The Israeli occupation 1332 dunums from Qaryut village for the favor of the following colonies:
Shilo colony: it was built in 1978 on 799 confiscated dunums from Silon lands. Now, the colony has a total built-up area of 1347.
Eli colony: it was built in 1984 on 553 confiscated dunums. Now, the colony has a total built-up area of 3360 dunums.
Prepared by
The Land Research Center
LRC