Israel's Occupation Forces  demolish charcoal workshops in Jenin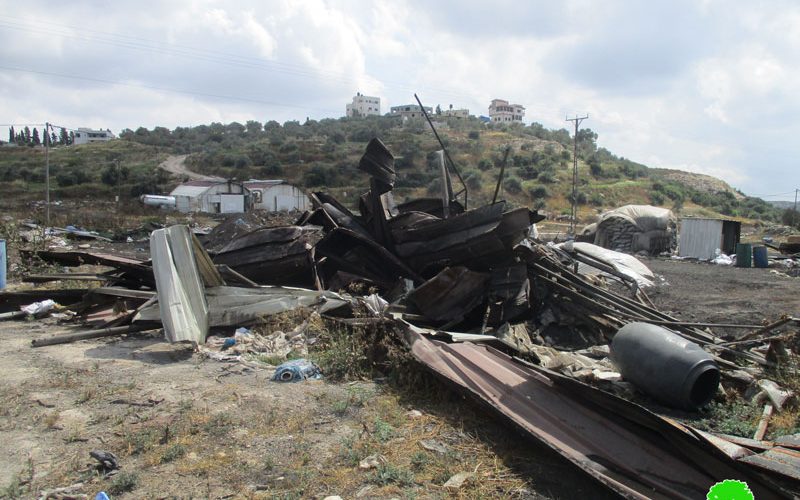 Violation: demolition of charcoal workshops
Location: Ya'bad town
Date: May 19, 2017
Perpetrators: Israel's Occupation Forces
Victims: families from Ya'bad
Details:
Israel's Occupation Forces accompanied by two military dozes raided on May 19, 2017 Ya'bad town and demolished four barracks that were used for charcoal making . Two other barracks were partially damaged as a result of the attack. The force intentionally damaged 42 tons of charcoal by mixing them with dirt, rendering them not suitable for use. It should be noted that the demolished structures manufacture charcoal illegally. The following table shows information about the affected owners of workshops:
Affected citizen

No. of beneficiary families

Damages\ barracks

Quantity of damaged charcoal\ ton

Diaa Amarneh

4

Partial damage in a 120m2 barrack

16 tons

Mohammad Baker

11

Four barracks demolished (90+120+120+110 m2)

Partial demolition of 160m2 barrack

18 tons

Total

15

4 total damage + 2 partial damage

34 tons
About the incident, the representative of charcoal producers, Kayed Abu Bakr told Land Research Center that Ya'bad had a large number of charcoal making facilities, which provided living for around 500 Palestinian families. In 2013, the occupation imposed endless restrictions on charcoal producers and threatened to confiscate their related machines and items used in the process of charcoal making and to detain anyone who works in the business. Now, only 25 charcoal making facilities are left. The occupation target such facilities of stop-work on the claim of "causing damage to environment". During 2017, the occupation demolished more than 13 charcoal making facilities, destroyed tons of charcoal and confiscated tons of wood.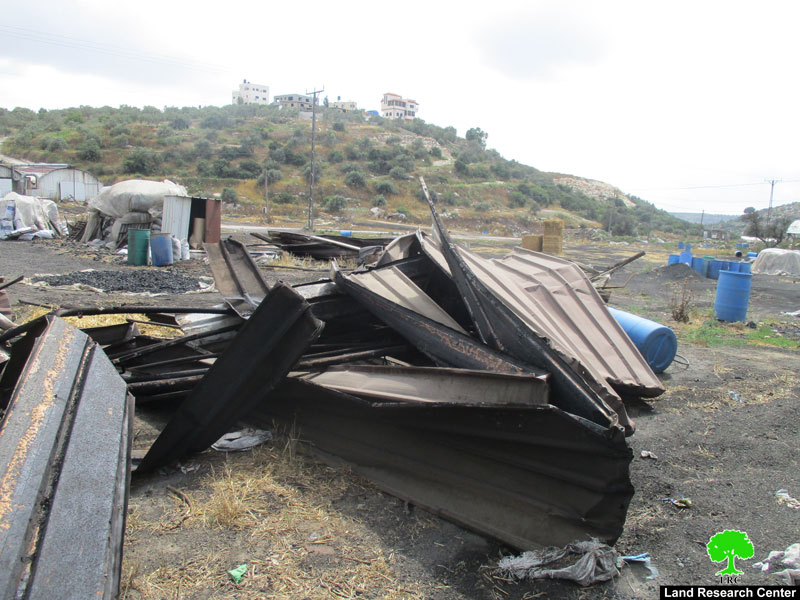 Photos 4-5: Ya'bad charcoal making facilities

About Ya'bad village:
The village is located 18 km to the west of Jenin governorate. It is edged by the villages of Al-Khiljan, Al-Tarm, Al-Araqa, Imraiha and Khirbet Mas'oud, Zabda from the north, Qaffin village from the west, Al-Qaffriat village from the east and Arraba, Al-Nazla Al-Sharqiya and Baqa Al-Sharqiya from the south. With a total land area of 29572 dunums, of which 1814 dunums are the built-up area, Ya'bad is inhabited by 13640 people (2007). The occupation confiscated 1840 dunums from Ya'bad; the confiscation is clarified as follows:
Israeli colonies confiscated 483 dunums as follows:
Year of establishment

Confiscated area\dunum

No. of colonists

Mevo Dotan

Jarmish
Bypass roads number (569 & 585) confiscated 1357 dunums.
The lands of Ya'bad are classified, according to Oslo Accords, as follows:
1674 dunums are classified as area "A"
8124 dunums are classified as area "B"
19774 dunums are classified as area "C"
Prepared by
The Land Research Center
LRC