Israeli Occupation Forces demolish water supply pipelines in Sahel Al-Bikai'a area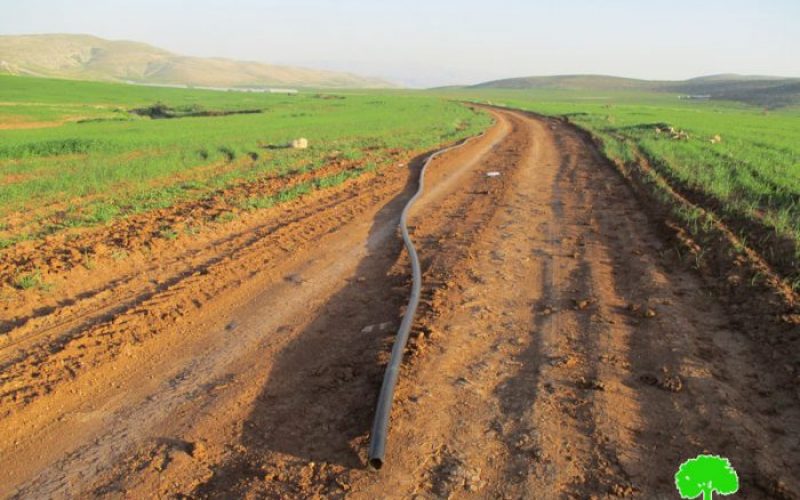 Violation: destroying water supply network
Location: Khirbet Al-Hadidiya and Humsa Al-Fauqa
Date: February 20, 2017
Perpetrators: Israeli Occupation Forces
Victims: eleven Bedouin families
Details:
On February 20, 2017, a massive force from the occupation army and a staff from Israel Civil Administration raided Al-Hadidiya and Humsa Al-Fauqa hamlets and carried out an attack on a water supply pipelines.
The force cut down and sabotaged 8.5 km of water pipes (2inches). The project of water supply pipelines was implemented with funds from UNICIF and International Labor Organization to help eleven Bedouin families (70 members including 29 children) to access water.
It is reported that the pipeline takes water from the water tower (supply) founded in Atuf village, east Tammun town to be later pumped to the two targeted Bedouin communities, which are located to the east of Roi colony.
It should be noted that this is the second time in a month the occupation destroys the pipeline. This created a burden on Bedouins; especially at this time of Israeli escalation of attacks on water trucks and tractors that move and sell water in the area. Noteworthy, the cost of buying water is notably high. For 15 INS for one cubic meter, Bedouins are financially burdened.
The project's idea is innovative and one of its kind. Implementation works on the pipeline started in May 2016 and were carried out by Action Against Hunger organization. The project aims at creating sustainable development in the area of Palestinian Jordan Valley. Many Bedouin communities namely ( Al-Ras Al-Ahamr, Al-Aqaba, Yarza, Ibziq, Al- Meetih, Al-Maleh, Al-Burj, Um Al-Jamal, Ein El-Hilweh, Al-Fao, Al-Hadidiya and Humsa Al-Fauqa) will be provided with water. This helps solve the problem of 4000 villagers and Bedouins in getting water.
Prepared by
The Land Research Center
LRC